The great indian showcase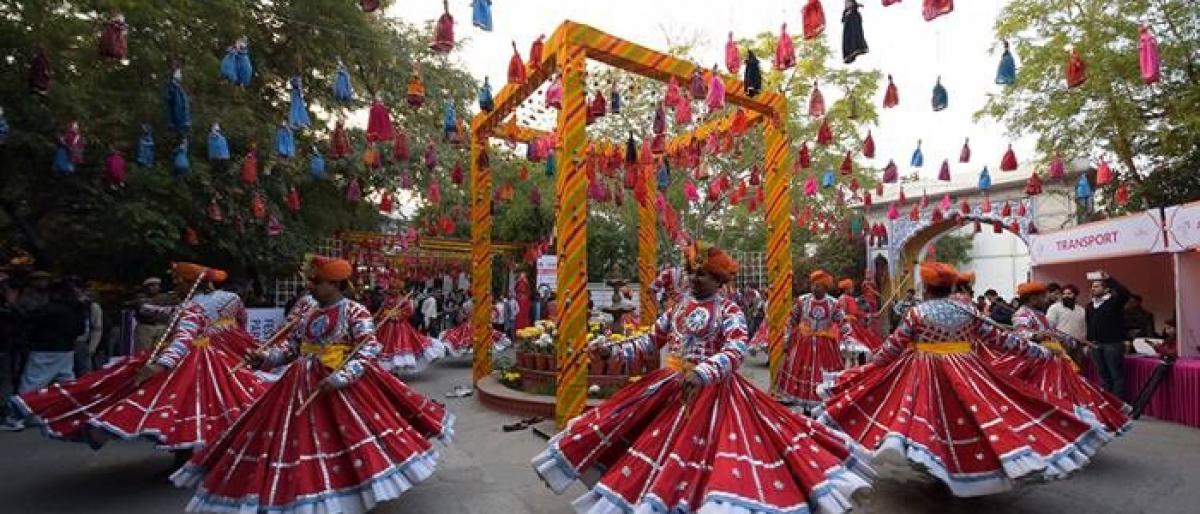 Highlights
In the cold rarefied air of Hemis in Ladakh, monks of the Drukpa Red Hat sect had assembled in large numbers to celebrate over 1000 years of Buddhist saint Naropas birth Wearing ornate hats, they clanged cymbals, blew trumpets and sounded drums to welcome the arrival of Naropas sacred relics from Hemis Monastery Enshrined in the magnificent stupa Naro Photang for public display, over the nex
ADVERTISEMENT
In the cold rarefied air of Hemis in Ladakh, monks of the Drukpa (Red Hat sect) had assembled in large numbers to celebrate over 1000 years of Buddhist saint Naropa's birth. Wearing ornate hats, they clanged cymbals, blew trumpets and sounded drums to welcome the arrival of Naropa's sacred relics from Hemis Monastery. Enshrined in the magnificent stupa Naro Photang for public display, over the next five days thousands of locals, travellers and Buddhist visitors from as far as Bhutan, Laos, Vietnam, Cambodia, Thailand, Malaysia and Sri Lanka witnessed what is called 'spiritual liberation through sight'.
An 85-feet tall thangka of Amitabha Buddha, said to be the largest, was unfurled and cultural programmes featuring Kung Fu nuns and traditional dancers left the audience enthralled. On the final day on September 20, 299 Ladakhi women performed the cultural dance shondol, creating the Guinness World Record for the largest Ladakhi dance. Little wonder this event is called the Kumbh Mela of the Himalayas. India has a wealth of cultural, music, literary and religious events in a busy calendar; here's a showcase of upcoming festivals to watch out for…
Jodhpur RIFF (24-28 Oct)
Timed to coincide with Sharad Purnima, the year's brightest full moon, Jodhpur RIFF (Rajasthan International Folk Festival) features a series of concerts and events in and around the dramatic backdrop of Mehrangarh Fort, voted Asia's Best Fortress by Time Magazine. Jointly held by Mehrangarh Museum Trust and Jaipur Virasat Foundation, the festival's chief patron is HH Gaj Singh of Marwar-Jodhpur and international patron Mick Jagger. From Kachi Ghodi and Kalbeliya dancers to Kawa Circus, one of India's earliest Rajasthani circus and the ancient Phad or storytelling through folk painting scrolls, there's a lot on offer. The Meghwals of Marwar herald the first dawn of the festival while the strains of Manganiyar musicians echo through Jaswant Thada. A showcase of rare and lesser-known folk forms, RIFF has been rightly endorsed by UNESCO as a 'Peoples Platform for Creativity and Sustainable Development'. For more info, visit https://jodhpurriff.org.
Hampi Utsav (3-5 Nov)
The ruins of Hampi come alive each year during the three-day Hampi Utsav, a festival of music, dance, and art. Artists of national and international repute perform at multiple stages at various locations. There are light and sound shows, adventure sports like rock climbing, rangoli and mehndi competitions, art and craft exhibitions and a special food court held in the old Krishna Bazaar opposite the Krishna temple. Besides kabaddi and tug-of-war, watch contests of kusti, a rural sport popular during the days of the Vijayanagar Empire. Experience Hampi by sky on a helicopter flight and cross the Tungabhadra on a coracle, the centuries-old mode of transport. Evolve Back Kamalapura Palace is easily the best place to stay with architecture inspired by various elements of Hampi. Go on specially curated trails like the Raya Trail, Virupaksha Trail and Tungabhadra Trek to enrich your holiday while dining on regional cuisine at their Tuluva and Bahmani restaurants. For more info, visit http:// evolveback.com/.

Pushkar Mela (9-17 Nov)
India is famous for its animal fairs like the Sonepur Mela in Bihar, Bateshwar Fair in UP and Balotra in Rajasthan, but the Pushkar Mela has made the evolutionary leap from a rustic camel fair to Rajasthan's top festive attraction. On offer are turban tying and moustache competitions, camel races, cultural programmes, the tug-of-war between locals and tourists, besides trading in camels, horses and elephants. Colourful stalls sell bright hued stirrups, accoutrements and agricultural implements. Stay in tented accommodation and get a birds' eye view from a giant wheel, explore the fair in a camel cart, go on a hot air balloon ride with Sky Waltz and visit the only Brahma temple in India that's actively worshipped. To see Pushkar from the air, visit http://skywaltz.com/.
Hornbill Festival (1-10 Dec)
Held at the Naga Heritage Village of Kisama, a permanent site 12km from capital Kohima, the Hornbill Festival is the best place to catch all of Nagaland's 16 tribes under one roof. The festival arena is encircled by communal huts of each tribe that recreate the morung, where young boys learnt stories on culture and folklore from elders who sat around a fireplace and sipped thutse (rice beer). Though a bit commercial, it is a good way to enjoy traditional song and dances, archery, Naga wrestling, indigenous games and local delicacies like smoked pork. Buy Konyak beads and necklaces, Wancho woodcarvings, Phom black pottery, vibrant warrior shawls and other souvenirs. Besides rock concerts, motor rallies and fashion shows, watch out for weird competitions like who can eat the most amount of Raja chilis or Bhoot Jolokia, also known as Nagahari or Tezpur chilli! For more info, visit https://hornbillfestival.com.
Magnetic Fields, Alsisar (14-16 Dec)
Rajasthan is the perfect venue for amazing festivals but one event that has left its mark in a very short time is Magnetic Fields. Held at the citadel of Alsisar in one corner of the dusty 13,784 sq km tract that's Shekhawati, the region with its stunning havelis has often been described as the largest open-air gallery in Rajasthan. Started by Abhimanyu Alsisar in 2014, the contemporary festival of music and arts brings much-needed attention to a region largely ignored by tourists. Stay in the palatial Alsisar Mahal or tented camps while catching specially curated international underground music acts, yoga and organic food, besides local tours to the numerous temples, cenotaphs and mansions in the town like Indra Vilas and Jhunjhunuwala ki haveli. For more info, visit http:// magneticfields.in and www.alsisarmahal.com.
Tansen Samaroh, Gwalior (21-26 Dec)
Gwalior, the legendary city of Raja Man Singh and Mian Tansen hosts a weeklong festival of classical music. Not overtly advertised or glossed over, the low-key festival is a true celebration of music. In the cold winter, spectators in shawls and monkey caps congregate around the 16th-century tomb of Sufi mystic and Tansen's spiritual mentor Sheikh Mohammad Ghaus Shattari. His grand mausoleum lords over Tansen's small memorial with gayaki (song) and sangeet (music) resonating through the complex. Dhrupad, khayal and performances of pakhawaj, sarangi, santoor and veena enthral visitors, besides the odd slot of world music. For more info, visit http:// tansensamaroh. com/.
Jaipur Literature Festival (24-28 Jan)
Described as 'the greatest literary show on earth', JLF brings together an eclectic mix of writers, thinkers, humanitarians and leaders on one stage to engage in thoughtful dialogue and debate. The silver-maned festival producer Sanjoy K Roy and writers and festival directors Namita Gokhale and William Dalrymple invite speakers to take part in the five-day program at the Diggi Palace. Now in its 13th year, the festival has seen nearly 2000 speakers including Vikram Seth, mythologist Roberto Calasso, Nobel Laureates JM Coetzee, Orhan Pamuk and Muhammad Yunus, Man Booker Prize winners Ian McEwan and Margaret Atwood, besides top names from world music. For more info, visit https://jaipurliteraturefestival.org.
Kila Raipur Sports Festival (2-3 Feb)
A local village festival to foster fitness and interest in sports in the 1930s has become an iconic event hailed as India's Rural Olympics. Currently, in its 83rd edition, the festival was the brainchild of Sardar Inder Singh Grewal, founder father of Grewal Sports Association. The tiny village of Kila Raipur near Ludhiana hosts the annual sports meet featuring tug-of-war, tent-pegging, freestyle kabaddi and races for camels, elephants, bullock-carts, mules, tractors and even 80-year-old Sikhs! It's a mad showcase of power and unique talents like twirling gas cylinders, motorcycle daredevilry and towing vehicles with teeth, hair, ear or beards. Bhangra dancers, troupes of Malwai gidda, nihangs (blue-clad warrior Sikhs) performing stunts on horseback and commentary by maraasis (traditional stand-up comedians) add colour to the unique fest. For more info, visit http://www.ruralolympic.net.
Anurag Mallick & Priya Ganapathy.