7,000 gudumba affected families to be relocated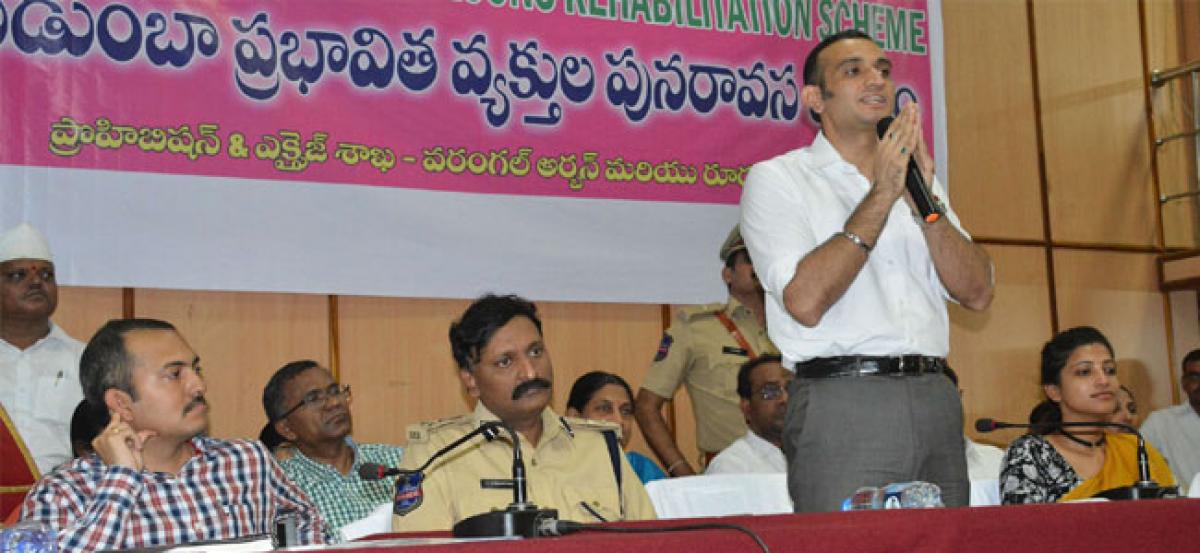 Highlights
Excise Director of Enforcement Akun Sabharwal said about 7,000 gudumba affected families across Telangana have been identified for rehabilitation with financial assistance from the State government.He said Rs 158 crore was earmarked in the budget for the purpose. Every family which quits distilling and the sale of illicit liquor would be given Rs 2 lakh financial assistance directly from the gover
Akun Sabharwal says that the collective efforts made by revenue, police and excise officials and civil society have yielded positive results in ending the menace of gudumba in the State
Hanamkonda: Excise Director of Enforcement Akun Sabharwal said about 7,000 gudumba affected families across Telangana have been identified for rehabilitation with financial assistance from the State government.He said Rs 158 crore was earmarked in the budget for the purpose. Every family which quits distilling and the sale of illicit liquor would be given Rs 2 lakh financial assistance directly from the government without any bank linkage.
Sabharwal said there was no dearth for funds and if any family intends to quit gudumba trade and opts for rehabilitation scheme then the government would extend financial assistance. He addressed a gathering of beneficiaries selected for rehabilitation scheme here on Saturday.
He said the collective efforts made by revenue, police and excise officials and civil society members have yielded positive results in ending the menace of gudumba in the State. In Warangal Urban there is no illicit liquor trade and in Warangal Rural about 23 villages are yet to be freed from gudumba trade.
In Warangal Urban 233 and in Warangal Rural 123 beneficiaries were identified for rehabilitation."During a recent official meeting, the Chief Minister K Chandrashekar Rao had laid special emphasis on eradicating gudumba distilling, sale and consumption in the State. That was why the government took up the rehabilitation scheme," Sabharwal said.
Those who quit gudumba trade and opt for rehabilitation should not get back to the trade and should extend their support in completely eradicating gudumba in the district by June 2, he appealed.Warangal Rural Collector Prashanth J Patil congratulated the beneficiaries and said that they should inspire those who are still engaged in gudumba trade to quit. Besides financial assistance under rehabilitation scheme, the families would be extended support under various other welfare programmes as well.
Warangal Urban Collector Amrapali Kata said that measures would be taken to ensure that education is provided to the children of gudumba affected families and to provide jobs to those passed who SSC examinations.Explaining the evil effects of gudumba, Commissioner of Police G Sudheer Babu stressed on the need for one to quit both distilling the liquor and its consumption.
There was a fall in the gudumba cases. Under Warangal Commissionerate 1,500 cases were booked last year while 390 cases booked this year, he added.Excise Department Additional Commissioner Ajay Rao, Warangal division excise Dy commissioner Suresh Rathod, Warangal Urban and Rural excise superintendents K Rajyalakshmi and R Kishan were also present.

Interested in blogging for thehansindia.com? We will be happy to have you on board as a blogger.