Aga Khan arrives in city for 3-day visit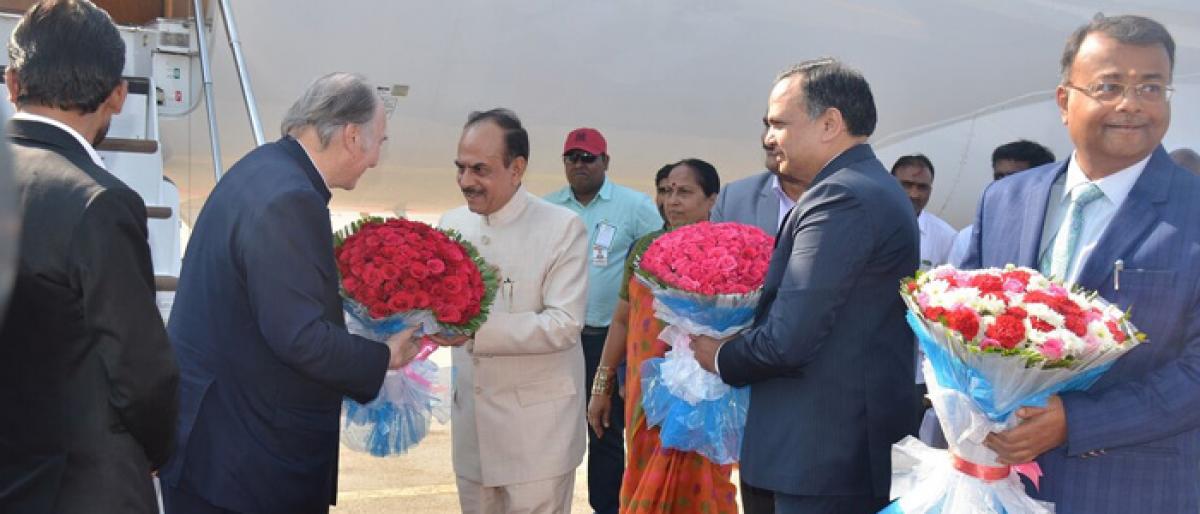 Highlights
The Imam (spiritual leader) of the Shia Ismaili Muslims and Founder & Chairman of the Aga Khan Development Network (AKDN) arrived in Hyderabad on Monday. Aga Khan is in the city as part of his 10-day official visit to India. He received a warm welcome from Deputy Chief Minister Mohammed Mahmood Ali a
Hyderabad: The Imam (spiritual leader) of the Shia Ismaili Muslims and Founder & Chairman of the Aga Khan Development Network (AKDN) arrived in Hyderabad on Monday. Aga Khan is in the city as part of his 10-day official visit to India. He received a warm welcome from Deputy Chief Minister Mohammed Mahmood Ali along with Chief Secretary S K Joshi and Principal Secretary, General Administration Department (Political) Adhar Sinha upon his arrival at Begumpet Airport.
During his three-day visit, Aga Khan will meet with Governor E S L Narasimhan, besides Deputy Chief Minister. The visit of Aga Khan is part of a series of visits that coincide with the commemoration of Diamond Jubilee, marking the 60th anniversary of his leadership as Imam of the Shia Ismaili Muslim Community. His visit to India had traditionally served as opportunities to launch or advance social, cultural and economic development projects.
These include the development of hospitals, schools, universities, cultural and financial institutions that serve people of all backgrounds and faiths.
Aga Khan arrived in Delhi on February 20 and the following day, accompanied with Vice President M Venkaiah Naidu he inaugurated Sunder Nursery, a new 90-acre (36 hectare) city park in New Delhi. While in Delhi, he also met President Ram Nath Kovind and Prime Minister Narendra Modi. He then travelled to Ahmedabad on the second leg of his visit, where he met with Governor of Gujarat Om Prakash Kohli and Chief Minister of Gujarat Vijay Rupani as well as members of Ismaili community.