Telangana has many places to wow leisure hunters: Top official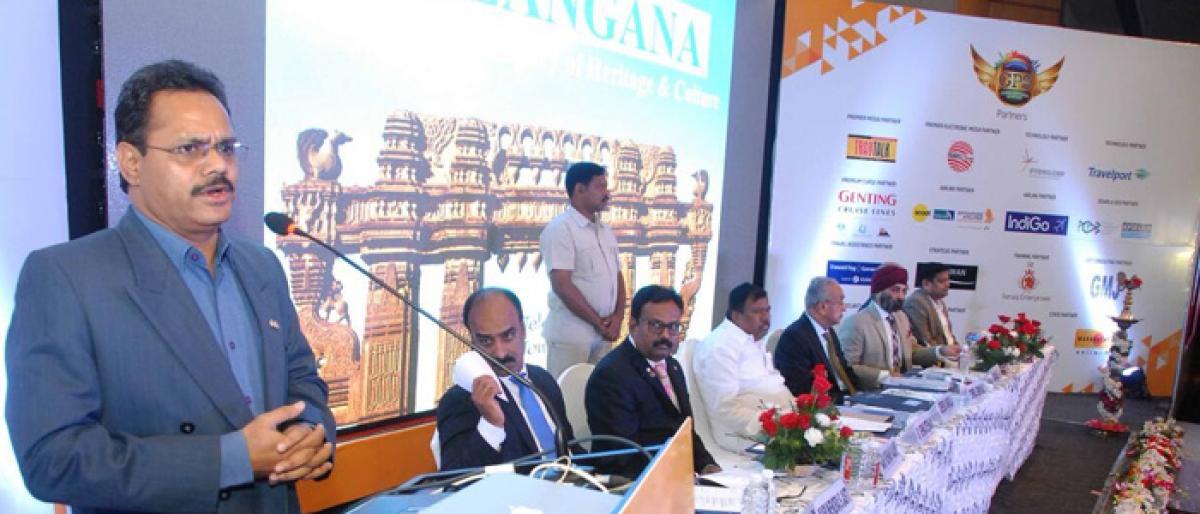 Highlights
Travel and hospitality industry is a fast-developing industry with bright future prospects and India has not touched even one per cent of its potential. India registered only 10 million foreign tourists last year, said B Venkatesham, Tourism Secretary here on Thursday.  He was speaking at the three-day Telangana Tourism Conclave organised by Federation of Telangana and Andhra Pradesh Chambers of C
​Hyderabad: Travel and hospitality industry is a fast-developing industry with bright future prospects and India has not touched even one per cent of its potential. India registered only 10 million foreign tourists last year, said B Venkatesham, Tourism Secretary here on Thursday. He was speaking at the three-day Telangana Tourism Conclave organised by Federation of Telangana and Andhra Pradesh Chambers of Commerce and Industry (FTAPCCI) in association with the Global Panorama Showcase Ltd, Nagpur and Government of Telangana.
He further added that Telangana has huge potential as it has 30 big forts and is second to Rajasthan. Hyderabad has many unique things to offer. He gave examples of Buddhist sites, more than 30 big monuments of Buddhism, Jainism, Islamic art forms and architecture.
A report on 'Telangana Tourism – Positively Transforming' was released by Azmeera Chandulal, Minister for Tourism. Speaking on the occasion, FTAPCCI President Gowra Srinivas said tourism was the driving force for India's economy. Tourism is continually expanding and is the largest contributor to the GDP of the country, he added. He said that tourism plays a vital role in socio-economic progress and infrastructure development globally.
In 2017, contribution of travel and tourism to GDP (percentage of gdp) for India was 9.4 per cent. Srinivas said that the foreign tourist arrivals grew by a remarkable seven per cent in 2017 to reach a total of 1.3 million. Arrivals in south Asia grew 10 per cent, while India registered 15 per cent growth.
Travel and Tourism sectors created 25.9 mn jobs in India in 2017 and added Rs 5 Lakh crore to GDP according to a KPMG Report, informed Srinivas. Minister for Tourism Azmeera Chandulal said Telangana State has made tremendous progress in the last four years. New projects have been taken up in Mahbubnagar, Warangal and Karimnagar.