CPM alleges govt bias against South Telangana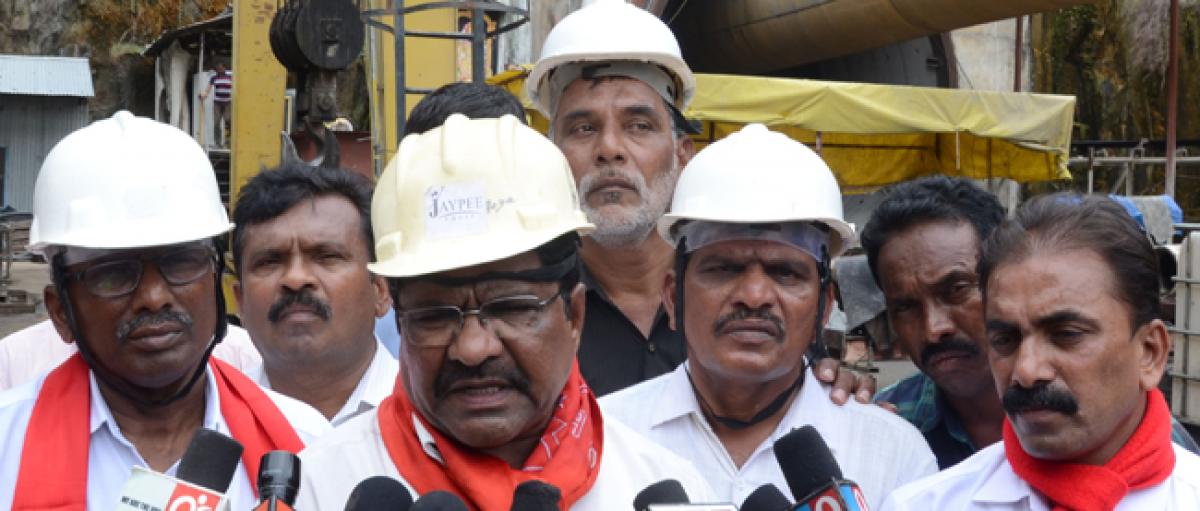 Highlights
Communist Party of IndiaMarxist CPIM State committee member and former MLA Julakanti Ranga Reddy on Tuesday felt that government has been showing discrimination against South Telangana irrigation projects
Nalgonda: Communist Party of India-Marxist (CPI-M) State committee member and former MLA Julakanti Ranga Reddy on Tuesday felt that government has been showing discrimination against South Telangana irrigation projects.
Along with the CPI-M Nalgonda district delegation, Ranga Reddy visited the outlet portal of SLBC tunnel-1 at Mannevaripalle under Achampet mandal in Nagarkurnool district and examined the status of works from the officials and contract agency JP constructions.
Speaking to the media at the project, the CPI-M leader said Nalgonda district continued to be neglected in aspects of irrigation and drinking water. The problem remained unresolved though several governments had changed for the last six decades.
Stating that the works of Tunnel-1 came to a halt due to the repair of tunnel boring machine. He demanded that the government release Rs 60 crore required to resume the project works.
He demanded that the government give priority to SLBC tunnel project on a par with Kaleshwaram irrigation project to provide irrigation facility to 3.5 lakh acres land in Nalgonda, Mahabubnagar districts and drinking water to fluoride-hit villages.
He said that the SLBC tunnel got administrative sanction in 2005 at an estimated cost of Rs 2,813. The project works were scheduled to be completed within four years after the formation of Telangana State. But, it did not happen. As far as Tunnel -1 work is concerned, 30.35 km of total 43.930 km work was completed so far. He demanded that the State government explain when it would complete the pending works of Tunnel-1 and 2.
He advised the government to speed up the works of SLBC tunnel, otherwise the CPI-M would organise a mass agitation. CPI-M Nalgonda district Secretary Mudireddy Sudhakar Reddy, party leaders T Veera Reddy, B Srisailam, P Nagarjuna, K Nagi Reddy, Hasham, BLF district convener A Meenaiah, Anand, P Narsireddy, Krishna,Venkataiah and others participated in the programme.