BJP calls govt, police move untenable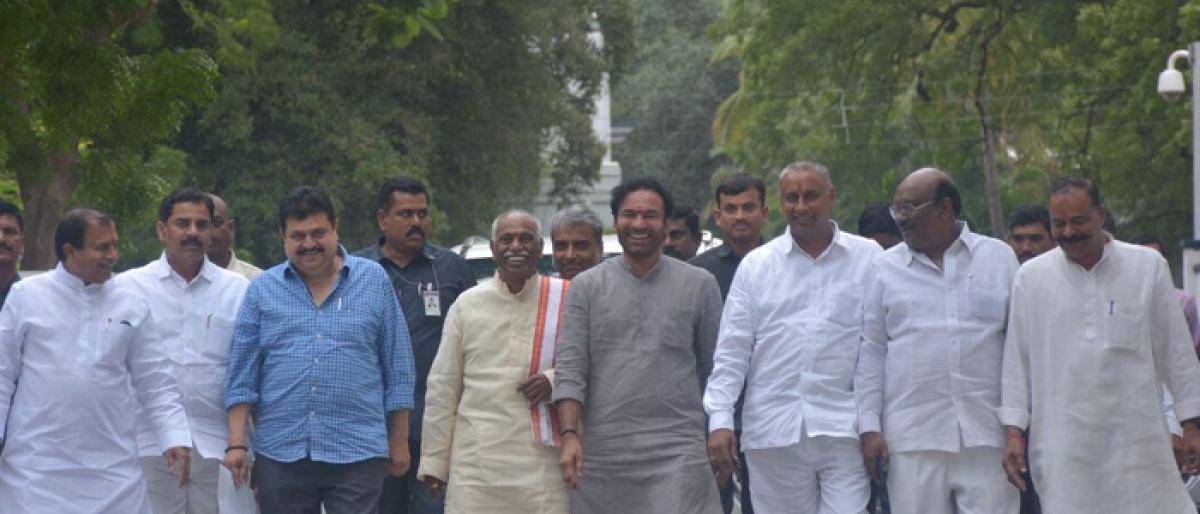 Highlights
The State BJP has come down heavily on the TRS government and police for slapping externment orders against Swami Paripoornananda barring his entry into Hyderabad for a period of six months
​Hyderabad: The State BJP has come down heavily on the TRS government and police for slapping externment orders against Swami Paripoornananda barring his entry into Hyderabad for a period of six months.
Taking to twitter, BJP national general secretary P Muralidhar Rao termed the midnight decision of the Telangana government as an insult to Hindus and intended to disturb the social harmony. And, the "politically-motivated decision is an assault on the human rights of the entire Hindu community."
In another tweet in Telugu, Rao stated that the government's administration under Chief Minister K Chandrasekhar Rao reflects the "Nizam's religious politics". Adding, he said that the "Externing Swami Paripoornananda from Hyderabad is human rights violation. It is an attack on entire Hindu society. Government has given a big seat to the vote bank politics and the BJP condemns the midnight decision of the State government," he said.
In Hyderabad, BJP State party delegation led by former Union Minister and Secunderabad MP Bandaru Dattatreya called on Governor ESL Narasimhan and submitted a representation terming the move a "despotic and dictatorial attitude of Telangana police towards spiritual persons".
It said externment of Swami Paripoornananda from Hyderabad for a period of six months is a unilateral decision which has no base, no context and no evidence. The delegation pointed out to the Governor that the externment provisions were actually meant for anti-social elements and using it against a Swamy dedicated to spirituality is untenable.
Taking a dig at the attitude of the police, the delegation, in their representation, stated that police was behaving in a high-handed manner clubbing the perpetrators and peace lovers in the same bracket. Dattatreya said the Rachakonda police had indeed given permission to take out Dharma Parirakshana Yatra by the Swami. But, the same had been cancelled off after all necessary arrangements were made and he was placed under house arrest.
Stressing on it is a fundamental right of any citizen to express his dissent or to protest on a particular issue in a peaceful manner, the BJP delegation sought the intervention of the Governor.
BJP State president Dr K Laxman demanded unconditional revocation of externment orders. Addressing the media at the party State headquarters here on Wednesday, he termed the action of police against Paripoornananda uncalled for and dared to take action against MIM leaders who had made derogatory remarks against Hindu gods.
Laxman said that the way police had kept the Swami under house arrest for two days and slapped the externment orders reflects the dictatorial mindset of the State government.
"If the rights of people continue to be trampled upon in similar fashion, then the days of the TRS government are numbered,"Laxman said.