Osmania, Gandhi see surge in patients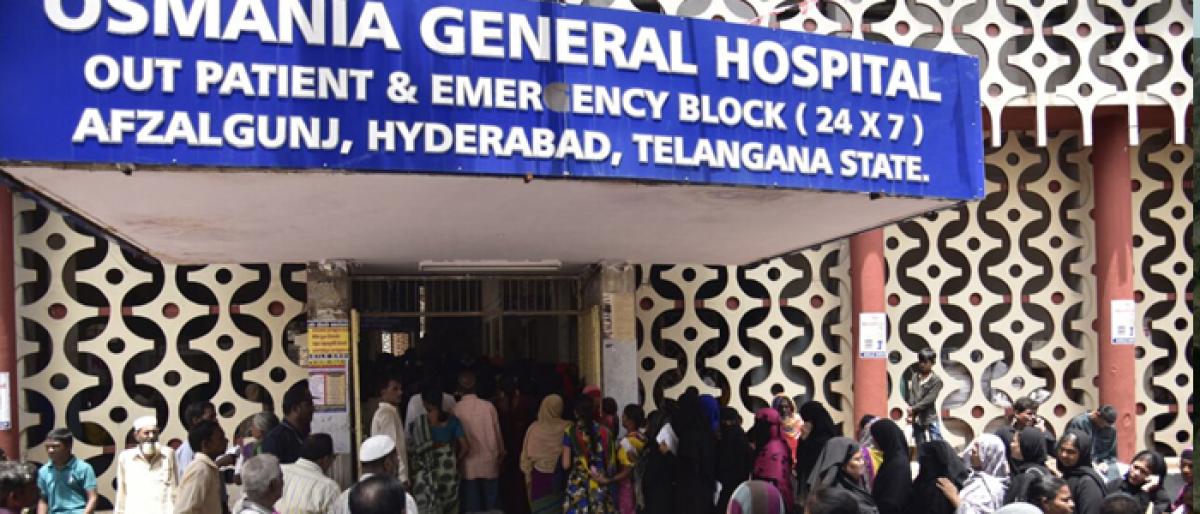 Highlights
The Staterun hospitals which used to be deplored by patients for their scanty medical facilities are now registering increased patient footfalls Thanks to the improved infrastructure On an average, 2,500 patients flock to the two governmen trun hospitals Gandhi and Osmania hospitals
​Hyderabad: The State-run hospitals which used to be deplored by patients for their scanty medical facilities are now registering increased patient footfalls. Thanks to the improved infrastructure. On an average, 2,500 patients flock to the two government-run hospitals--Gandhi and Osmania hospitals-- on a single day to avail out-patient services. Also, the in-patient services and surgeries have been showing a steady increase in numbers.
State Health department is attributing this changed trend to ever-increasing medical treatment costs in corporate and private hospitals, improved infrastructure and diagnostic facilities in State hospitals. Further, the reluctance of private hospitals to admit patients under government health insurance schemes like Arogyasri is adding up to the numbers.
The State government which undertook revamping of health sector by providing huge funds and introduction of innovative health schemes is finally reaping benefits.
Take the case of Osmania General Hospital (OGH), which is considered as one of the oldest hospitals in the country at present. Number of out-patients visiting this hospital has witnessed a 50 per cent raise at present compared to situation three to four years ago.
According to OGH superintendent Dr B Nagender, the increased footfall speaks for itself as how public has started reposing faith in government healthcare systems once again.
"In Osmania hospital alone, Rs 24 crore worth of medical equipment and machinery for radiology (CT Scan, digital X-ray, Mammography etc.) has been procured, which means that patients need not go to outside to diagnostic centres to get the tests done.
Treatments are being offered for gastro, nephro, ortho, cardiac, neurology, endocrinology, surgical-gastro, ortho etc. and various specialties. Treatment costs and accommodation packages are next to nothing when compared to corporate hospitals," Dr Nagender said. Dr Porika Shravan Kumar, superintendent, Gandhi hospital stated that these were the good times for government hospitals across the State.
Apart from creating new infrastructural facilities, sanitation and hygiene has shown a tremendous improvement as far as Gandhi hospital was concerned. Earlier people used to spit everywhere in hospital premises, but one can spot only clean walls and surroundings now and a lot of credit for this change goes to sensitisation among patients and visitors by hospital administration and some social organisations, he opined.
He also added that advanced investigation tests were now being done 24x7 much to the relief of patients and their families. Ultrasound Scan, CT Scan and MRIs done every day have almost doubled compared to the past, Dr Shravan said.