KCR to contest from two Assembly seats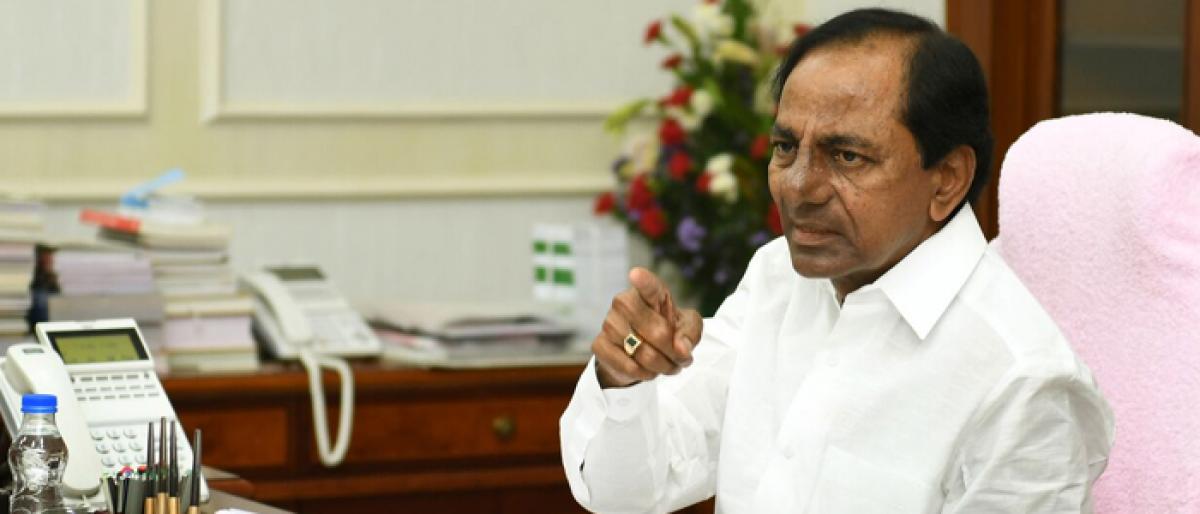 Highlights
Like former chief minister of undivided Andhra Pradesh NT Rama Rao, Telangana Chief Minister K Chandrashekhar Rao is vying options to contest from two Assembly constituencies in the next elections If all goes well, the TRS supremo is likely to fight also from an Assembly constituency in South Telangana, besides contesting from his Gajwel constituency
​Hyderabad: Like former chief minister of undivided Andhra Pradesh NT Rama Rao, Telangana Chief Minister K Chandrashekhar Rao is vying options to contest from two Assembly constituencies in the next elections. If all goes well, the TRS supremo is likely to fight also from an Assembly constituency in South Telangana, besides contesting from his Gajwel constituency.
KCR wanted to test the waters from one of the segments in Nalgonda or Mahbubnagar districts, the strongholds of the Opposition Congress. The party is already conducting surveys in some Assembly constituencies to zero in on the second constituency to be fought by the TRS chief.
It may be mentioned here that NTR contested from Kalwakurthi assembly segment in Mahbubnagar district and Gudiwada in Krishna district simultaneously in 1989 elections. However, he lost to Congress leader Chittaranjandas from the Telangana segment. KCR wanted to show his popularity by winning the two Assembly constituencies at one strike in next elections.
It was not new for KCR to contest elections from two segments, but one is Assembly and the other one is Parliamentary constituency. In 2014 elections, he was elected MP from Medak Lok Sabha seat and also MLA from Gajwel.
After becoming first Chief Minister of Telangana state, the TRS chief relinquished the MP post. In 2019 election, KCR is eyeing to fight from two assembly constituencies and elect as MLA. "The Congress leaders are of impression that the party is strong enough in the South Telangana districts and will win majority seats from this region. KCR wanted to give a tough challenge to Congress leaders by fighting from one of the assembly segments and prove that the TRS is also strong enough in the region," said a TRS leader.
The party is already scouting for a suitable assembly segment for KCR in Nalgonda and Mahbubnagar from where Congress leaders K Jana Reddy, N Uttam Kumar Reddy, Komatireddy Venkat Reddy, DK Aruna and Revanth Reddy are representing. A TRS leader said that Miryalaguda and Suryapeta in Nalgonda district and Vanaparthi and Jadcharla in Mahbubnagar districts are among other segments under consideration.
As KCR was elected from Mahbubnagar Lok Sabha seat in 2009 elections, the TRS chief is likely to prefer to fight from one of the assembly segments in the district. The leader said that the TRS chief is enquiring about the winning prospects of his party in all South Telangana districts of Khammam, Nalgonda, Mahbubnagar and Ranga Reddy districts and finalise a strategy to fix the Congress and win more number of seats. As part of the strategy, KCR will fight from one assembly seat, leaders said.