CM KCR wants Krishna row be referred to tribunal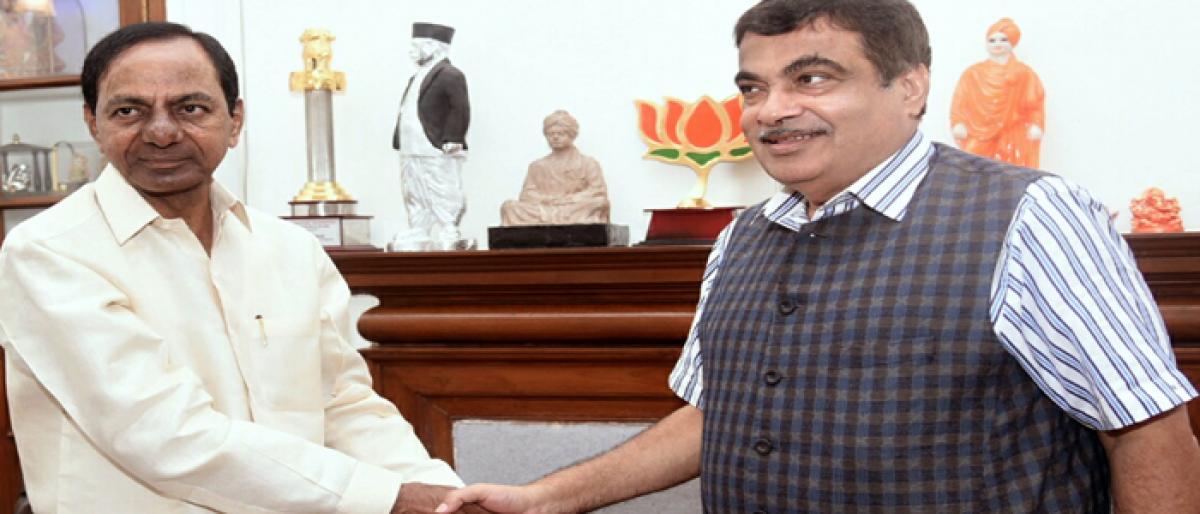 Highlights
Chief Minister K Chandrashekar Rao here on Monday during his meeting with the Union Minister for Water Resources, Nitin Gadkari, reiterated his demand to refer the Krishna waters dispute to a tribunal for adjudication, instead of allowing the Justice Brijesh Kumar Tribunal to continue hearing the same
​New Delhi: Chief Minister K Chandrashekar Rao here on Monday during his meeting with the Union Minister for Water Resources, Nitin Gadkari, reiterated his demand to refer the Krishna waters dispute to a tribunal for adjudication, instead of allowing the Justice Brijesh Kumar Tribunal to continue hearing the same.
The Chief Minister pointed out to the Union Minister that the provisions of the Andhra Pradesh Reorganisation Act, 2014 under Section 89 were adequate to render justice to Telangana and the provisions of Section 3 must be invoked. The Centre had, however, referred the matter to the Brijesh Kumar Tribunal by extending the tenure of the same.
Chandrashekar Rao also urged Gadkari to treat the Sita Rama Lift Irrigation Project as an ongoing project instead of considering it as a new project. He also gave details of the project works which had commenced in the past. He said the present project was a combination of two projects, Dummugudem Lift Irrigation Scheme-1 and Indira Sagar Rudramkota Lift Irrigation Scheme-II, and was named Sita Rama Lift Irrigation Project.
The Telangana government thought fit to rename it, as well shifted the works realigning them so that they would be in Telangana to avoid inter-State issues, the CM convinced the Minister and sought his cooperation in this matter.
He also cited the example of re-engineered Kaleshwaram Project which was approved as an ongoing project to seek ongoing project designation to Sita Rama Project. The Chief Minister urged Gadkari to announce Choutuppal to Kandi State highway as a national highway too and notify as such in the gazette, while seeking early completion of four-lane road of Jadcherla and Mahbubnagar.
Also, Chandrashekar Rao requested funds for repairs of the national highways in the State besides seeking Rs 3,000 crore additional funds for national highways works in the State.