Traffic curbs for Pragathi Nivedhana Sabha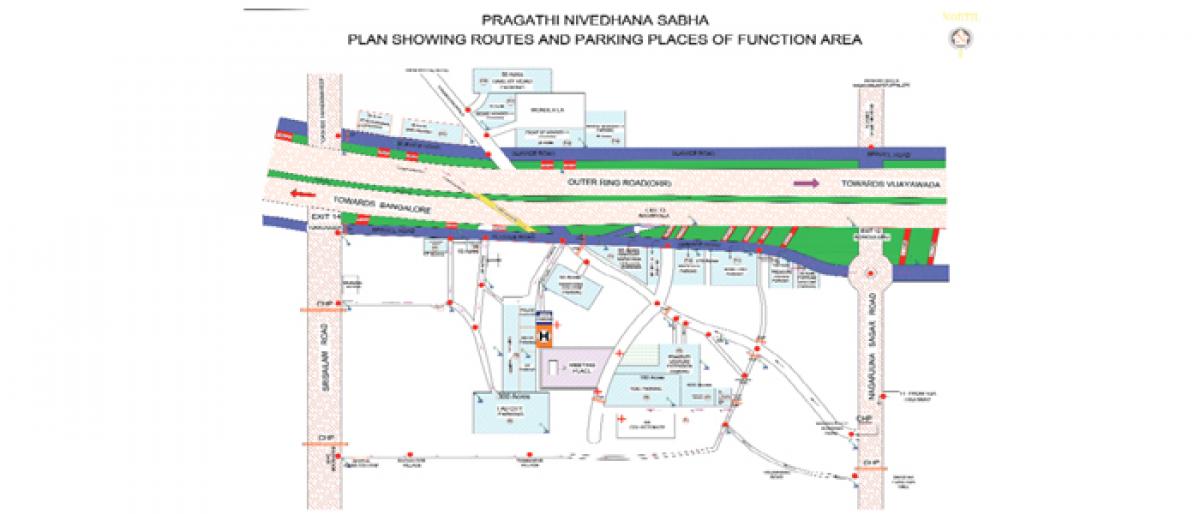 Highlights
In view of Pragathi Nivedana Sabha to be held on September 2 at Kongara Kalan village, Ibrahimpatnam Mandal of Ranga Reddy District the police issued following traffic advisory The traffic restrictions would be applied from 1000 am to 1200 Midnight on Sunday for the purpose of smooth public movement especially to the vehicles moving along the Outer Ring Road ORR and the adjoining service road
​Hyderabad: In view of Pragathi Nivedana Sabha to be held on September 2 at Kongara Kalan village, Ibrahimpatnam Mandal of Ranga Reddy District the police issued following traffic advisory. The traffic restrictions would be applied from 10:00 am to 12:00 Midnight on Sunday for the purpose of smooth public movement especially to the vehicles moving along the Outer Ring Road (ORR) and the adjoining service roads.
General Public travelling to or from Airport, Railway Stations and Bus Stands are advised to plan their journey accordingly. For any Enquiry or Help a Traffic Control Room at Adibatla police station was setup with Helpline numbers 9493 549 410 / 9493 549 411. Please avoid movement on ORR and the adjoining service roads between 10:00 am to Midnight on Sunday. All Emergency services and Ambulances will be given priority and commuters are requested to co-operate in the free movement of such vehicles.
Drivers of heavy goods vehicles are advised not to use ORR on Sunday. They are advised to take alternative routes and take guidance of police officers posted at such places. Heavy traffic movement will be likely along the following roads, Kukatpally- Miyapur- Hafeezpet- Gachibowli – ORR Route; Uppal- Nagole – L B Nagar- Sagar Road. Private bus operators intending to proceed towards Vijayawada and Bangalore are requested to plan their departure from Hyderabad as there may be heavy traffic movement along these roads from 8:00 pm to 1:00 am (September 3).
Movement along all the National or State Highways leading to Hyderabad will be more on September 2 from 08:00 am to evening 06:00 pm. Similarly, movement from Hyderabad along all National or State High Ways likely to be more on September 2 evening 07:00 pm to September 3 early morning hours (up to 05:00am).
General Public travelling to / from Hyderabad by road are requested to plan their travel accordingly. Several police officers have been deployed at all important places to guide public for free movement during the period to avoid any inconvenience.