Telangana admin goes into hyper mode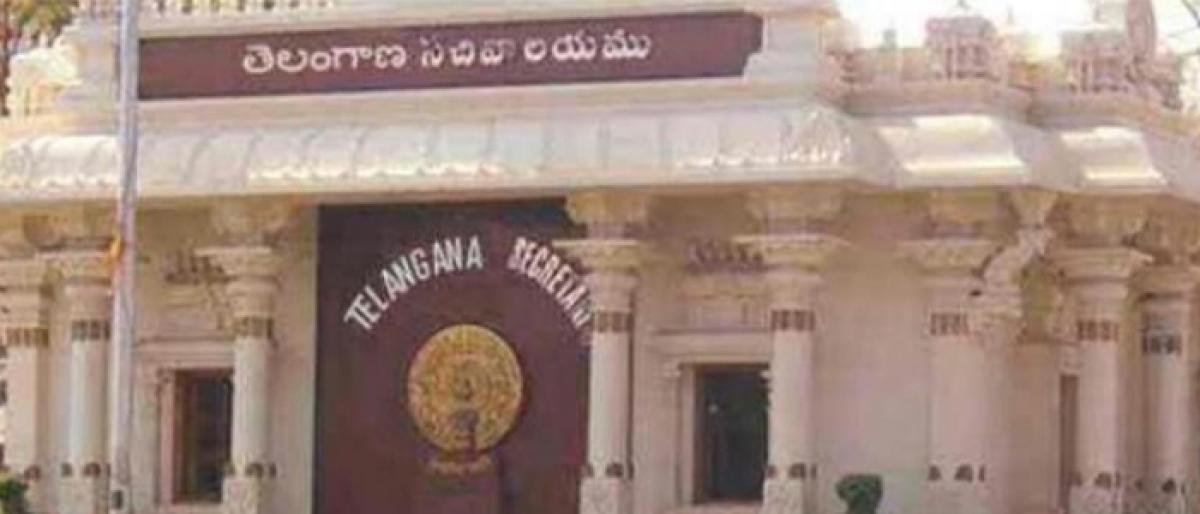 Highlights
The highvoltage drama, which Chief Minister K Chandrashekar Rao had set off at the mammoth public meeting at Kongara Kalan on Sunday night, continued on Monday too with the secretaries of all the departments in the Telangana state government getting their act ready to prepare the agenda for the all too crucial Cabinet meeting most probably on September 6 where decision on dissolution of Assembly
​Hyderabad: The high-voltage drama, which Chief Minister K Chandrashekar Rao had set off at the mammoth public meeting at Kongara Kalan on Sunday night, continued on Monday too with the secretaries of all the departments in the Telangana state government getting their act ready to prepare the agenda for the all too crucial Cabinet meeting most probably on September 6 where decision on dissolution of Assembly appears highly likely.
The secretaries held emergency meeting with their respective Heads of the Departments (HoDs) in the Secretariat on Monday following Chief Secretary SK Joshi's instructions to forward pending and also new proposals, if any, to the government by Tuesday evening. They were busy drafting the policies required to get the state's nod. New schemes like unemployment dole for the youth and a hike in pension amount is already under active consideration.
Sources said that more than 50 issues are being finalised for discussions and seek ratification in the next cabinet meeting. The Welfare departments, mainly the BCs, SCs, STs and Minority wings and Women and Child Welfare department officials held day- long meetings to resolve the long-pending issues mainly the release of funds and sanction of posts in the departments.
Education, Agriculture, Medical and Health, Municipal Administration and Urban Development and Panchayat Raj departments have been asked to send the details of vacant posts and pending issues mainly the recruitment on the compassionate grounds in their respective wings.
The clearance of the bills regarding the release of funds under the Constituency Development Fund (CDF) and Special Development Fund (SDF) of all the MLAs will also be cleared instantly. State Planning department, the implementing agency of the CDF and SDF, is holding series of meetings with the Finance department to dispose of the bills immediately.
A senior BJP leader and an MLA, who attended a meeting called by KCR recently, said that all his party MLAs were asked to submit pending bills for the constituency development works for the second quarter which in September and also the new proposals for the third quarter (October to December) to the authorities immediately.
Considering the financial constraints, the official said that the pending bills of more than Rs 100 crore in Irrigation, Roads and Buildings and Municipal Administration will be cleared only after receiving funds from the corporations created to generate funds through banks.
For instance, the Kaleshwaram project bills will be cleared only after the Kaleswaram Corporation gets funds from a public sector banks which came forward to give Rs 10,000 crore loan for the project recently. All the important issues in every department will be placed before the cabinet in the next meeting, officials said that half-a-dozen new schemes are likely to be finalised in the Cabinet meet.