Rahul Gandhi to steer Congress to power in Telangana State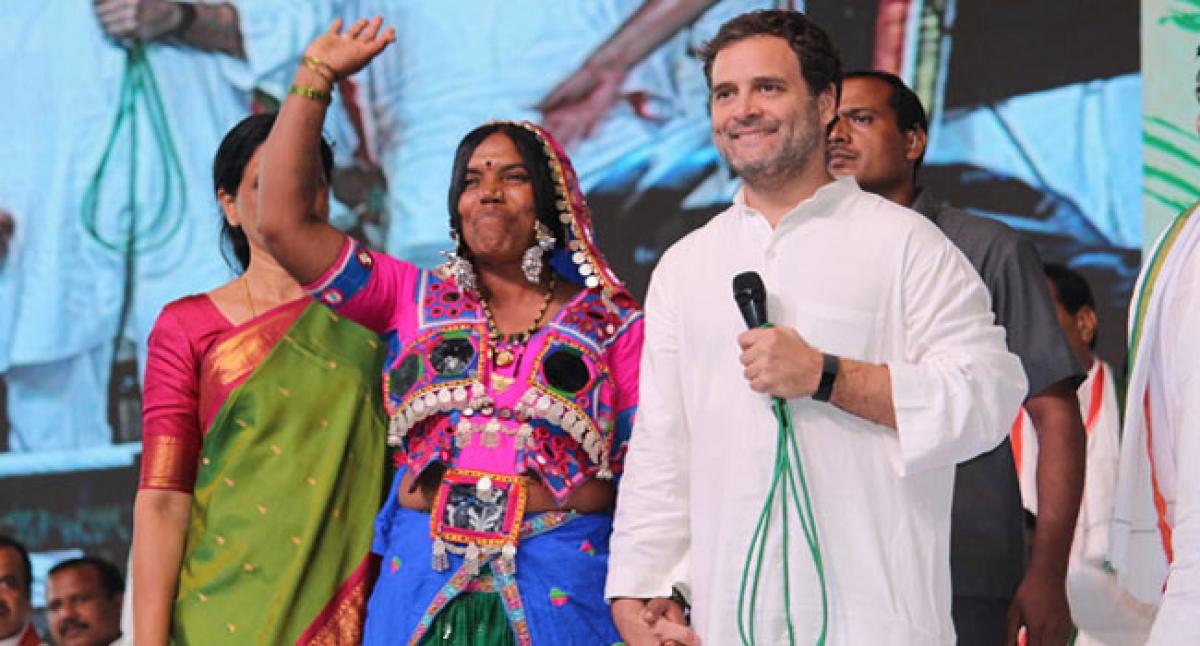 Highlights
With no unanimity on projecting a senior leader in Telangana for statewide campaign on behalf of the party in the Assembly elections, the Congress may depend on AICC president Rahul Gandhi in this regard to steer Congress power in the state
Hyderabad: With no unanimity on projecting a senior leader in Telangana for statewide campaign on behalf of the party in the Assembly elections, the Congress may depend on AICC president Rahul Gandhi in this regard to steer Congress power in the state.
The leaders of the party are planning to hold as many public meetings as possible with Rahul's participation in the state for the electoral campaign. Rahul may address about 10 public meetings in the 10 erstwhile districts of Telangana.
According party sources, seniors of the state party are not ready to project one leader for statewide campaign though it has a few leaders who are quite popular among people.
Leaders like N Uttam Kumar Reddy, K Jana Reddy, A Revanth Reddy, Komatireddy Venkat Reddy, Vijayashanti and S Jaipal Reddy are popular leaders among the people.
These leaders could electrify the people with their fiery speeches and could unite them against the ruling party. However, these leaders may not agree for projecting one of them as statewide campaigner.
A leader of the party said that though the Telangana Congress has firebrand leaders, their hands were tied due to ego problems and they were unable to make a statewide campaign. The leaders do not want to give credit to one leader for the victory of the party, if it happens, to any one leader.
The state Congress has several leaders contending for the Chief Minister's post and they would not allow other popular leader to get the credit of bringing the party into power.
Another leader said that at the same time the senior and popular leaders would be confined to their respective districts to ensure their own victory apart from supporting their followers in other constituencies.
Uttam Kumar Reddy has to take care of his constituency along with his wife's segment. Jana Reddy too has to take care of his own and his son's constituency. Revanth has to help other candidates of old Mahbubnagar district. Komatireddy Venkat Reddy has to concentrate on Nalgonda district.
With this the popular leaders of the state Congress would be busy with the elections in their own districts and they may not be able to go around the state for campaigning on behalf of others.
In view of these circumstances, the Telangana Congress may depend on Rahul for the statewide campaign activity. Party leaders are of the view that Rahul's campaign would improve the party's prospects immensely.
A leader of the party said that the two-day visit of Rahul in the last month has brought a lot of vigour in the state Congress and forced the Chief Minister to go for early polls.
The leader said that Rahul's allegations against the Chief Minister have rattled the TRS to the core and it was unable to give reply to his charges. As Rahul's image would be a bit higher than that of the TRS chief's stature, his campaign would be a big help.