Cops foil students protest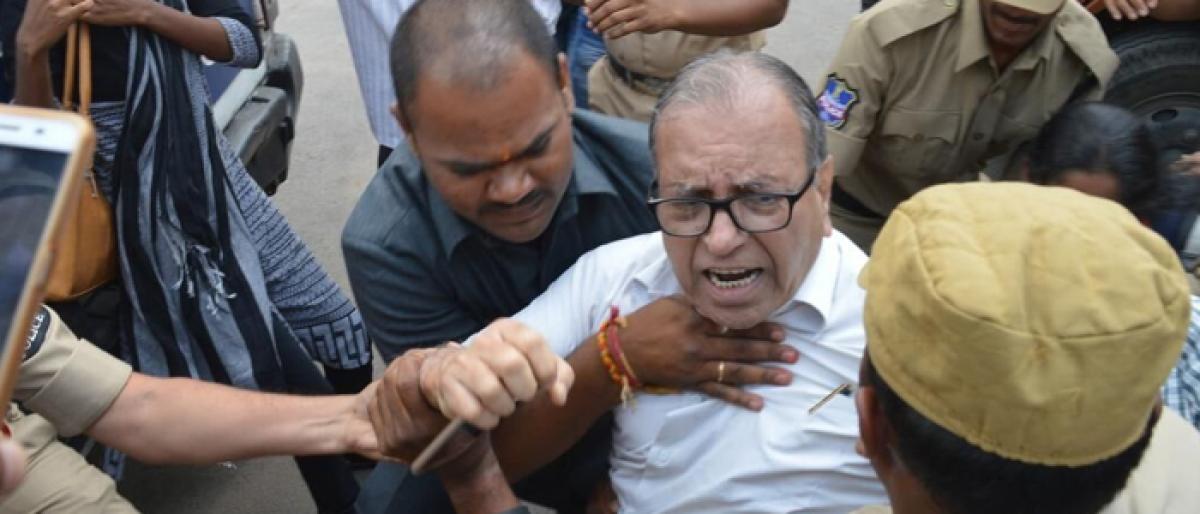 Highlights
The Vidya Vignan Porata Yatra turned violent when the police tried to arrest the leaders of Save Education Committee at Gunpark on Friday Earlier, in the morning hours, save education committee arranged a meeting against the privatisation of education at Gun park opposite to Assembly Former MLC Chukka Ramaiah, Professor Haragopal and POW leader Sandhya attended the meeting The meeting started n
​Hyderabad: The Vidya Vignan Porata Yatra turned violent when the police tried to arrest the leaders of Save Education Committee at Gunpark on Friday. Earlier, in the morning hours, save education committee arranged a meeting against the privatisation of education at Gun park opposite to Assembly. Former MLC Chukka Ramaiah, Professor Haragopal and POW leader Sandhya attended the meeting. The meeting started normally, and the leaders of the committee took several resolutions in the meeting. They decided to conduct a huge meeting at Khammam.
With a slogan 'save government schools and colleges in the State,' Telangana Vidya Porata Parirakshana Committee planned a 100-day tour around 31 districts. As part of the tour, save education committee leaders decided to explain the people how the Central and State governments are neglecting the education in government schools and colleges.
Around 11 am students started gathering at Gunpark in large number.
They wanted to start a rally there. Seeing the huge participation, the police started arresting them, but when the police arrested former MLC and educationist Chukka Ramaiah and Professor Haragopal, students retaliated and within a short span of time the situation turned violent.
Police forces tried to shift the leaders in their vehicles. Meanwhile, girl students sat in front of the police vehicles to stop the arrests. Later, police forcibly dragged the leaders into vehicles during which Professor Haragopal and several students fell down. During the ordeal a girl student fell unconscious.
The students were forcibly dragged away and arrested by the police. The leaders and members of the save education committee alleged that during the arrests male police officials manhandled the girl students. They said even the ages of Chukka Ramaiah and Professor Haragopal were not taken into consideration by the police officials.
After the arrest Chukka Ramaiah and Haragopal were shifted to Bolaram police station. Speaking to the media, Haragopal said that each and every person of the State is watching the anti-people police of the TRS government and the voters will teach them a lesson in the elections to come. He took a jibe at Caretaker Chief Minister K Chandrashekar Rao and said that in 2014 the TRS party came into power by promising free education to the students from KG to PG. But nothing has been done in that way except privatising the education.
Interested in blogging for thehansindia.com? We will be happy to have you on board as a blogger.