Aisen rolls out wide array of products in Telangana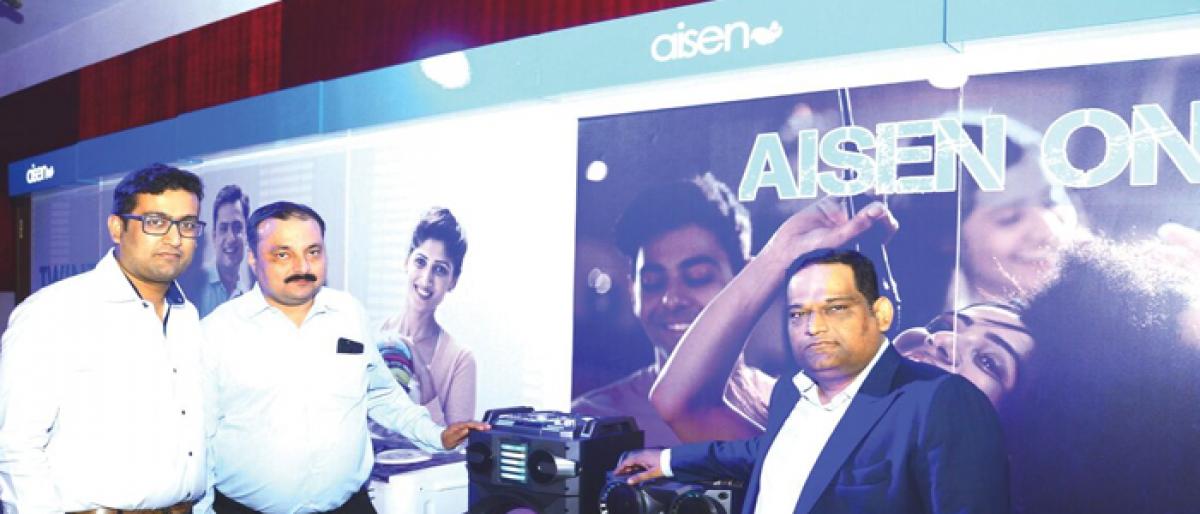 Highlights
Aisen, one of the fastest growing consumer durable brands promoted by Vishal Video and Appliances Private Limited on Saturday announced the launch of washing machines, a vast range of trolley speakers, heating products and a new range of LED TVs in Telangana
​Hyderabad: Aisen, one of the fastest growing consumer durable brands promoted by Vishal Video and Appliances Private Limited on Saturday announced the launch of washing machines, a vast range of trolley speakers, heating products and a new range of LED TVs in Telangana.
Vishal Video and Appliances is a Rs 1,200 crore conglomerate having manufacturing facilities in Noida. Aisen was first introduced in UP in 2014 with room air coolers and in the very first year, it became number two brand as reported by ORG-FFK. Since then it continued to spread in various other parts of the country and as of today it is present in 12 States. In 2017, LED TV and speaker systems were added to the product portfolio and 2018 saw the introduction of washing machines.
"We are excited by the launch of our products in Hyderabad, Telangana and look forward for delivering the latest technology and feature-rich products to our customers. We follow the principle of 'customer first' and continuously work towards offering the latest products to suit the changing lifestyle of today's progressive customers," said Vinit Agarwal, Director, VVAPL. He added that Aisen will be entering the air conditioning market early next year.
Riding high on its channel initiatives, Aisen conducted its sales network meet at Hyderabad. The company dedicated two-days to meetings and exchanges of opinions with the keyline distributors, dealers and resellers, and explained them on the several new launches in the pipeline and also the plans for Diwali. The company underlined its marketing plan and product roadmap till Diwali in sync with the launch of heating products in less than a month.
All Aisen products come with the latest features and technological advancement with a promise to deliver a delightful experience to consumers. "Aisen products carry the promise of reliability and durability and come with an additional warranty, setting a new benchmark in the Industry. Aisen is the first and only brand to offer two years warranty on air coolers and three years comprehensive warranty on LED TV," the company said.