TRS did nothing for Telangana: Congress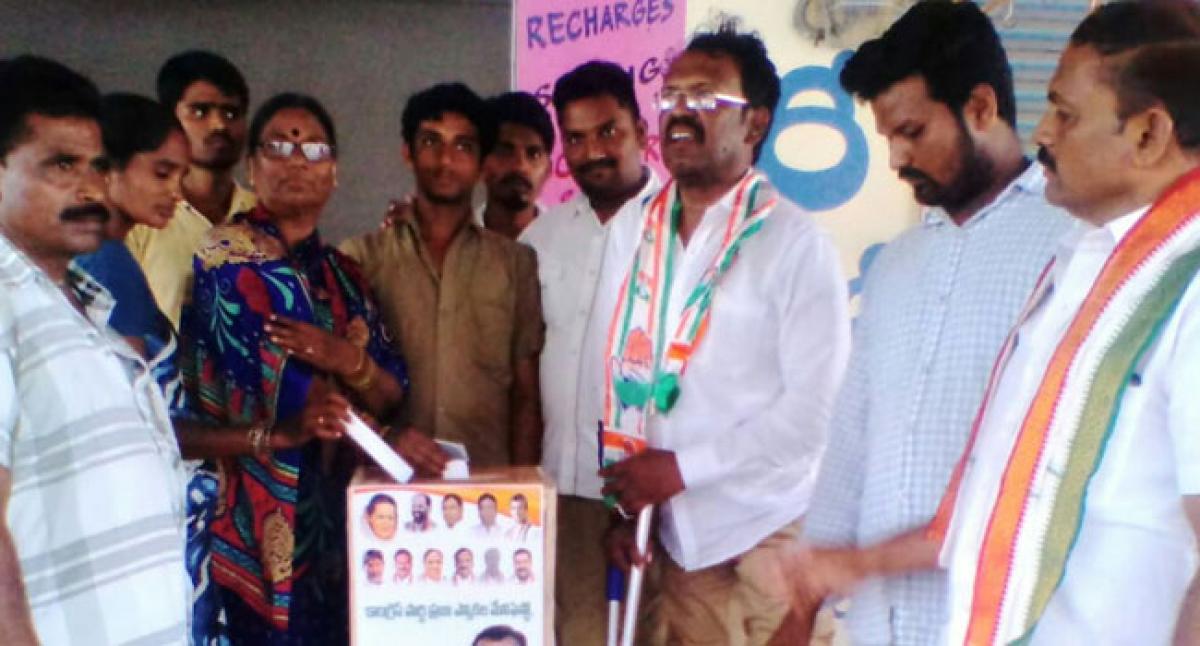 Highlights
Telangana Pradesh Congress Committee TPCC general secretary Bakka Judson, who is willing to contest from Wardhannapet Assembly constituency, has come out with an idea to elicit the aspirations of the locals through a suggestion box on Sunday Judson said that after collecting the opinions of the constituency people, he would take them to the notice of Congress leadership so that to include them
Wardhannapet (Warangal): Telangana Pradesh Congress Committee (TPCC) general secretary Bakka Judson, who is willing to contest from Wardhannapet Assembly constituency, has come out with an idea to elicit the aspirations of the locals through a suggestion box on Sunday. Judson said that after collecting the opinions of the constituency people, he would take them to the notice of Congress leadership so that to include them in the party's manifesto.
He said that the Congress party is focusing on local issues to include them in its election manifesto. "The idea is to know the opinions and problems of the people that differ from place to place," he said, referring to party leadership's impetus on addressing the hardships faced by the people.
Judson said that he had set up suggestion boxes in Wardhannapet, Parvathagiri and Hasanparthy mandals apart from Madikonda village under Hanamkonda mandal for the convenience of people to submit their opinion.
The TPCC secretary alleged that former MLA Aroori Ramesh never focused on problems faced by his constituency people and was more focused on earning money through contracts. He lambasted Aroori Ramesh that he did not take up any of the development works and demanded Ramesh to explain what are the developmental works he had taken up in his constituency? The Congress is ready to defeat the TRS leader in the forthcoming elections to the Telangana Assembly.
"It's not just Aroori Ramesh but almost all the TRS legislators did nothing concrete to resolve the people's issues," Judson said. People are ready to teach a befitting lesson to the 'corrupt' TRS government. The TRS government, since the inception of Telangana, failed to provide succour to the people and it has become a family rule of KCR, he said.
The Congress is ready to explain to the people about the anti-people's policies of the TRS government and dared the ruling party to face them in the ensuing elections. Youth Congress leader Thoolla Ravi, Bokkala Pramod, Chandramouli, Anil, Dileep, Raju and Srikanth were among others present.