Parties opt for star hotels to stitch Mahakutami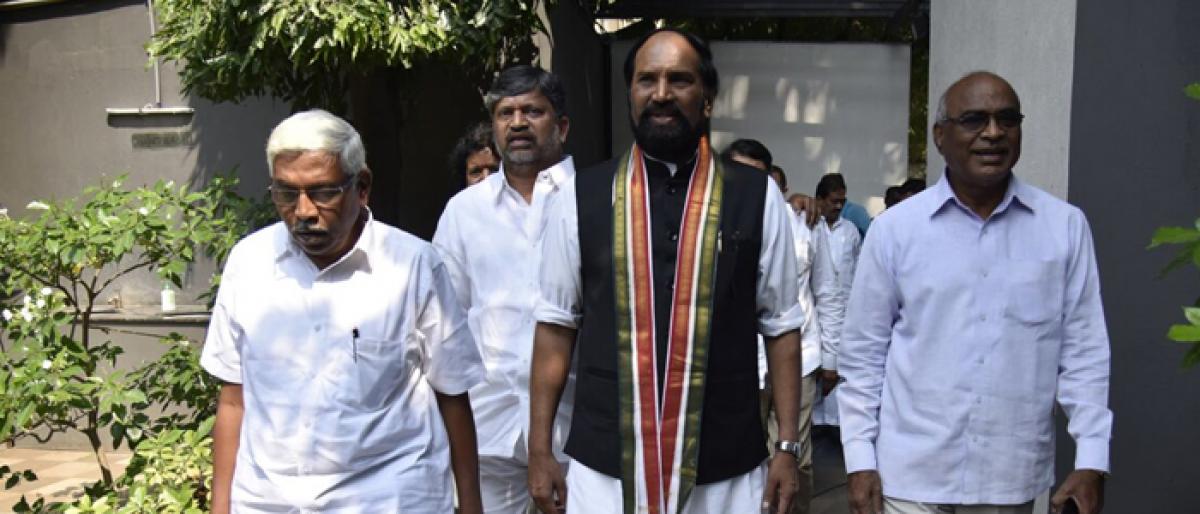 Highlights
it is hotel politics in Telangana as Assembly elections are just around the corner Opposition parties including the Congress, the Telugu Desam Party TDP, the Communist Party of India CPI and the Telangana Jana Samithi TJS that are in talks for forging a Mahakutami to dethrone the Telangana Rashtra Samithi TRS government have chosen star hotels as venue for talks held on few occasions ov
​Hyderabad: It is 'hotel politics' in Telangana as Assembly elections are just around the corner. Opposition parties including the Congress, the Telugu Desam Party (TDP), the Communist Party of India (CPI) and the Telangana Jana Samithi (TJS) that are in talks for forging a Mahakutami to dethrone the Telangana Rashtra Samithi (TRS) government have chosen star hotels as venue for talks held on few occasions over the last three weeks.
If the meeting place was Park Hyatt, Banjara Hills initially, heads and key leaders of the four opposition parties met a Hotel Golkonda, Masab Tank recently. They lately changed the venue to Hotel Central Park, Hyderguda near Old MLA Quarters for deliberations held on Tuesday (October 2).
The parties in question have spacious own offices within the city, but the Mahakutami talks were never held at any of the party headquarters. Association between political parties and star hotels or resorts is nothing new, but it was mostly confined to holding political camp to keep the flock together at the time of no confidence motion thus ruling out any poaching possibilities by the Opposition. However, off late star hotels and farm houses on city outskirts also have become preferred places for holding important and uninterrupted discussions away from glare of media and other disturbances. This trend is being followed at present as Telangana political parties gear up for the forthcoming assembly elections.
According to a TJS leader, there are several advantages of holding all-party meetings at star hotels, where a limited number of leaders can focus on the job without worrying about other issues including media enquiries. "If the meeting is held in any party office, there are chances of other politicians or activists or general public gate crashing into the meeting room on one pretext or another. Also, serving lunch or dinner to all-party delegation in case of prolonged meetings would be an issue as there are chances of others barging inside and controlling them would be a headache. If the venue is a star hotel, there would be no problem of unwanted visitors. Also, having lunch or dinner is not an issue as hotel staff will readily make arrangements in no time when asked," the leader said.
Meanwhile, parties in discussion for Mahakutami are focusing on manifesto points in recent meetings with seat sharing issue not being given much attention. It is learnt that the Opposition parties are waiting for Supreme Court case on opposing early elections without sorting out large-scale deletion of voters in several districts of Telangana. The case is set to come up for hearing in apex court on October 5. Parties are of the view that clarity would emerge on when elections would be held in Telangana once SC gives its judgment and they can act accordingly including finalisation of seat sharing, naming of candidates etc.