A school where snakes, centipedes have a free run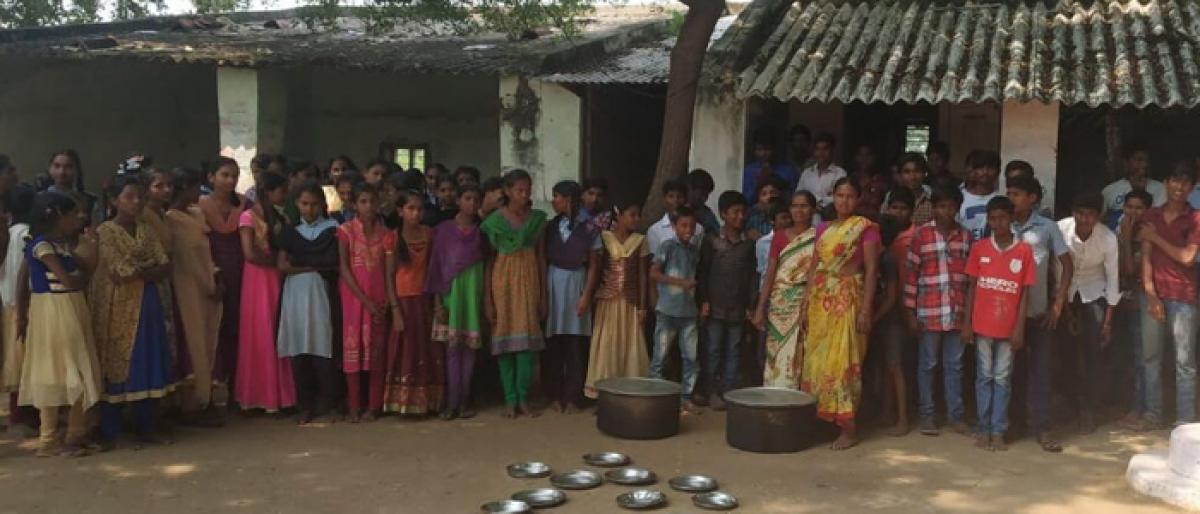 Highlights
Where you find snakes, centipedes and scorpions have a free run, and school teachers need helmets not for their bike ride but to protect them from the falling cement flakes of staffroom roof, thats the Zilla Parishad High School at Rampur under Maripeda mandal, 170 km east of Hyderabad
​Mahabubabad: Where you find snakes, centipedes and scorpions have a free run, and school teachers need helmets not for their bike ride but to protect them from the falling cement flakes of staffroom roof, that's the Zilla Parishad High School at Rampur under Maripeda mandal, 170 km east of Hyderabad.
The lone cubbyhole-like staffroom was built way back in 1982 and since then the school is as it was without any sign of development this despite the ruling party leaders claim that government is committed to providing high-quality care and education within an inclusive and enabling environment. The villagers donated a tin roof each for the construction of classrooms to provide shade to their children some 30 years ago.
Although the locals made fervent appeals repeatedly to the authorities concerned, little did happen for the comfort of students and staff. The five tin roof classrooms that have no doors and windows host Classes from VI to SSC. Presently, the number of students studying in the school is 90.
The staff includes five teachers and three Vidya volunteers, while the headmaster post is vacant since recent transfers. Against this backdrop, the villagers wrote a letter to education officials a few days ago to visit the school before October 6 to see the plight of students who have been facing a lot of problems due to lack of infrastructure.
They warned them of boycotting mid-day meals. However, neither the district education officer nor the mandal education officer had come to the school. Besides shunning mid-day meals, the students also locked themselves inside the staffroom in protest against the authorities on Saturday.
However, with the intervention of local police, the students withdrew their protest. The students said that they have no drinking water facility and proper toilets. It may be noted here that there are 54 girl students in the school. With the school is adjacent to agricultural fields, the sight of snakes, scorpions and centipedes is very much common here.
Speaking to The Hans India, Rampur former Sarpanch Rampally Ashwini, who recently completed her term, said: "There is a dire need for the construction of school building. As of now, the staffroom is in a dilapidated state and the classrooms are devoid of safety.
Even though we have represented the issue with the Deputy Chief Minister Kadiyam Srihari, who holds the education portfolio, there was a little use."
A school teacher said that due to previous headmaster's negligence the school remained undeveloped. It's learnt that with that headmaster giving misinformation in the Unified District Information System for Education (UDISE) form, the authorities didn't consider the requirements of the school.