Three lakh Devotees expected on Oct 14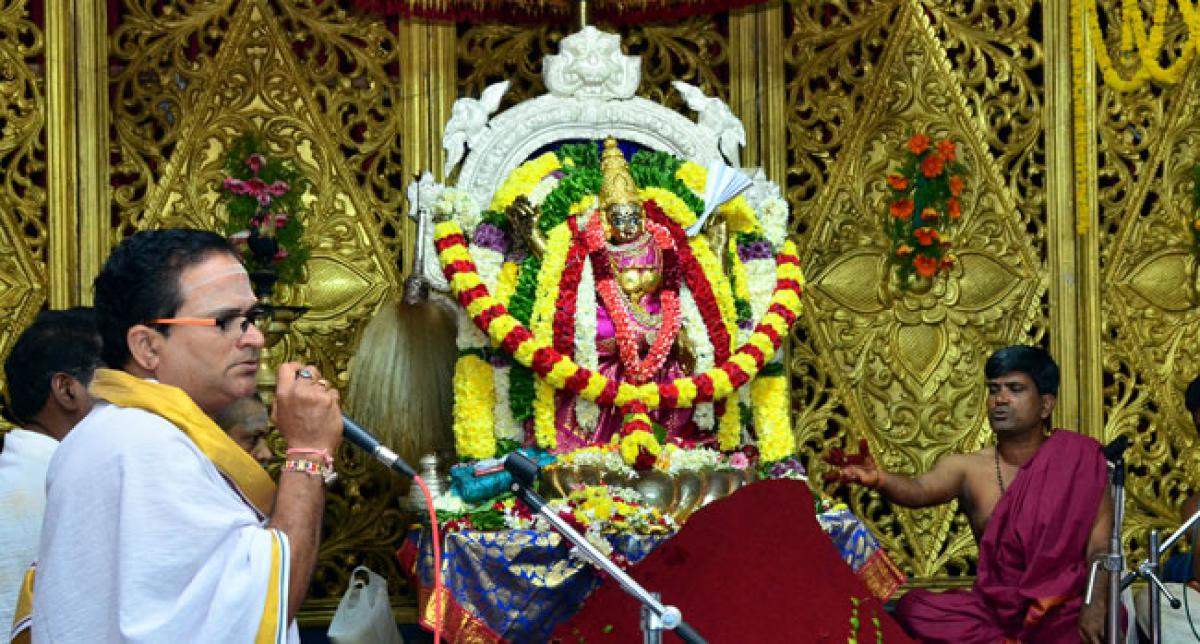 Highlights
The rush on the second day of Dasara celebrations was less compared to that on the first day at the Goddess temple atop Indrakeeladri on Thursday Thousands of devotees thronged the temple since the early morning on Thursday
Vijayawada: The rush on the second day of Dasara celebrations was less compared to that on the first day at the Goddess temple atop Indrakeeladri on Thursday. Thousands of devotees thronged the temple since the early morning on Thursday.
The presiding deity was decorated as Bala Tripura Sundari Devi on Thursday and the devotees had a darshan of Goddess Kanaka Durga peacefully as the officials have made elaborate arrangements from Canal Road to the temple passing via ghat road.
Minister for Municipal Administration P Narayana, Home Minister N Chinarajappa, Deputy Chairman of Legislative Council Reddy Subrahmanyam and others offered special prayers for the wellbeing of the people of Andhra Pradesh.
Later, interacting with the reporters at the media point at Durga temple, Minister Narayana said arrangements were made for the darshan of 15 lakh devotees this year.
On the first day, 90,000 devotees visited the temple against 50,000 devotees visited on the first day last year, he said and added all departments are working in co-ordination to ensure successful conduct of nine-day celebrations.
Home Minister Chinarajappa said heavy bandobust was arranged to ensure peaceful conduct of festivities. All precautions were taken to ensure that the devotees will not face problems. Temple executive officer V Koteswaramma, Trust Board Chairman Y Gauranga Babu and other officials, priests have welcomed the two ministers with temple honours and presented the portrait and Prasadam.
On the third day, the deity will be decorated as Gayatri Devi on Friday. District Collector B Lakshmikantham monitored the arrangements since Thursday morning and performed special puja.
He said about three lakh devotees may visit the temple on Mula Nakshatram day that falls on October 14 and the district administration geared up to conduct the event in a successful and peaceful manner.
He said expert swimmers are drafted at bathing ghats to prevent any untoward incidents and praised the officials and staff for making all arrangements for the nine-day festivities.