Jagga Reddy dubs KCR, TRS leaders cheats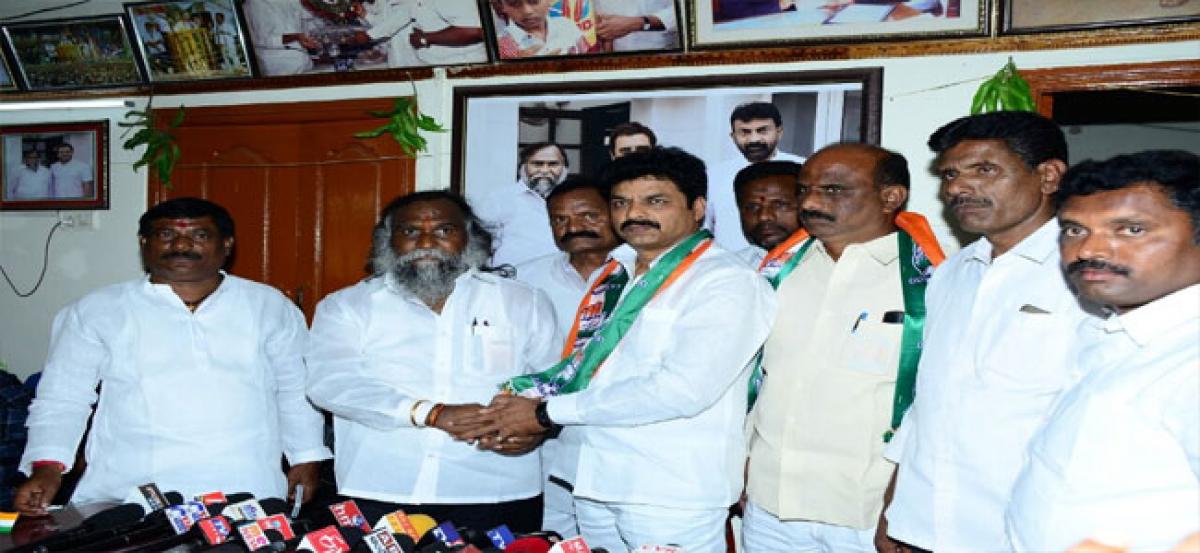 Highlights
Former MLA and aspirant Thoorpu Jayaprakash Jagga Reddy described Chief Minister K Chandrasekhar Rao and the ruling party as synonyms for cheating and that the TRS leaders were resorting to Maladministration
Sangareddy: Former MLA and aspirant Thoorpu Jayaprakash (Jagga) Reddy described Chief Minister K Chandrasekhar Rao and the ruling party as 'synonyms for cheating' and that the TRS leaders were resorting to 'Maladministration'.
Addressing press persons at his residence, Reddy accused TRS leaders of 'cheating' the Congress leaders and people of Telangana since 2014 having failed to honour promises like 12 per cent reservations for Muslims and farm loan waiver. He alleged that KCR since becoming CM had failed to solve people's problems. Reddy contended that Congress CMs during their rule were available for people, whereas KCR was confined to his farm house.
He pointed out although former Deputy CM Damodar Rajanarsimha had secured JNTU for Andole it was yet to be launched. The Congress leader claimed that when the Manjira water was made available for residents of Sangareddy a TRS minister had diverted it. He said Chinta Prabhakar when given a chance for being a BC was moving with Harish Rao and was unable to ensure continuance of a medical college.
Reddy welcomed TRS leader Shivraj Patil into Congress. Patil alleged that KCR had cheated him by promising BC corporation chairman's post. He was re-joining the Congress after realising his mistakes. Among those present at the press meet were leaders Julakanti Anjaneyulu, Ram Reddy, Krishna Reddy, Lakshma Reddy.