Rahul telling outright lies: KTR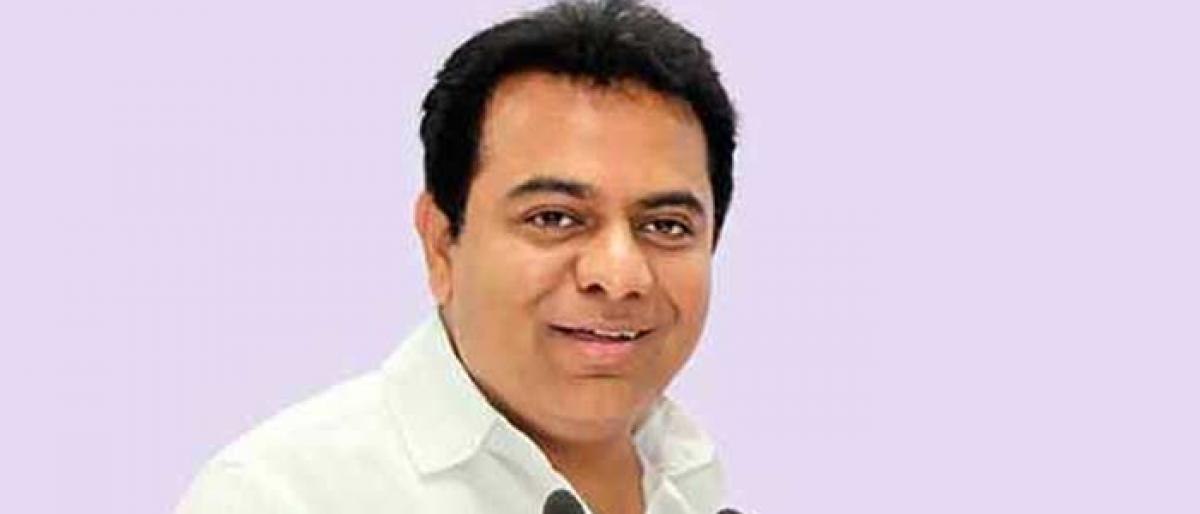 Highlights
Telangana Rashtra Samithi hit back strongly at Congress President Rahul Gandhi for his criticism and allegations levelled against K Chandrashekar Rao led government in the State
Caretaker Minister for Information Technology describes the Congress and the BJP as 'two sides of the same coin'
TRS senior leaders B Vinod Kumar and Karne Prabhakar, besides MP Balka Suman say the Congress is trying to corner the government by spreading falsehood
Hyderabad: Telangana Rashtra Samithi hit back strongly at Congress President Rahul Gandhi for his criticism and allegations levelled against K Chandrashekar Rao-led government in the State.
KCR's son and caretaker IT Minister K T Rama Rao minced no words in attacking Rahul Gandhi for what he called complete lies and distorted statements by the former without checking facts and figures.
He said the Congress and BJP are two sides of the same coin and did nothing for Telangana State.
"Rahul Gandhi is good at reading scripts given by State Congress units wherever he goes. He also did the same during his public meetings on Saturday. However, he should have done a proper homework to avoid speaking lies and misleading people of the State," KTR said.
Commenting on Ambedkar name removal for Pranahita Chevella project, KTR said what Rahul Gandhi said was false as Amedkar project was still in place and it would cater to the needs of the people in the erstwhile Adilabad district.
As regards allegations of corruption and escalation of Kaleshwaram project cost from Rs 38,000 crore to over Rs one lakh crore, KTR said Rahul Gandhi got his figures wrong.
"He said that during the Congress government rule between 2007 (when Pranahita project was conceptualised) and 2010, the project cost was modified from Rs 17,000 crore to Rs 40,000 crore.
Now because of increased land acquisition costs, GST burden, construction of new barrages and pump houses (3 each), project cost went up.
Is Congress is giving rates fixed in 2010 for projects being constructed in 2018 in other States ruled by it? The Central Water Commission has projected costs at Rs 80,190 crore while giving final clearance," he said.
KTR also took strong exception to Rahul Gandhi's criticism of the TRS government on farmer suicides in Telangana State, only a few thousand jobs were created for unemployed in last four- and-half-year.
"Because of 24-hour power supply, increased acreage under cultivation, assistance through Rythu Bandhu farmer suicides are coming down drastically in Telangana State and it was endorsed by Parsottambhai Rupala, Minister of State for Agriculture at Centre.
On employment front, Finance Department has given clearance for 1.09 lakh jobs. However, due to legal hassles posed by the Congress in courts, only 32,000 vacancies are filled," he pointed.
KTR said the Congress had no moral right to talk about farmers, beedi workers and Gulf workers as it did nothing in last seven decades.
He accused the national party of trying to create a wedge between Hindus and Muslims who lived in harmony and peace without any curfew or law and order disturbances during the TRS governance in last four and half years.
KTR termed both the Congress and BJP as enemies of Telangana state.
"TRS sees Rahul Gandhi and Narenda Modi as one and the same.
Because BJP is a non-entity in Telangana State and is set to lose deposit in more than 100 constituencies, our energies are focused only on the Congress party in the State.
The Congress might come in second or third position, but BJP is not a force to reckon with in Telangana State for sure," he said.
TRS senior leaders B Vinod Kumar, Karne Prabhakar and MP Balka Suman among others criticised Rahul Gandhi and Congress for trying to corner TRS government by spreading falsehood.