Congress-TDP pact big hurdle: KTR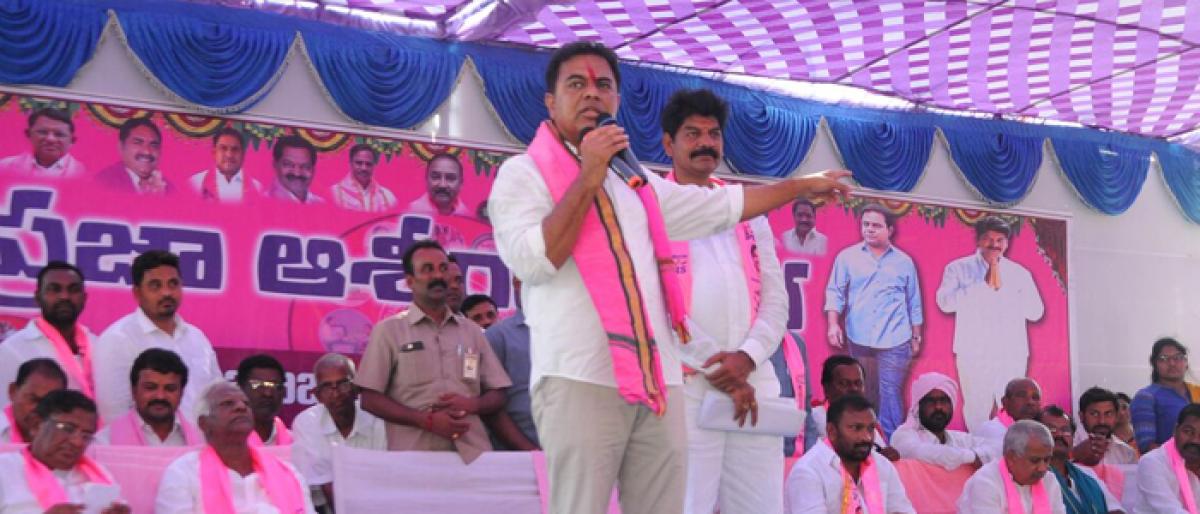 Highlights
The choice is with the people to choose between the TRS that worked for the development of the State and the Congress that is kneeling down before the Telugu Desam Party chief and the Andhra Pradesh Chief Minister N Chandrababu Naidu, TRS leader KT Rama Rao said, speaking at the Praja Ashirvada Sabha here on Saturday
​Mahabubabad: The choice is with the people to choose between the TRS that worked for the development of the State and the Congress that is kneeling down before the Telugu Desam Party chief and the Andhra Pradesh Chief Minister N Chandrababu Naidu, TRS leader KT Rama Rao said, speaking at the Praja Ashirvada Sabha here on Saturday. "The Congress and the TDP which have no guts to face the TRS individually in the ensuing elections to the Telangana Assembly forged an alliance. This shows the bankruptcy of these parties," KTR said. How can Chandrababu who equated the then AICC president Sonia Gandhi with Nathuram Godse, who assassinated Mahatma Gandhi, join hands with the Congress?
On the other hand, the Congress leaders are already making a beeline to meet Chandrababu to have his favour in getting tickets, he alleged. This gives a fair idea of the State. Chandrababu will call the shots if the Congress wins the upcoming elections, KTR said. In that case, all the ongoing irrigation projects would come to standstill leaving Telangana high and dry, he said. If Rahul and Chandrababu take care of seats and notes, who is going to give them votes, KTR questioned, ridiculing the Congress, TDP, Telangana Jana Samithi and CPI alliance. If sabotaging the development in Telangana is TDP's agenda, supporting it was alliance partners, he added.
Speaking about local issues, he assured the people of fulfilling them. Referring to the Bayyaram steel factory, he said: "Despite several representations from Chief Minister K Chandrasekhar Rao, the Central Government is not willing to take up the project. Come what may, the TRS is committed to realise it. We have plans to take up the steel factory under the aegis of Singareni Collieries Company limited (SCCL). The steel factory is expected to generate at least 10,000 jobs and majority of them will be given to the locals." He appealed to people to vote for Mahabubabad TRS candidate Shankar Naik. Deputy Chief Minister Kadiyam Srihari, MPs Pasunuri Dayakar, A Seetharam Naik, Banda Prakash and former MLA Maloth Kavitha were among others present.
Meanwhile, TRS worker Ch Veeranna of Edjarla village who poured petrol on his body tried to self immolate during KTR's road show at Maripeda. It's learnt that he attempted suicide demanding the TRS leadership to give MLC post to Ramasahayam Sriranga Reddy. However, the nearby people thwarted his attempt.