GHMC sanitation personnel risk their health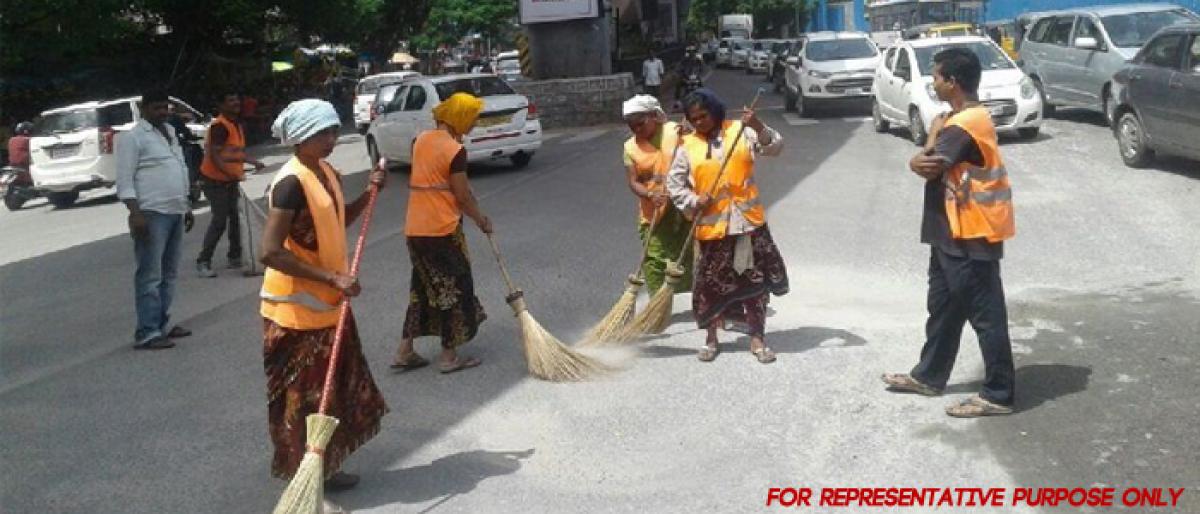 Highlights
The Greater Hyderabad Municipal Corporation GHMC sanitation workers, especially the women, have been working hard day and night and playing a key role in keeping the atmosphere clean and citizens healthy
No safety gear for contract staff
• Sanitation staff are subjected to health hazards and skin allergies
• Sweepers also denied any compensation because of their contract employee status
• Celebrities who conduct Swachh Abhiyan for a few minutes get all the gear, they lament
Hyderabad: The Greater Hyderabad Municipal Corporation (GHMC) sanitation workers, especially the women, have been working hard day and night and playing a key role in keeping the atmosphere clean and citizens healthy.
However, there is no safety to their own health and nobody cares for them because of the contract employee status in the books of GHMC, which have left these employees hopeless.
whether it is summer, winter or rain, the sweepers on contract have to remain alert all the time without any excuses at any cost, "One of our colleagues who worked more than fifteen years for GHMC got paralyzed a few months back" said one of the sweepers, Ellamma.
She sadly said that GHMC didn't provide any help, not even paid any compensation. Safety is the priority in other sectors such as construction and engineering etc, but the sweepers have been forsaken by the authorities in providing safety measures.
Kanthamma, another sweeper said that most of the sweepers have been working for over a decade, but no basic facilities have been provided.
"Neither are we provided jackets for winter nor rain coats during rainy season, but we have to be on job in any situation. We have been seeing many deaths of co-workers at a young age due to bad and long working conditions.
Expressing shock on participants of Swachh Bharat Abhiyan, 25-year-old sweeper Renuka, said "Nowadays, it has become a fad for the celebrities to participate in the cleanliness drive "Swachh Bharat Abhiyan".
They join the drive with all the safety measures taken into account like new broomstick, long shoes and hand gloves, etc. they conduct the drive for only a few minutes for a photo shoot and leave with much fanfare.
May be the GHMC is providing these accessories to the celebrities, but we have been doing the same for more than a decade and the officials have never provided us protective gears even though we lift solid and wet garbage with bare hands, which can be hazardous to us."