Development will suffer with 3-headed Kutami, says Kavitha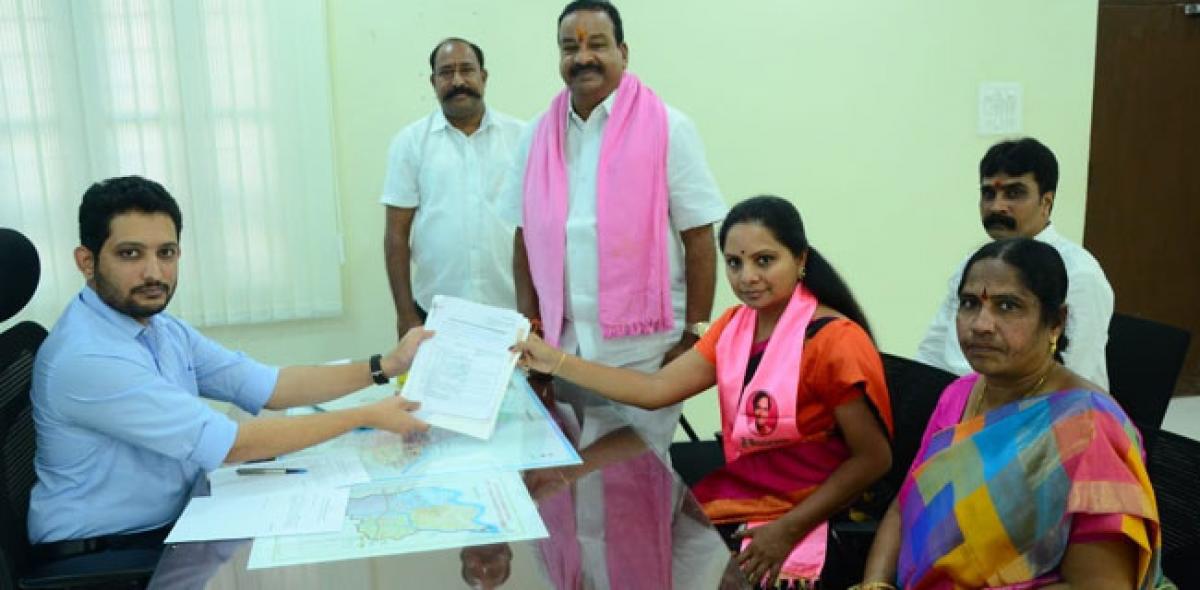 Highlights
There are three high commands in Mahakutami and development of Amaravathi and Delhi will suffer if the Kutami is voted to power, stated K Kavitha, Nizamabad MP Along with TRS nominee Kalvakuntla Vidyasagar Rao, she spoke at a press meet at the party office in Korutla on Wednesday
Korutla: There are three high commands in Mahakutami and development of Amaravathi and Delhi will suffer if the Kutami is voted to power, stated K Kavitha, Nizamabad MP. Along with TRS nominee Kalvakuntla Vidyasagar Rao, she spoke at a press meet at the party office in Korutla on Wednesday.
The MP said the Congress leaders are showing the list of candidates that was finalised in Delhi to AP Chief Minister N Chandrababu Naidu in Amaravati in night and Naidu is marking the names of the candidates, whom he wishes to field in the elections. After that only Congress leaders are announcing the candidates in Hyderabad, she explained.
If this was the situation before going to elections, people must understand what will happen after the elections. There are three high commands for Mahakutami - one at Delhi, second at Amaravathi and the third and final at Hyderabad. How can Telangana Congress leaders do justice to the people if they win in the elections, who cannot take any decision on their own, she questioned.
The TRS waived off about Rs 17,000 crores of farm loans and introduced farmers investment scheme Rythu Bandhu for the first time unlike any other State in the country and sanctioning Rs 8,000 per acre, which would be increased to Rs 10,000 after coming to power. The government is striving hard for the welfare of the farming sector, she added.
MP Kavitha asked the people to compulsorily vote for the TRS for all-round development of Telangana and for continuation of various developmental works that are under progress in the State. Later, accompanied by MP Kavitha, Kalvakuntla Vidyasagar Rao filed his nomination papers to the Returning Officer of Korutla Assembly segment.