Stung by GHMC drive, HSPA poses queries to govt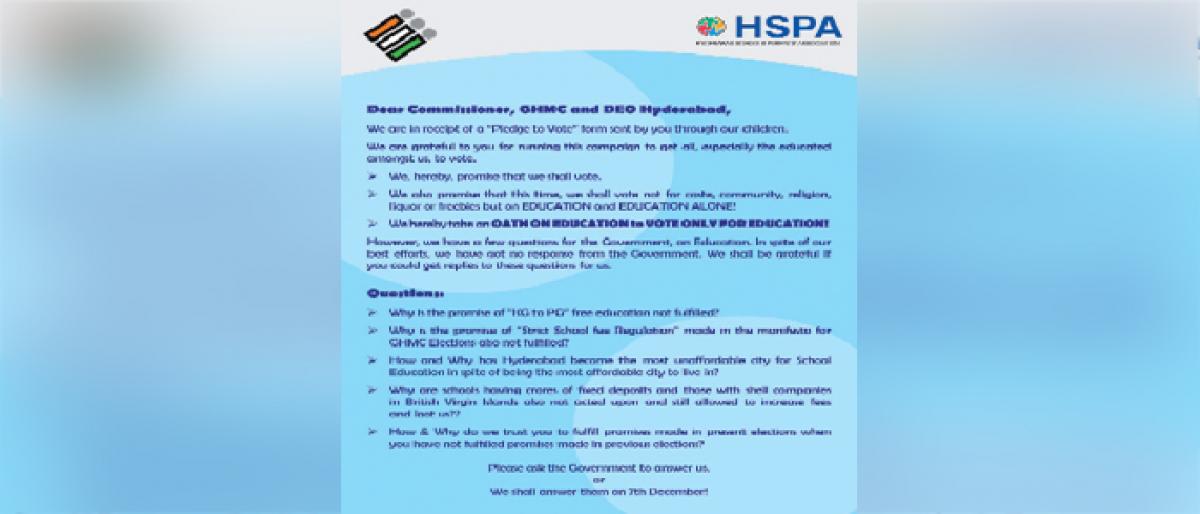 Highlights
Several parents in the city had reached out to Hyderabad Schools Parents Association HSPA with a form sent to them by the Greater Hyderabad Municipal Corporation and the District Election Officer, Hyderabad through their wards The form a copy attached with the release exhorts the parents to take a pledge to vote in the elections this year
​Hyderabad: Several parents in the city had reached out to Hyderabad Schools Parents' Association (HSPA) with a form sent to them by the Greater Hyderabad Municipal Corporation and the District Election Officer, Hyderabad through their wards. The form (a copy attached) with the release exhorts the parents to take a pledge to vote in the elections this year.
The campaign, though well intentioned, raised the hackles of a lot of parents who are angry with the performance of the present TRS government on the education front.
Pavani, a parent, wanted to know if "this was a subtle form of campaigning by the government officials for the party in power and also wanted to know if these same officials could get a response to her questions from the government!" Sadiq, another parent, questioned the government on "..its absolute neglect of education – especially the government schools in the State."
He further added that, "the government cannot escape from its responsibility towards people of State by spending around 15 to 20 per cent of its education budget on just 2 per cent of the students in the residential schools and then claiming it to be an implementation of free KG-to-PG promise!" Prompted by several such requests, HSPA decided to draft a formal reply on behalf of all the parents of the State to the Commissioner GHMC and DEO Hyderabad and check if they would be able to get replies from the government for these questions.
These 5 questions are: 1. Why is the promise of "KG-to-PG" free education not fulfilled? 2. Why is the promise of "Strict School fee Regulation" made in the manifesto for GHMC elections also not fulfilled? 3.How and Why has Hyderabad become the unaffordable city for school education in spite of being the most affordable city to live in? 4.
Why are schools having crores of fixed deposits and those with shell companies in British Virgin Islands also not acted upon and still allowed to increase fee and loot the parents?? 5. How & Why should the parents trust the government to fulfill promises made in present elections when it has not fulfilled promises made in previous elections?
While seeking answers the parents also made an open statement that if the parents don't get satisfactory answers from the government to these questions, they would decide the fate of the government on December 7, the day of polling. Venkat Sainath, joint secretary of HSPA, added that as written in the reply, HSPA would look to launch a campaign to get all voters to "Take an Oath on Education to Vote for Education" this time.
HSPA would seek the support of other social organisations to join and make education a big election issue. Seema Agarwal, vice-president HSPA exhorted all political parties to clearly specify their promises on education so that the parents could make an informed choice. The Association will also look to formally submit signed copies of these replies on behalf of parents to the Commissioner GHMC and DEO, Hyderabad to elicit their response and cooperation in "Vote for Education Campaign."