Aroma of Biryani wafts in Rajiv Nagar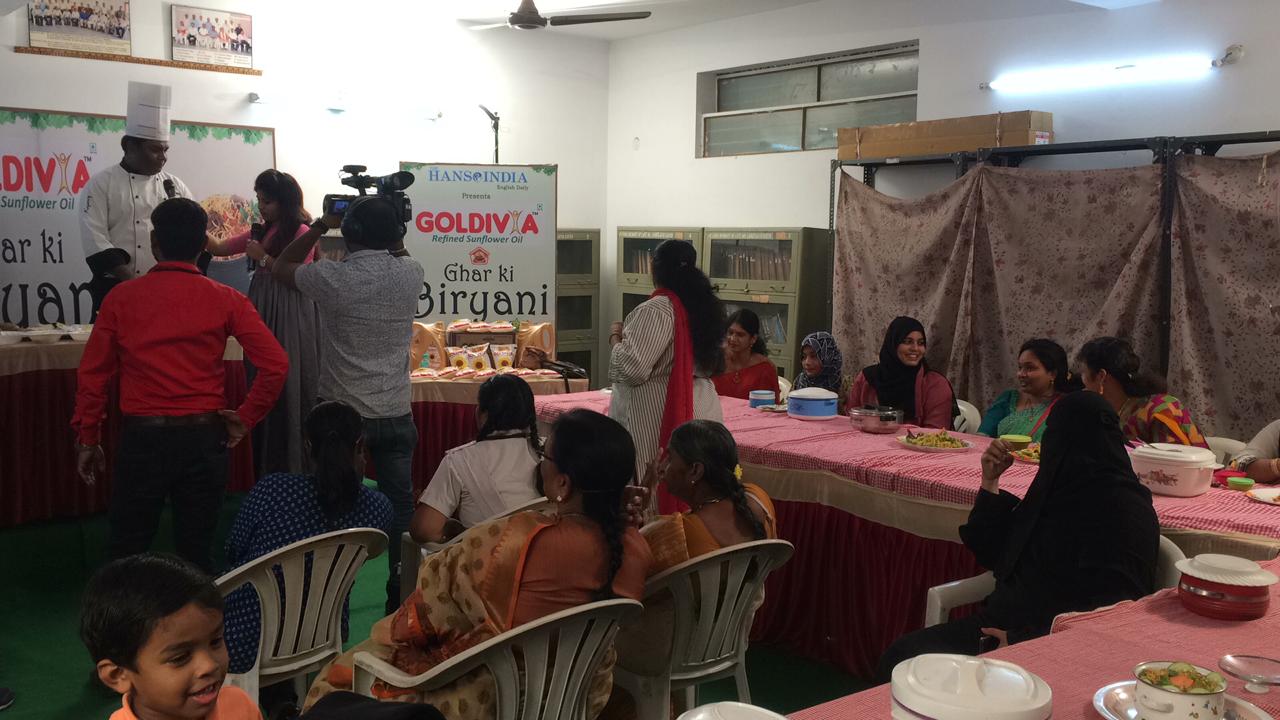 Highlights
The savouring contest organised by Hans India to pick the best household Biryani from the heartland of the dish has successfully completed its fifth round at Rajiv Nagar Colony Ghar ki Biryani contest which is conducted on weekends, cherry picks the best homecooked biryani and provides a platform for all to exhibit their talent to the world
The savouring contest organised by Hans India to pick the best household Biryani from the heartland of the dish has successfully completed its fifth round at Rajiv Nagar Colony. Ghar ki Biryani contest which is conducted on weekends, cherry picks the best home-cooked biryani and provides a platform for all to exhibit their talent to the world. There are totally 20 rounds for the competition and the winners from each round would compete for the grand finale. In each round, there will be one winner from the vegetarian and non-vegetarian categories respectively.
In Rajiv Nagar, Laxmi won the first place in the vegetarian category for her Shahi Biryani, and Bashiyan bagged the prize in the non-vegetarian section with her mouthwatering special mutton biryani. "Everyone says every dish I cook has a special taste. I think God has given me the skill to pick and mix the things in right proportion," says a beaming Laxmi. Bashiyan didn't expect to win this event. "This is how traditionally mutton Biryani is prepared in my family. It is different from the normal mutton Biryani. We used to add garam masala in a unique way. I know it was delicious but didn't expect to win the prize," Bashiyan gushed with a smile.
Chef Karunakar R, a lecturer from Regency Hotels, validated the dishes and decided the winners. He also demonstrated the preparation of cottage cheese cigar, a snack he has invented. "The best dish is picked by analysing a number of factors. "Since every dish is Biryani, the use and blend of spices would be the main thing that decides the winner," he said. "Also, this is an opportunity for me to learn from some of the best unsung heroes of the food world," he added.
This is another successful venture from the house of Hans India as part of performing its social responsibility. This renders an opportunity for women to step out from the kitchen and show how they make their unique Biryani. In doing so, they realise how special their dishes are and realise the skills they possess. Naveen Kumar, brand manager of Goldivia Sunflower Oil, said, "Biryani is synonymous with Hyderabad. We are happy to conduct a Biryani competition here in Hyderabad and provide a venue for these women to exhibit their talents."
The aroma of Biryani permeated throughout Rajiv Nagar Colony on Saturday. Women not only came with their homemade Biryanis but also spent some quality time, bringing out their other skills in dancing and singing, which added zest to the Ghar ki Biryani festival.