Gates Foundation team studies seed production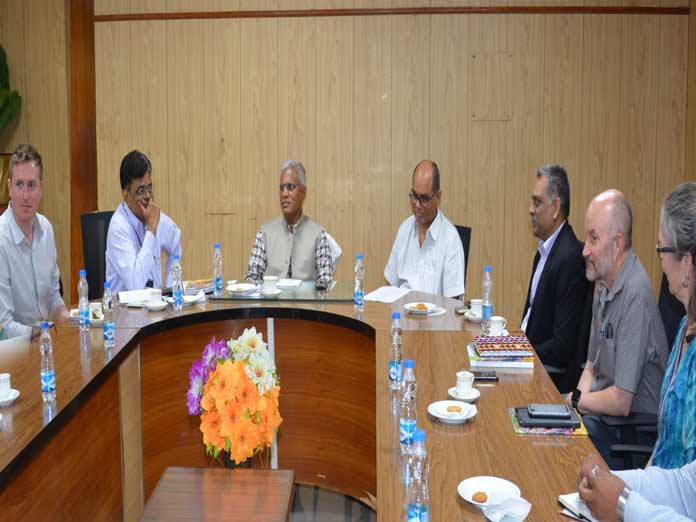 Highlights
A delegation from Bill Melinda Gates Foundation BMGF visited the Professor Jayashankar Telangana State Agricultural University PJTSAU and interacted with the Vice Chancellor Dr V Praveen Rao at the administrative office here on Wednesday
Rajendranagar: A delegation from Bill & Melinda Gates Foundation (BMGF) visited the Professor Jayashankar Telangana State Agricultural University (PJTSAU) and interacted with the Vice Chancellor Dr V Praveen Rao at the administrative office here on Wednesday.
The delegation led by Lauren Good, Senior Program officer, BMGF, visited the Rice Section at ARI where they interacted with the Director of Research, Dr Jagadeeshwar, Director of Indian Institute of Rice Research, Dr SR Oleti, and other scientists of the rice section. Later, they visited the administrative office along with Kishore Rao, Senior Associate, Context Global Development, Aline O'Connor, Director, Agri Experience Ltd, USA, Jason Nickerson, Program Manager, Context Global Development, USA. They held talks with Vice Chancellor Dr Praveen Rao, Registrar Dr Sudheer Kumar and Dr Jagadheeshwar and other university officials. The delegation of BMGF sought to mainly about the rice seed production. Addressing the delegation, the VC explained about the agricultural conditions of the state and rice seed production, and new rice varieties development in Telangana State in the last five years. He briefed them on newly released rice varieties and their popularity in the state as well as in neighboring states.
Dr Rao informed them that productivity levels increased tremendously, and the duration of the crop was brought down to 125 days from the 150 days. With the release of new varieties, there had been great saving of water, which amounted to a medium irrigation project storage, he said. The new rice varieties were accepted by farmers as they were more suitable for Telangana climatic conditions, and their present acreage covers about 80 per cent rice area. He observed that Telangana state has best environment for seed production and storage, and as many as 400 companies are involved in the seed production.
Subscribed Failed...
Subscribed Successfully...