Minister lays foundation for 2BHK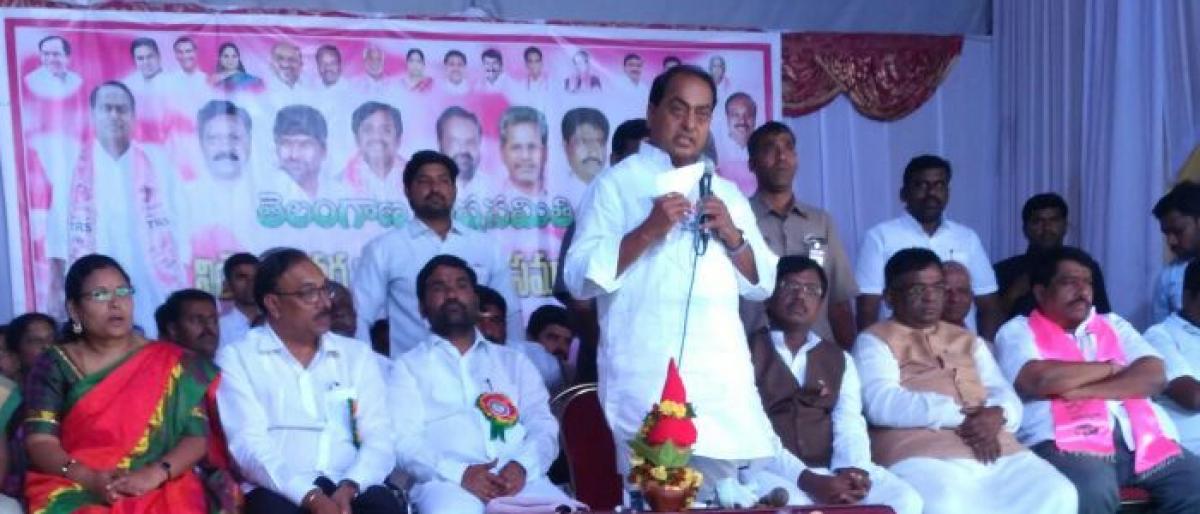 Highlights
Housing Minister A Indrakaran Reddy laid foundation stone for double bedroom housing scheme in Padmashali Bhavan here on Tuesday. Earlier he attended Bellampalli constituency-level broad-based TRS meeting under the chairmanship of MLA Durgam Chennaiah. Adviser to the State Government G Vivek, former minister G Vinod, Government Chief Whip Nallala Odelu, MLC Puranam Satish, State Film Development C
Mancherial: Housing Minister A Indrakaran Reddy laid foundation stone for double bedroom housing scheme in Padmashali Bhavan here on Tuesday. Earlier he attended Bellampalli constituency-level broad-based TRS meeting under the chairmanship of MLA Durgam Chennaiah. Adviser to the State Government G Vivek, former minister G Vinod, Government Chief Whip Nallala Odelu, MLC Puranam Satish, State Film Development Corporation Chairman Rammohan Rao, Mancherial district TRS in-charge Arigela Nageshwar Rao were present on the occasion.
Speaking on the occasion, the guests stated that it was a blessing for the people of Telangana to have K Chandrashekar Rao as the Chief Minister. They pointed out that the State has been achieving all-round progress under KCR's leadership and is placed no 1 across the country. The TRS leaders claimed that every village and people belonging to all sections of society were progressing and that there was no alternative to TRS in the State.
The party would win 2019 elections with the support of the people, the TRS leaders asserted. The leaders hit out at the Congress and other Opposition parties for their 'needless' and 'meaningless' criticism of the party, while urging voters to teach a fitting lesson to these parties in 2019.
Among those present were Bellampalli Market Committee Chairman Narsingam, Bellampalli MPP Subash Rao, former MLA Sridevi, Municipal Chairperson Sunita Rani, District Grandhalaya Samstha Chairman Praveen, constituency MPPs, ZPTC/ MPTC members, sarpanches, single window chairmen, ward members, councilors, party leaders, and women in large numbers.