Jindal Group foster new teaching techniques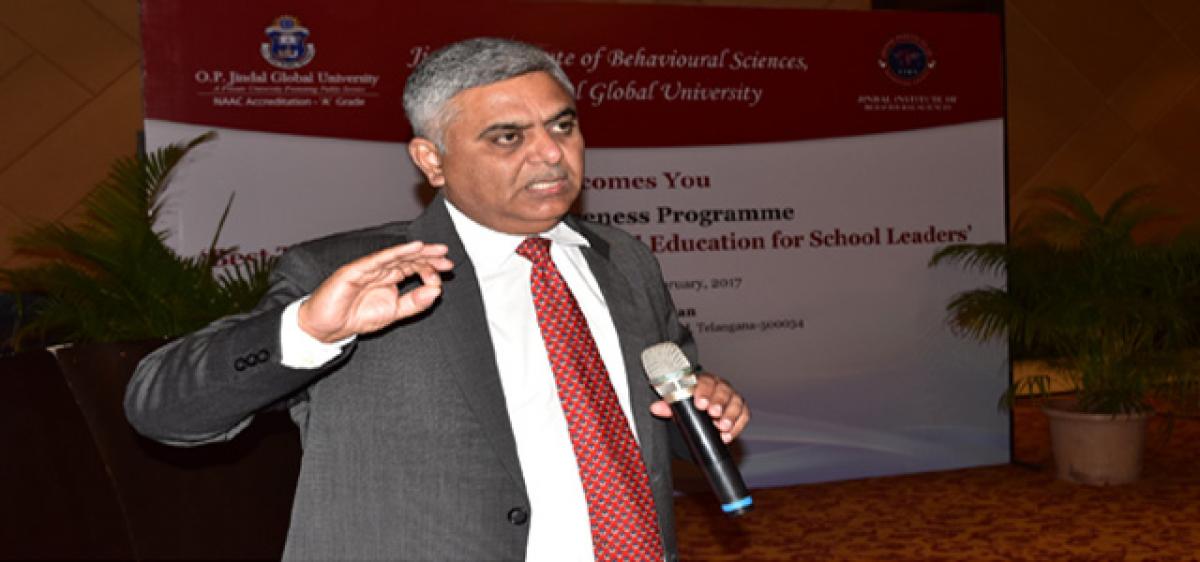 Highlights
Hyderabad: Jindal Institute of Behavioural Sciences (JIBS), a research institute of NCR-based OP Jindal Global University, organized an awareness programme on identifying best teaching practices for teachers in school to empower them with techniques and tools to enhance
Hyderabad: Jindal Institute of Behavioural Sciences (JIBS), a research institute of NCR-based OP Jindal Global University, organized an awareness programme on identifying best teaching practices for teachers in school to empower them with techniques and tools to enhance and encourage active involvement of the teachers and students in the learning process.
This skill enhancement programme on 'Identifying Best Teaching Practices in School Education for School Leaders' was held at Taj Deccan by Sanjeev P Sahni, Principal Director of JIBS at the Jindal Global University (JGU), Sonipat; Director for "Center for Innovative Leadership and Change", and Advisor to the Vice Chancellor at JGU. Indrani Lahiri, Senior Trainer, Jindal Institute of Behavioral Sciences was also a key speaker.
With an aim to offer value addition to the country's school education system, JIBS is actively working with teachers across the country and offering short term courses to help them better customize their teaching mechanisms to meet the needs of different children.
Dr Sahni and his team have conducted similar training programs for teachers in Bhubaneswar and Jamshedpur recently. They also travelled on a multi-city tour of UAE to engage school teachers there in similar sessions.
The Course aims to equip teachers with effective teaching skills and encompasses the opportunities to cultivate a personalized path for academic achievement for students while maintaining a sense of support and community.
"School education lays the basic foundation of learning in children.If supported by right teaching practices it plays a pivotal role in instillinga spirit of enquiry and pursuit for knowledge in them.
It is therefore imperative to give special attention to teaching methodologies at school and develop approaches that involve children into the learning process and catalyze their minds to ask questions, rather than remain passive listeners.
Unfortunately in India, the teaching practices at school are uni-dimensional and do not take into account the different learning needs of different children, forcing learning by rote.
At JIBS we have undertaken several studies and researches to understand the best approaches and practices to school education and we have incorporated the knowledge obtained from them into a series of courses and programs for teachers," says Sanjeev P Sahni.
Indrani Lahiri, Senior Trainer, Jindal Institute of Behavioral Sciences, Jindal global University, through experiential exercises demonstrated and discussed various scenarios ranging from psycho-social explanations of the disciplinary problems in students to issues faced by our teachers, principals, and parents.
She also discussed about the possible solutions and actions that can be implemented to overcome these problems and issues.
Teaching, especially at school level, is an intrinsically complex discipline since it involves dealing with children and catering to their multiple needs of learning.
Some students might be more inclined to learn from the conventional book teaching methods while others may be predisposed to better learn from practical experience.
At the same time, there are special children who need a completely different approach to learning and teaching.Keeping these factors in mind, JIBS is working with teachers to devise and impart better modalities of teaching based on better psychological, social and development understanding of children.
Among a series of courses and programs offered for school teachers by JIBS are Stress Management, Performance Enhancement, Assertive Discipline, Positive Psychology, Learning Disabilities, Attention Deficit Hyperactivity Disorder (ADHD), Anger Management Program, Handling Troubled Children/Teens, &Developmental Needs of Children: Preschool to Higher Secondary.