Mobile schools: When there's a wheel, there's a way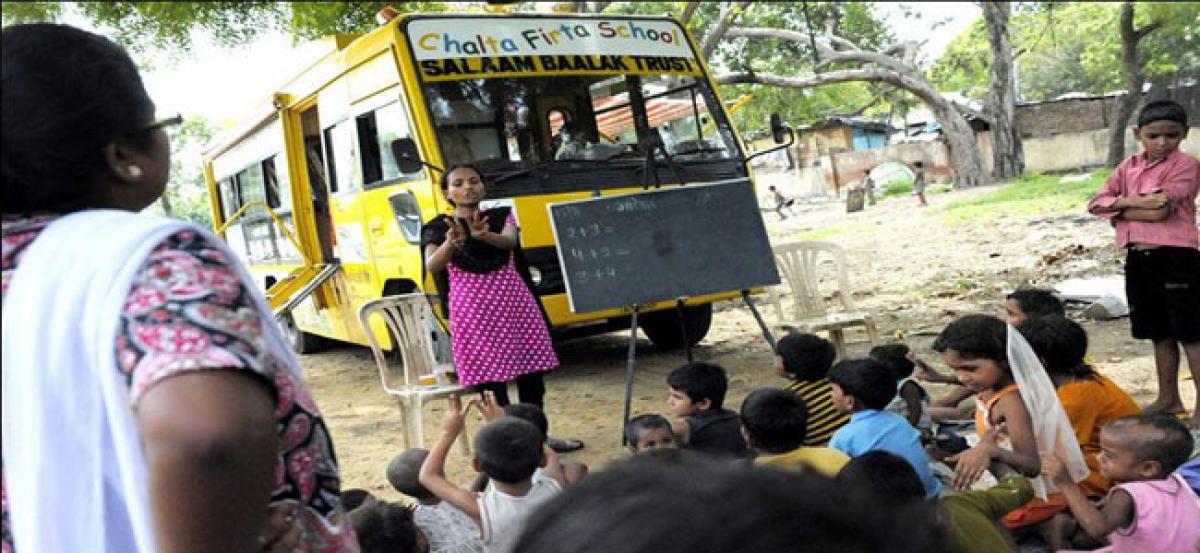 Highlights
Sumedha Singh-'s textbooks gathered dust in one corner of her tiny house. The 12-year-old Delhi girl had dropped out of school and thought she-'d...
New Delhi: Sumedha Singh's textbooks gathered dust in one corner of her tiny house. The 12-year-old Delhi girl had dropped out of school and thought she'd never get back to a class again.
She had danced with joy when she heard about the birth of her baby brother. But her spirits fell when realised it meant she had to leave school.
Her parents, who worked as daily labourers at a construction site, left the baby in her care when they went out for work. Sumedha took care of him – and wistfully thought of her school days.
Then, one day two years ago, she heard about mobile schools. Sumedha could carry her brother with her to the class room, she was told. And she did. Two years after leaving school, she was back in a class, poring hard over her now dusted textbooks.
"I am now planning to continue my studies through correspondence in the mobile school till my brother is old enough to join school," Sumedha said, as her sibling played beside her in the mobile classroom near Hatthi Park in Chandni Chowk.
Mobile schools work on a simple mantra: If you can't go to school, the school will come to you. Under the programme, funded by corporate houses and executed by two NGOs in Delhi, old buses are converted to classrooms and driven to residential colonies to help educate children.
The students are taught free of cost by teachers inside the vehicle and in nearby parks.
"By cutting down on travelling distance, the students get an opportunity to fulfil their other responsibilities along with studying," said Sujoy Joseph, member of the NGO Butterflies, which is involved in running mobile schools in parts of Delhi.
Mobile buses have been driving down the city for several years now. Those executing the programme hope that more funds will come in, and its current fleet of four buses strengthened in the coming years.
About 800 under-privileged children from the city who dropped out for reasons that ranged from having to take care of smaller siblings to the absence of schools in the neighbourhood are being educated in mobile schools, Joseph said.
Among them is Surendra Yadav, 15, who dropped out of school last year when his father died and he was left with the responsibility of supporting the family. On his way to the construction site where he worked, he would often see students boarding a shiny yellow bus which made him dream of finishing his education.
But he had to work, so he would reluctantly leave for the site day after day.
One day, though, he was spotted staring at the bus by a mobile school teacher, who urged him to study for three hours with them every day after work.
Surendra is now appearing for his Class 10 examination and hopes to join a regular school from next year. The mobile schools in Delhi cater to areas in Sadar Bazar, Okhla Mandi, Kashmere Gate and Chandni Chowk.
The children are picked up from their homes, taught in these schools from 2.00 pm to 5 pm and dropped back home after class.
Eight-year-old Samita Pandey could not join school because of a physical disability.
Her parents wanted her to get formal education but they were unable to provide her with facilities needed for her to travel to a regular school every day.
Samita is now studying in a mobile school in Sadar Bazar. "We got the option of being able to give her education at our doorstep for free.
We plan to teach her at the mobile school till she is old enough to manage on her own to attend a regular school," Ram Pandey, Samita's father, said.
The project is aimed at providing education to underprivileged children in slums.
The mobile schools give children the option of appearing for examinations through a correspondence course or gradually join a regular school.
The mobile school project was started under the government's Sarva Shiksha Abhiyan policy in 2001.
Since there was no provision for such schools under the Right to Education Act of 2011, mobile schools were handed over to NGOs which work in close collaboration with state governments.
"Such schools help students carry on with their daily lives and pursue education too," said Tanvir Ahmad, a teacher working at the Chandni Chowk mobile school.
According to the Ministry of Human Resource Development data, the national dropout rate at the primary level was 4.34 per cent in 2014-15, and 17.86 per cent at the secondary level.
This innovative initiative seeks to strengthen the existing efforts of the state government of Delhi to bring school children back in the education net, Ahmad said.
Many students withdraw from schools to financially support their families but through mobile schools they get an opportunity to study daily for 3-4 hours, he added.
"Poverty and accessibility are the two main reasons children drop out of schools. We try to counter these two factors by providing free education to children at their doorstep which acts as a bridge to connect them to mainstream education," Ahmed said.
The mobile school initiative in Delhi is run by NGO Butterflies and Magic Bus Foundation and supported by various corporate houses. There are similar programmes in other states such as Uttarakhand.
By Uzmi Athar

Subscribed Failed...
Subscribed Successfully...