Congress pushed Gandhi's ideologies into cold storage: Laxman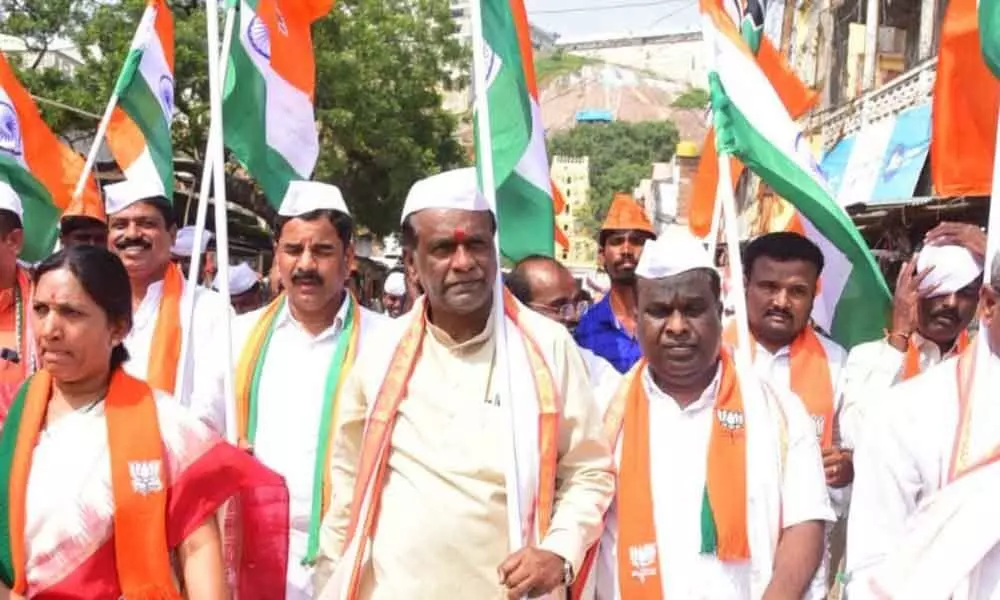 Highlights
The BJP State chief launches Gandhi Sankalp Yatra in Yadagirigutta
Yadagirigutta: Bharatiya Janata Party State president Dr K Laxman stated that BJP-led Central government in order to spread and achieve Mahatma Gandhi's ideologies has launched the Gandhi Sankalp Yatra across the nation on the occasion of Mahatma Gandhi's 150th birth anniversary celebrations.

On Wednesday, along with party district president PV Shyam Sunder, Laxman launched Gandhi Sankalp Yatra organised by party district unit from Yadagirigutta. Addressing the meeting held on the occasion, the party State chief said the Congress had put the ideologies of Mahatma Gandhi in a cold storage and ruled the country for over 60 years by using his name.
He expressed his concern over the adamant attitude of Chief Minister M K Chandrashekar Rao towards the agitating RTC workers. Even though, the RTC employees have been on strike for the last 28 days, the State Government failed to follow the court directions and hold talks with RTC unions to resolve the issue in an amicable way, he added. "BJP will extend its support to agitating RTC workers till their demands are met," he said. Party State leaders Sankineni Venkateshwar Rao, Gongidi Manohar Reddy, Bandaru Shobha Rani, Palvai Rajani Kumari, Subhash and large number of party workers and supporters participated in the Yatra. Similarly in Nalgonda, party State leader Vinod Venkataswamy along with party district president Nukala Narsimha Reddy launched the Gandhi Sankalp Yatra in Pangal.