Couple held for burglaries in Nalgonda town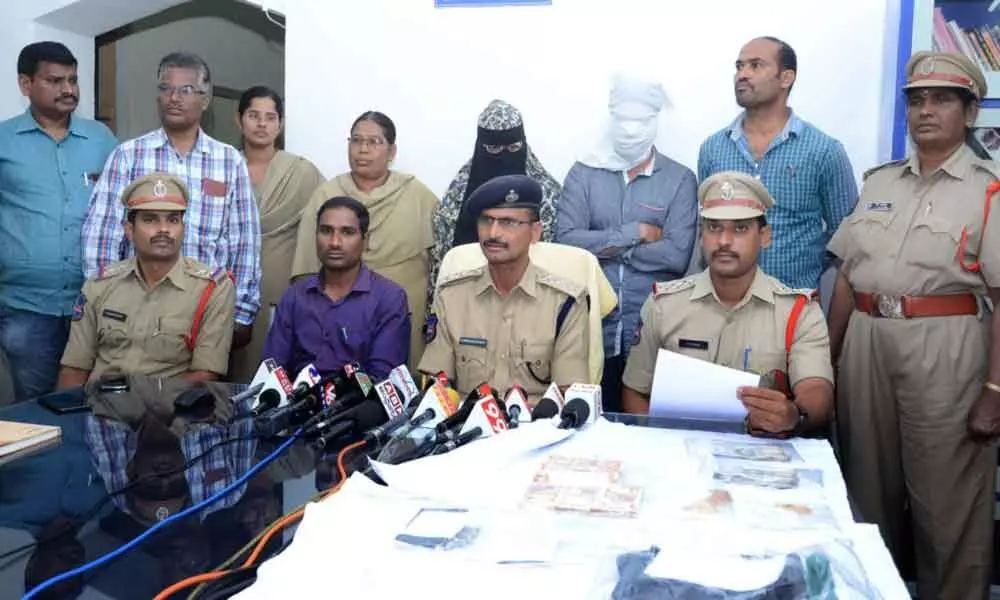 Highlights
Police seize 10 tolas gold, `1.6 lakh, one bike and a cell phone from their possession
ADVERTISEMENT
Nalgonda: The Nalgonda rural police detained a couple habituated to daytime burglaries and recovered 10 tolas gold, 1.6 lakh cash, one bike and a cell phone from their possession.

The arrested were identified as Mohammed Feroz (32), a native of Bengaluru, presently residing at Bandlaguda in Hyderabad, and his wife, Mohammed Sara Fathima (27). Feroz is a car driver by profession.
Speaking at a press meet at Nalgonda rural police station on Thursday, DSP Venkateshwar Reddy stated that on November 12, the couple broke the lock and entered the house of victim, Manchukonda Sudhir Kumar, at Marriguda of Nalgonda mandal. When the family members of Sudhir Kumar tried to catch the couple when they saw them coming out of the house after stealing Rs 5,000 and some imitation jewellery, the accused escaped on a bike.
Based on the complaint of Sudhir Kumar, the Nalgonda rural police registered a case and started the search to nab the offenders. The police caught the couple during a vehicle check at Marriguda bypass road in Nalgonda town.
During interrogation, the couple informed the police that they had carried out over 10 burglaries under the limits of rural and two town police stations in Nalgonda town.
It is learnt that the Saroornagar police in Hyderabad had invoked a Preventive Detention Act against Feroz in 2015 with regard to several chain-snatching cases and was imprisoned in Cherlapally jail for a period of one year.
Meanwhile, the police also seized a screwdriver, a rod being used to carry out thefts from the possession of offenders.
The DSP appreciated the Two Town In-charge CI Basha, Central Crime Station CI Balaswamy, rural police station SI Rajashekar Reddy and his team for nabbing the couple.