E-learning marks new era in Telangana residential schools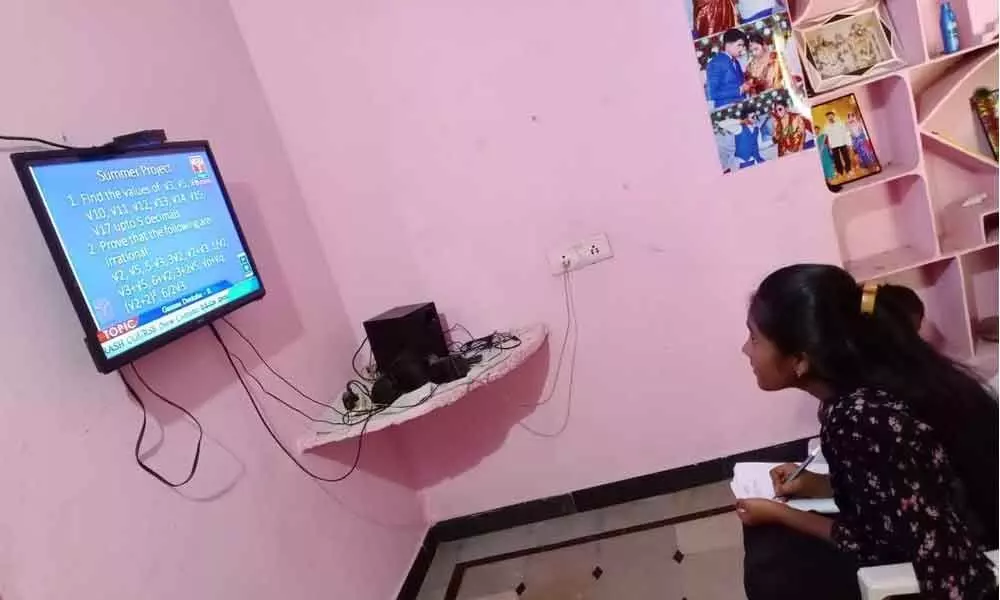 Highlights
Telangana Social Welfare Residential Educational Institutions Society (TSWREIS) has started community learning. This initiative is helping students to keep up with their studies until in-person classes can begin again. Teachers send pre-recorded videos of the classes to students on WhatsApp or live telecast it through T-SAT TV channel
Telangana Social Welfare Residential Educational Institutions Society (TSWREIS) has started community learning. This initiative is helping students to keep up with their studies until in-person classes can begin again. Teachers send pre-recorded videos of the classes to students on WhatsApp or live telecast it through T-SAT TV channel
Hyderabad: The pandemic fear has put the entire education sector in doldrums. As parents are wary of sending their children to schools, many institutions have adopted e-learning model where teachers are now conducting classes online. However, students from poor background and marginalized communities are finding it difficult to attend these classes as they lack resources like smartphones, laptops and the internet.

To overcome this challenge, the management of Telangana Social Welfare Residential Educational Institutions Society (TSWREIS) has started community learning. This initiative is helping students to keep up with their studies until in-person classes can begin again. Teachers send pre-recorded videos of the classes to students on WhatsApp or live telecast it through T-SAT TV channel.
Explaining further, Praveen Kumar, the Secretary, TSWREIS, said, "We are leaving no stone unturned in these unprecedented times. Our objective is to ensure that there is no loss of learning despite the deep digital divide and gender gap. Children must be able to discover the world on their own under the guidance of teachers. This will make us again a formidable civilisation."
"Each class teacher has created a WhatsApp group of 10 students who cannot attend zoom calls, where they send small activities and explanations of certain topics to students. But this covered only 60 to 70 percent of our students as many did not have access to WhatsApp. For the remaining students we took help of T-SAT TV that has a separate TSWREIS section which telecasts or plays pre-recorded sessions for the students who don't have laptop, smartphones or internet can learn regularly," Kumar added further
There are around 238 TSWREIS schools across the State and eight in the city at areas like Narsingi, Shaikpet, Mahendra Hills, RK Puram, Saroor Nagar, Hayath Nagar and Suchitra which have 6,000 students.
To educate, enlighten and empower the students about audio-visual technology and take the best of the education and training facilities to the stakeholders. The community learning model channelizes various educational and training resources and enables the quality faculty reach out to the last mile institutions.
When asked, George Varkey, Academic Monitoring Officer, TSWREIS, said, "Teachers of different subjects have to undergo training to improve their communication skills, further, they have to follow up with every student taking feedback of the sessions. The community learning is open for students from all schools across the State who wish to attend lectures and can join in for free."