Hyderabad: NREGS staff protest for regularisation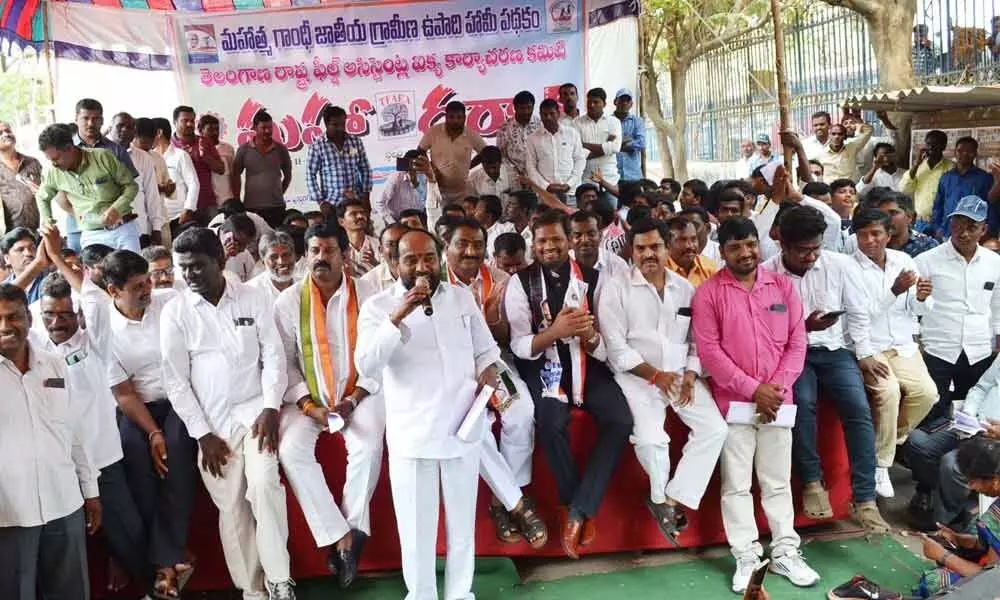 Highlights
R Krishnaiah said that most of field assistants have been working for the last 14 years but their posts have not been made permanent
R Krishnaiah said that most of field assistants have been working for the last 14 years but their posts have not been made permanent
Dharna Chowk: In response to the call given for protest by state field assistants of NREGS JAC demanding regularisation of their jobs, about 6,000 field assistants from various districts of the state took part in the protest held at Dharna Chowk on Wednesday. Police made elaborate security arrangements as a large number of field assistants gathered at protest venue. BC welfare association president R Krishnaiah, former MP V Hanumantha Rao, CPI state secretary Chada Venkat Reddy, TJS president Professor Kodandaram, state leaders of various trade unions and JAC leaders participated in the protest.

R Krishnaiah said that most of field assistants had been working for the last 14 years but their posts were not made permanent. He termed the employees demand as just and demanded the state government to make their jobs permanent. He warned of laying siege to Hyderabad city with lakhs of employees if their demand was not met. He also demanded the state government hike the salaries from Rs 9,000 to Rs 25,000. "It's unfortunate that while daily labour earn Rs 24,000 per month, field assistants, educated officials who are performing duties sincerely, are being given low salaries," he said. He said that most of the field assistants were from downtrodden sections of the society.
G Keshavulu, convener of field assistants JAC, demanded that the government withdraw its circular which was issued recently mandating 30 per cent working days and unconditional renewal of their contracts. He said the state government should hike their salaries as per the Minimum Wages Act and provide other employee benefits.