India-US ties will benefit whole world, says KTR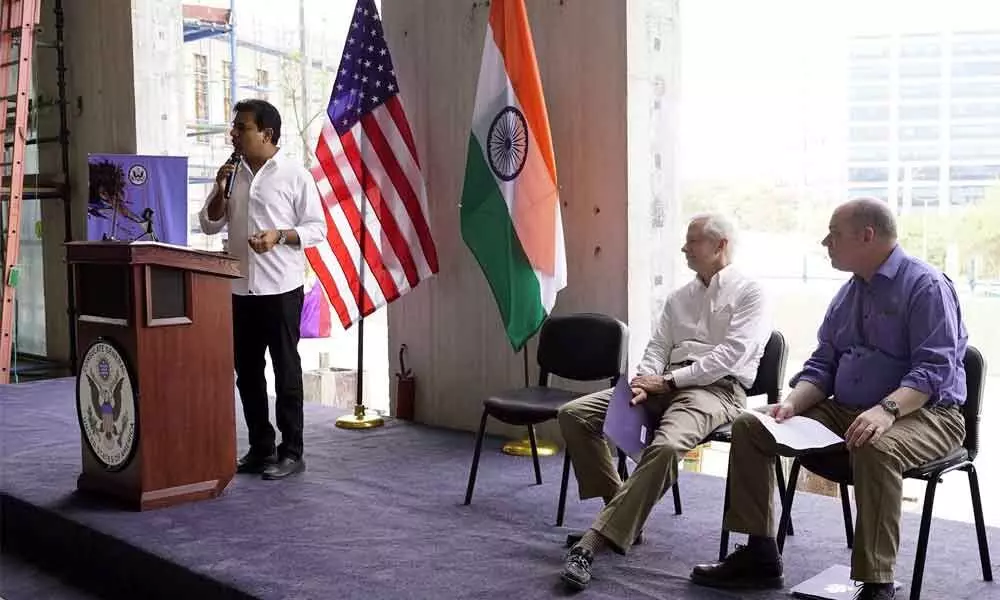 Highlights
KTR Attends 'Topping Out' ceremony of the new US Consulate Compound in Hyderabad
Hyderabad: Municipal Administration Minister KT Rama Rao on Tuesday said that having good relations with one of the oldest democratic countries in the world like America would benefit the entire world.
The Minister participated in the 'Topping Out' ceremony of the new Consulate Compound in the city on Tuesday. The Minister further said that Prime Minister Narendra Modi and American President Donald Trump were striving for good relations between both the countries.
He expected that the new Consulate Compound would turn to be a monument of culture of Hyderabad city. He thanked the US officials for maintaining the Deccani style of construction.
US Ambassador to India Kenneth I Juster, who is in the city to advance the US-India strategic partnership, toured the Tata-Lockheed Martin Aerostructures facility.
This is in its 10th year and it stands as a testament to the strong relationship between the defence industries of the United States and India.
On the occasion, the Ambassador announced the completion of a US-funded restoration project at the 17th century Qutb Shahi Tombs through the Ambassadors Fund for Cultural Preservation (AFCP).
Juster's visit to the impressive 4,700 square-meter Tata-Lockheed Martin facility marks the 10-year anniversary of this partnership and highlights the importance of the growing defence ties between the United States and India.
The jointly-owned facility in Adibatla manufactures airframe components, including centre-wing boxes and tail sections for the C-130J military transport aircraft.
Tata-Lockheed plans to expand their partnership to produce further aircraft in India, which would advance the capabilities of the Indian Air Force and accelerate US-India cooperation in sensitive high-end technologies.
The Ambassador celebrated the completion of all major structural components at the new US Consulate Compound in Hyderabad during his visit. Juster said, "I am pleased to see progress at the new US Consulate Compound in Hyderabad.
From the success of the US-India defence partnership, as exemplified by a decade of cooperation between Lockheed Martin and Tata, to the restoration of the historic tombs of Taramati and Premamati, the US-India ties are clearly thriving in Hyderabad."