KCR hints at tax hikes to develop gram panchayats, municipalities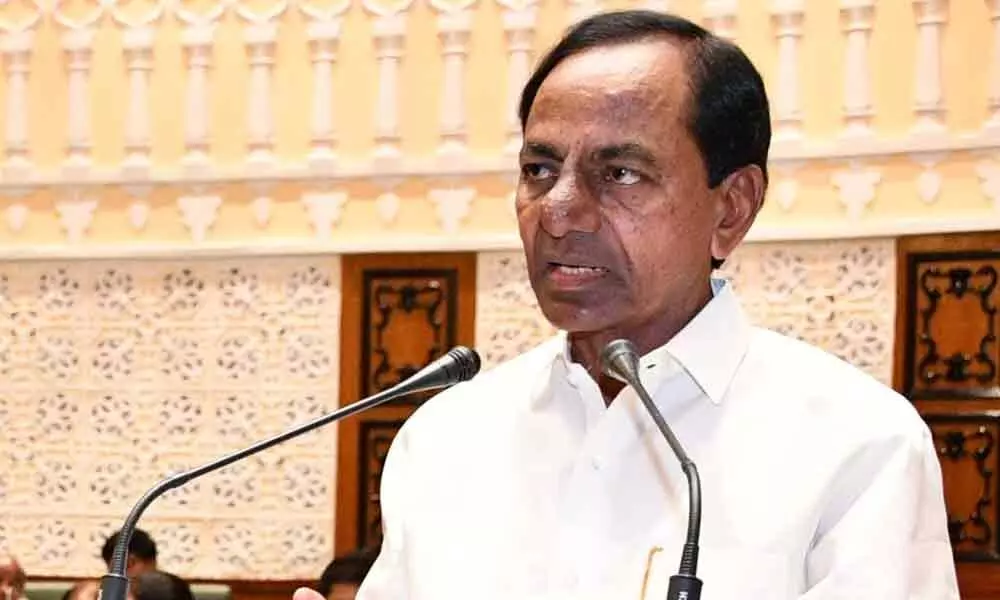 Highlights
It is time to tax people to ensure that the gram panchayats and municipalities prosper.
Hyderabad: It is time to tax people to ensure that the gram panchayats and municipalities prosper.
The Government has been forced to take hard decisions to increase property tax in gram panchayats and municipalities on account of slowdown of economy and non-release of funds from the Centre, Chief Minister K Chandrashekar Rao told the State Assembly on Friday.
Intervening during a short discussion on 'Palle Pragathi', KCR said that development should reach the desired level and quality of life has to increase despite all odds.
The success the TRS government had achieved in providing 24-hour power and proper disposal of waste can be sustained only if the government increases taxes.
At the same time, the Government will take all necessary measures to see that the poor is not burdened by such decisions.
Referring to the proposed hike in power tariff, the Chief Minister said that STs and Dalits would be exempted from the burden if their monthly consumption was below 101 units.
Those who have paying capacity only will be charged at a rate higher than what it is now and that too would be a reasonable hike. He said, being a responsible government, they would first sensitise the people before implementing the proposed hike in power tariff and property tax.
He said his government does not believe in promising moon. The previous governments did not show any development as they did not hike the taxes to spend on improving the living standards of the people.
Even the then-existing taxes were not collected properly due to rampant corruption at different levels in gram panchayats. The money that was supposed to reach panchayats accounts were eaten away at various levels.
"To overcome this problem, we have brought in the self-declaration method to assess properties in gram panchayats," he said.
Under the new system, a owner has to measure his property and disclose the plinth area and accordingly tax will be levied. However, if the owner is found to have given wrong information the concerned person would be levied 25 times penalty as tax and sent to jail for 2 years," the CM said.
Further, he said that 899 villages that have less than 500 population would be given aid of Rs 40 lakh each for a five-year period (Rs 8 lakh per year) to bail them out of fund crunch and meet increased expenses in wake of various initiatives taken up under Palle Pragathi.
He also pointed out that while the Centre had allocated Rs 1,847 crore this financial year for panchayats, the State Government had allocated the same amount (Rs 1847 crore) as its share in the just presented budget as it is fully committed for a big makeover of all 12,750-odd gram panchayats in the state.
In due course of time, KCR predicted that all gram panchayats in the State would stand out from the rest in the country in terms of having facilities like exclusive dumping yards, vaikuntadhamams, nurseries, drinking water supply network and a tractor each.