Mahbubnagar: Stone laid for Manyam Konda temple construction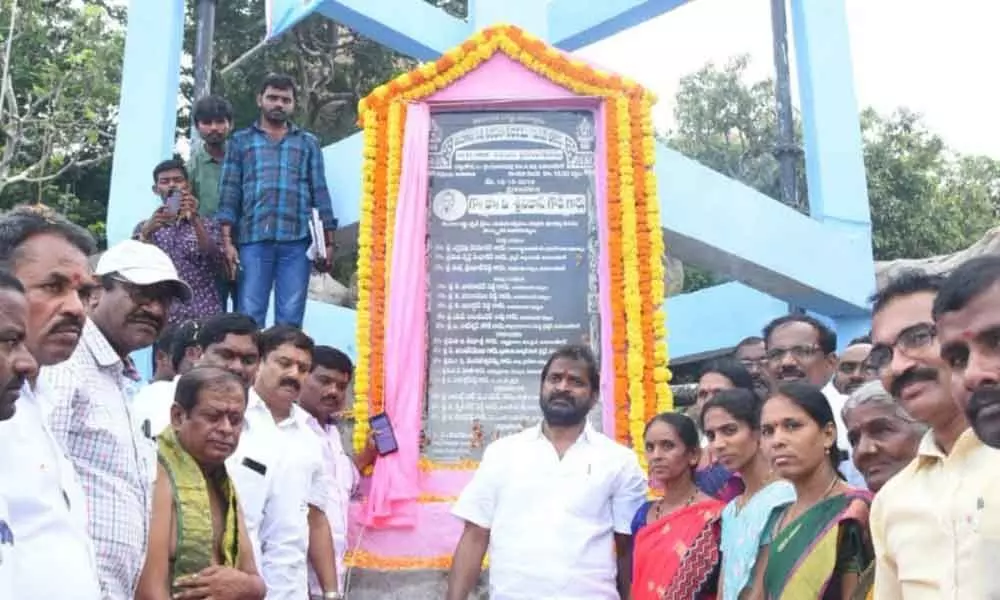 Highlights
Excise Minister launches various developmental works in Mahbubnagar
Mahbubnagar: Excise Minister Srinivas Goud launched various developmental works worth Rs 3.32 crore in Mahbubnagar district on Friday. The Minister along with Mahbubnagar MP Manne Srinivas Reddy inaugurated the newly-constructed Mandal Education Office constructed at a cost of Rs 31 lakh in Kodur village and later, inaugurated a newly -laid CC road in Obulaipally village.

The Minister and the MP reached Manyam Konda hilltop temple on the outskirts of Mahbubnagar district and laid the foundation stone for the reconstruction of Sri Laxmi Narasimha Swamy temple with Rs 70 lakh.
Later on, the Minister laid another foundation stone for the construction of most modern Kalyana mandapam near Alivelu Manga Temple at a cost of Rs 2 crore. The Minister also inaugurated the newly-constructed overhead Mission Bhagiratha water tank near Manyam Konda temple, which was constructed at a cost of Rs 16.60 lakh. The overhead tank is having a capacity of 40,000 liters which will supply water to the devotees visiting the temple.
Speaking on the occasion, the Minister said that the TRS government was committed to the all-round development of the district and he said as promised, he would take up all the development works in the temple town of Manyam Konda and would do his best to improve the facilities at the temple and make Manyam Konda a beautiful place to attract the tourists and pilgrims from across various parts of Telangana, Karnataka and Andhra Pradesh.