Micro artist welcomes Trump by sculpting figurine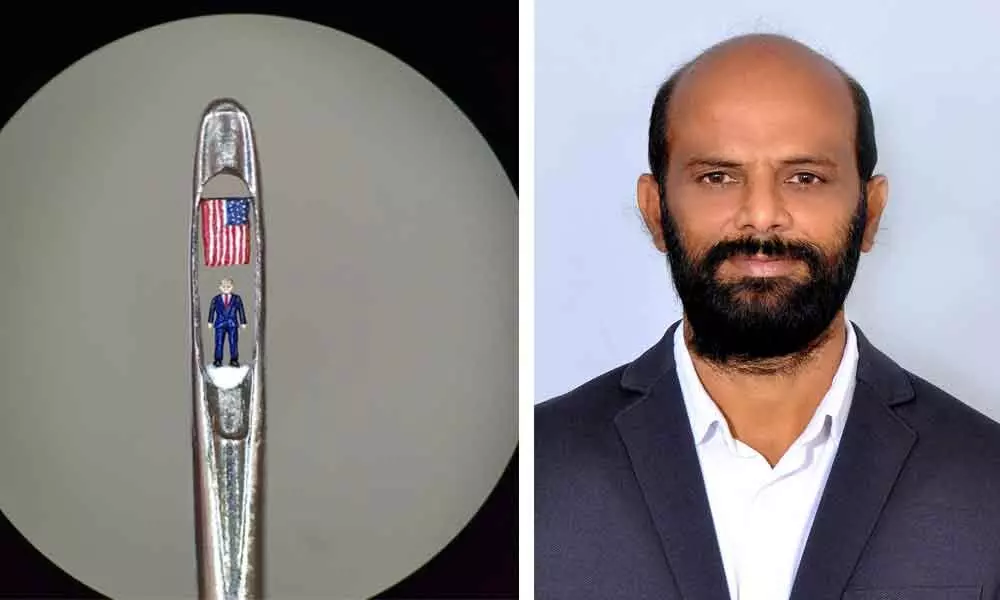 Highlights
He sculpts a wax-made figurine of Donald Trump inserted in the eye of a needle
Warangal: This bearded man from Warangal, Mattwada Ajay Kumar, who produced many miniscule sculptures has come up with a unique way of greeting US President Donald Trump who arrived in India on Monday.
He sculpted a wax-made figurine of Donald Trump inserted in the eye of a needle. Ajay's penchant for miniscule sculptures is evident again as he toiled 13 hours, spread across four days, to produce Trump's figurine which is difficult to see with a naked eye.
The figurine is a masterpiece as one would notice Trump's electric blue suit with a red tie over a white shirt, and his black shoe. The draping US flag is also seen above Trump.
The height of the idol is 1.25 mm, while the width of the sculpture is 0.32 mm. The height of US flag is 0.94 mm and width is 0.64 mm. Speaking to The Hans India, Ajay said: "Very rarely, the US Presidents visit India. I wanted to do something special for him. It gave me immense pleasure."
Ajay's talent was recognised internationally in last October when he won the first prize in 'Art in a capsule competition-2019', an international contest organised by the ACG World Group, a pharmaceutical solutions and manufacturing company. He received a cash award of US$ 5,000.
It may be mentioned here that around 80 micro artists from across India, USA, Latin America and European nations participated in the contest.
It may be noted here that Ajay's a wax-made sculpture inserted in the eye of a needle, portraying Dandi March, also known as Salt Satyagraha, has found a place in the prestigious National Salt Satyagraha Memorial (NSSM) Project at Dandi in Navsari district of Gujarat.
This apart, he has produced many miniature sculptures such as Chandra Shekhar Azad twirling his moustache, B R Ambedkar holding a copy of the Indian Constitution in one hand while his other arm is raised with a finger pointing in the air, Mahatma Gandhi having a stick in his hand, Netaji Subhash Chandra Bose saluting, Bhagat Singh branding a pistol in one hand national flag in another, Alluri Sitaramaraju holding a bow and an arrow with quiver on his back, Jawaharlal Nehru releasing a dove etc.
A functional miniature a lock and key, an electric fan, gold scissors and violin all made in gold earned him place in Limca Book of Records for five times, including a world record. He has been engaged in making micro sculptures for the past 30 years.
Ajay, a goldsmith by profession, says that his passion for miniature figurines is a tribute to his father Venkata Chary, a Freedom Fighter. He has a constant encourage from his mother Hymavathi who is now 85-year-old.