Peddapalli: Matsya Veera KCR Cup boat racing competition commences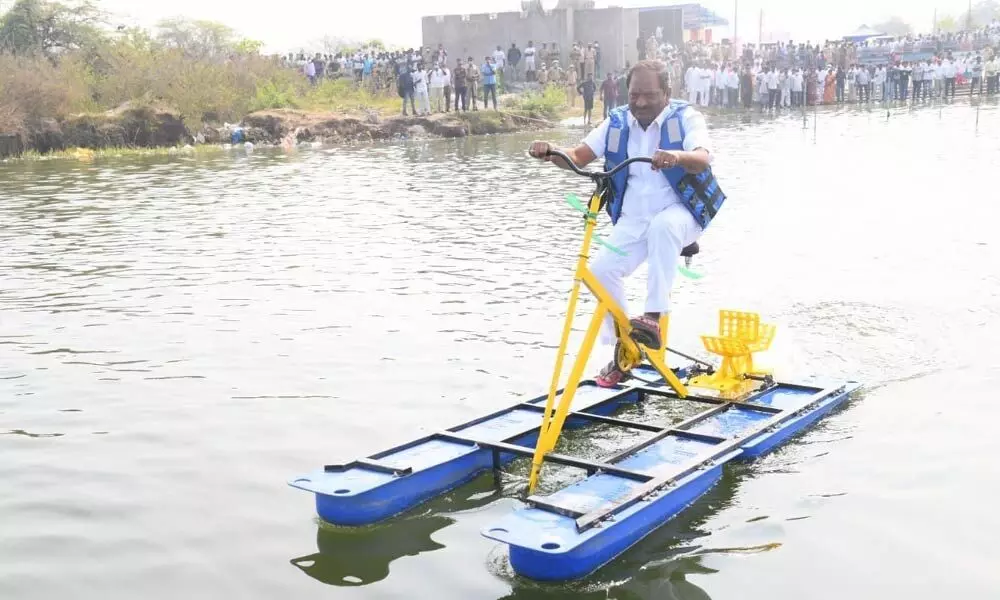 Highlights
Welfare Minister Koppula Eshwar along with Ramagundam MLA K Chander Patel and Zilla Parishad Chairman P Madhu inaugurated Matsya Veera KCR Cup State-level boat racing competitions on River Godavari in Godavarikhani of Peddapalli district on Sunday
Peddapalli: Welfare Minister Koppula Eshwar along with Ramagundam MLA K Chander Patel and Zilla Parishad Chairman P Madhu inaugurated Matsya Veera KCR Cup State-level boat racing competitions on River Godavari in Godavarikhani of Peddapalli district on Sunday.
Speaking on the occasion, Minister Eshwar said that Chief Minister K Chandrashekar Rao was determined to supply irrigation water to the people of Telangana and to make the entire land into fertile. Hence, he had taken up massive Kaleshwaram Project and completed it in record time making it as a lifeline to the State, he added. He praised KCR as modern Bhagiratha, who diverted Godavari water to the west by constructing Kaleshwaram project. After this project was completed, now Godavari water is flowing round the year covering 250 kilometres.
Minister Eshwar said boat racing competitions are common in Kerala but with Kaleshwaram project, we are able to conduct such competitions in our state and it is the second State-level boat racing competitions conducted in the State.
With the several schemes introduced by the TRS government and especially for fishermen community, the fish wealth was increased enormously in recent days and with boat racing competitions the people are able to get pleasant experience in this region, he added.
Ramagundam Mayor Anil Kumar, ZPTC Narayana, deputy mayor N Abhishek Rao, corporators Rajesh, Srinivas, Satish Kumar, Ramana Reddy, Krishna Veni,
Bhumaiah, Venu Gopal, Sadanandam, Bhaskar, Raj Kumar, Pulendar, Dayakar, Padma, Ganesh, Kavitha, Sarojana, Gopal Rao, Rama Swamy, Raju, Sharada, Shankar and Vijay Reddy were present along with others.