Peddapalli: Suspend sand quarry orders in Venkatapur village, AITUC demands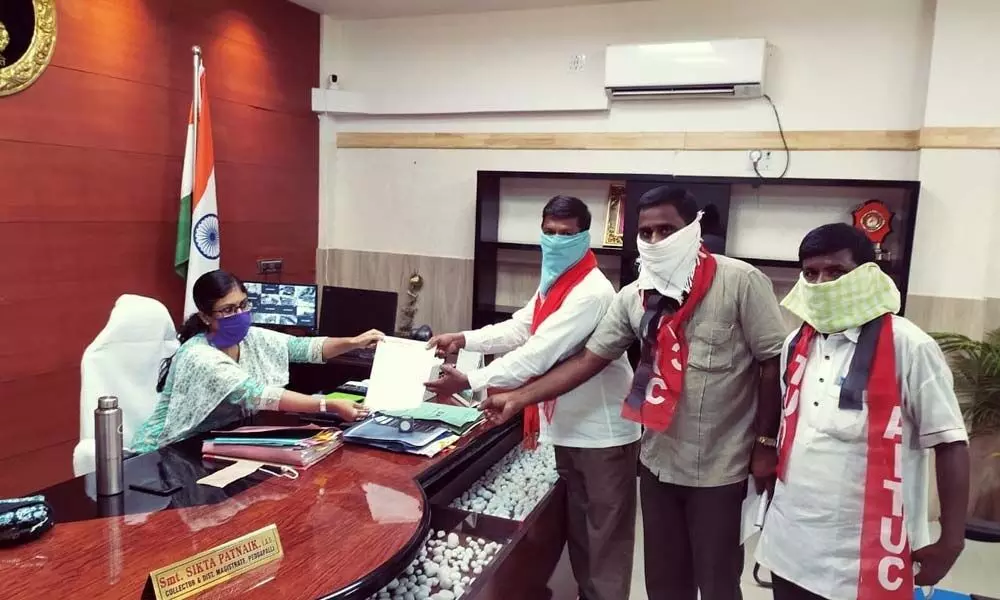 Highlights
All India Trade Union Congress (AITUC) leader Kadari Sunil demanded that the government must suspend orders issued for opening sand quarry in Venkatapur village of Manthani mandal. AITUC representatives submitted a memorandum to District Collector Sikta Patnaik at her chamber in Peddapalli Collectorate on Thursday
Peddapalli: All India Trade Union Congress (AITUC) leader Kadari Sunil demanded that the government must suspend orders issued for opening sand quarry in Venkatapur village of Manthani mandal. AITUC representatives submitted a memorandum to District Collector Sikta Patnaik at her chamber in Peddapalli Collectorate on Thursday.
Speaking on the occasion, K Sunil pointed out that groundwater levels in Manthani region are depleting each day due to indiscriminate sand quarrying, which is causing serious problems not only to farmers but also to people. He found fault with the government for issuing orders of a new sand quarry at Manair river in Venkatapur village, when the people of this region are suffering with irrigation and drinking water scarctiy.
Sunil alleged that sand mafia is going on unabated in Manthani region under the influence of the ruling party leaders. In the name of projects, huge quantities of sand is quarried from Manair river and shifted illegally to other places. Sand mafia are threatening those, who oppose them, he added. It is learnt, not only MLAs and MPs but Ministers also involved in sand mafia.
From the past ten days, sand illegal quarrying has been going on in Venkatapur village but there are no officials to question them, he pointed out. He demanded the government to react immediately and suspend sand quarry that was sanctioned at Venkatapur village and save the lives of people living in surrounding areas. Otherwise, massive movement will be taken up along with villagers to teach the government a fitting lesson, Sunil warned.
Subscribed Failed...
Subscribed Successfully...