TRS government committed to provide better medical services: Eatala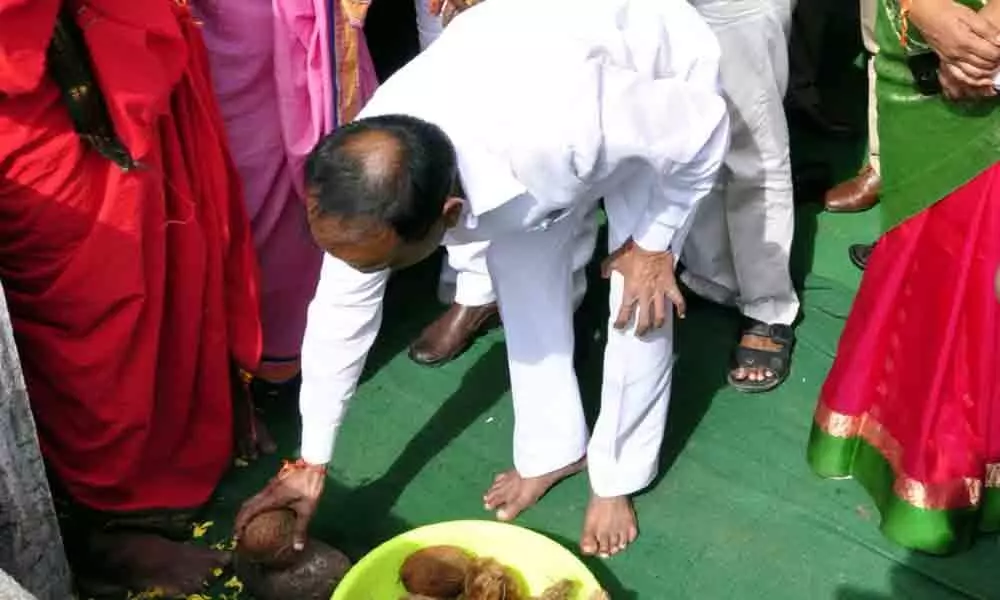 Highlights
NTPC to develop Godavarikhani Hospital with Rs 7.89 cr
Peddapalli: The government is showing special interest on the health of the people and striving hard to provide better medical services, told the Health Minister Eatala Rajendar. The Minister laid the foundation stone for the construction of 50-bed hospital with an investment of Rs 7.8 crores under the CSR funds of Ramagundam NTPC in the premises of Godavarikhani Area Hospital in Peddapalli district on Friday. He interacted with the patients undergoing treatment in Godavarikhani Area hospital. Later, the Minister participated in a public meeting organised under the leadership of Ramagundam MLA K Chander Patel.

Speaking at the meeting, Minister Rajendar said that he had visited about 13 districts in the State starting with Suryapet for the past four days. The publicity that is going on among the public regarding viral fevers is not that much serious anywhere in these 13 districts and they are only rumours, he stated.
The patients, who were admitted in the hospital was not because of serious illness but because of seasonal diseases. 99 percent of them are suffering from minor kinds of illness. The doctors are providing them better medical services without taking leaves. Moreover, all the government hospitals present in the State are well equipped and provided with all kinds of facilities, he added.
He said that the people need not get panic as the State government is taking all measures keeping in view of the health conditions of the people and is providing required medicines along with arranging equipment to treat various kinds of critical illness also. The government also introduced schemes like KCR Kit and sanctioning Aasara pensions for disabled, widows and to the people, who are suffering from Elephantiasis diseases, he pointed out. Rajender assured the family members of the patients, who are undergoing dialysis that he would take the issue of sanctioning pension to dialysis patients to the notice of Chief Minister K Chandrashekar Rao and would try to sanction pension to them.
Peddapalli MP B Venaktesh Netha, Peddapalli Zilla Parishad Chairman Putta Madhu, District Collector Devasena, ZTPC Kandula Sandhya Rani and NTPC Ramagundam were present along with others.
Subscribed Failed...
Subscribed Successfully...