TRS government ignored varsities: ABVP, Hanamkonda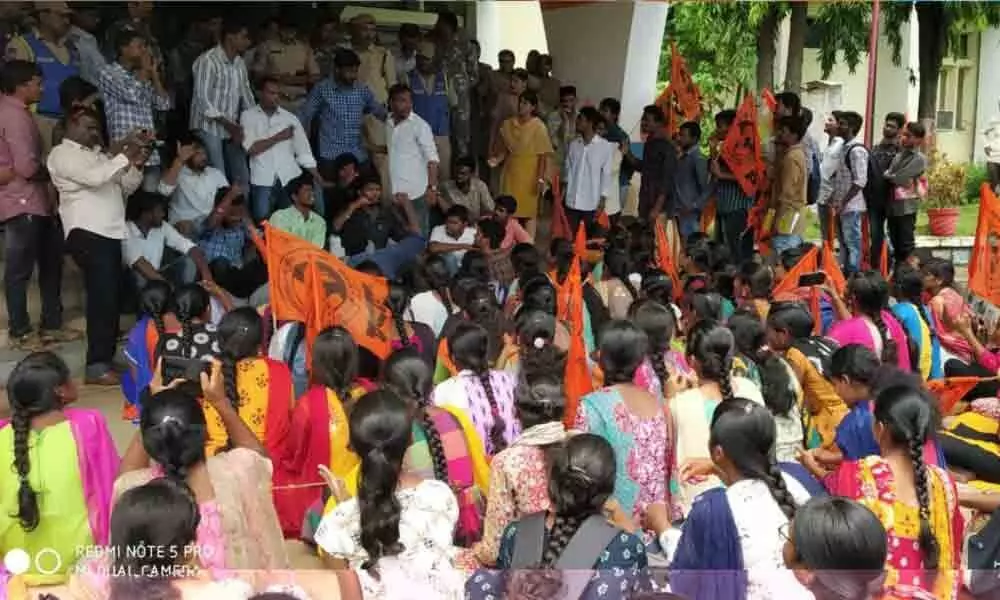 Highlights
Hanamkonda: The ABVP cadres accused TRS president K Chandrashekar Rao of making tall promises during the...
Hanamkonda: The ABVP cadres accused TRS president K Chandrashekar Rao of making tall promises during the Telangana Movement and not fulfilling any of them. The ABVP activists staged a dharna in front of Administrative Office of Kakatiya University (KU) and raised slogans demanding the State government to address the problems faced by the students in the varsity immediately.

ABVP State secretary Ambala Kiran said that KCR, who promised to turn the Osmania and Kakatiya universities into Oxford and Cambridge, has not even made any attempt to address the basic problems in varsities. "Even though varsities are entangled in several issues, KCR turned a blind eye to them. After assuming power, the TRS government delayed the appointment of vice-chancellors for about three years. Now it's back to square one again as the term of the V-Cs concluded recently," he said. How far the government will continue the regime of in-charge V-Cs, he said.
Stating that there was a need for filling 1,704 professor posts across the State, Kiran said that TRS government failed to fill even a single vacancy since it came to power in 2014. The inability of the government is making students suffer immensely, he added.
"On the other hand, the government didn't regularise none of the self-finance courses offered by the varsities, this despite the University Grants Commission (UGC) norms allow to do so after five years," Kiran said. As a result, it has become a herculean task for the poor students to bear Rs 30,000 per annum, he said and accused the varsity administration of collecting huge money from students in the name of development fee.
Kiran demanded the government to admit new students to the hostels without mess deposit. He criticised the KU administration for ignoring the plight of inmates staying in girls' hostel where water scarcity is a major problem. He said that quality of food is far from acceptable. Stating that the inmates staying in the hostels are often facing health issues, Kiran demanded the administration to provide health cards to all the students.
KU ABVP leaders Ch Sathish, Mahesh, N Rajesh, Shiva, Prashanth, Kiran, Devender, Madhu, Ramakanth, Raju, Praveen, Latha, Lavanya, Amani and Mounika were among others present.
Subscribed Failed...
Subscribed Successfully...