Warangal: ABVP State Maha Sabha meet from today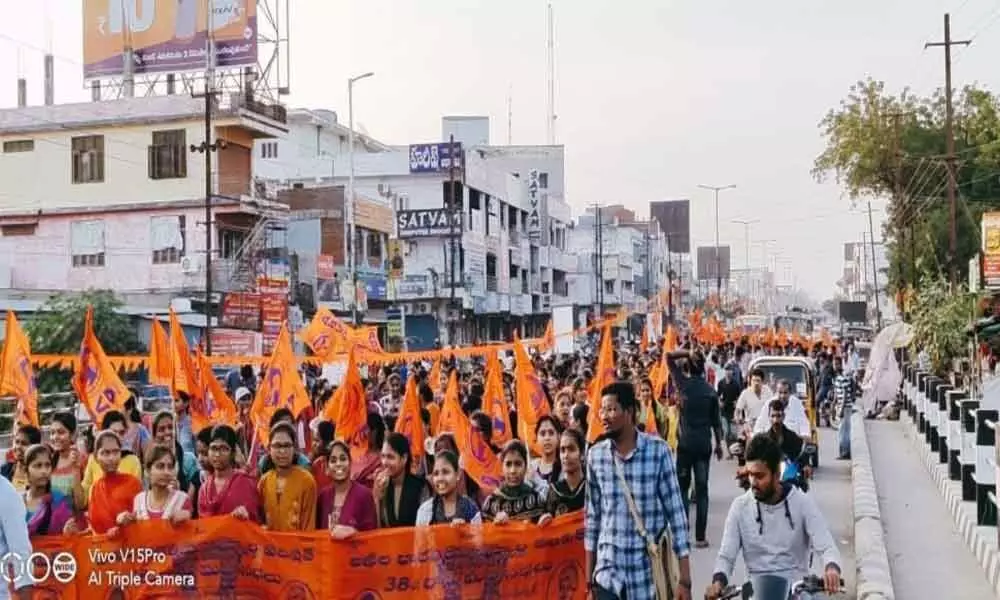 Highlights
The four-day 38th ABVP State Maha Sabha is to be held on Kakatiya University (KU) campus from Tuesday (December 17).
Warangal: The four-day 38th ABVP State Maha Sabha is to be held on Kakatiya University (KU) campus from Tuesday (December 17). The Maha Sabha invitation committee president Narasimha Reddy and State conference convener Aleti Nagaraju said that students and ABVP workers from all over Telangana would take part in the conference.

ABVP State Secretary Ambala Kiran said that the conference would discuss various issues faced by the students and a resolution will be passed envisaging an action plan to get rid of them. "ABVP is always in the forefront of fighting for the cause of students. The role of ABVP in the Telangana Movement is undeniable. ABVP fought relentlessly for the formation of Telangana. Now, the ABVP is fighting to ensure sufficient facilities for the students residing in government hostels. With the efforts of ABVP, students were able to get fee reimbursement and scholarships," he said.
He expressed concern over the commercialisation of education system. The recruitment of teaching and non-teaching staff in the universities is inevitable to ensure quality in the research, he said.
The government needs to release funds to take measures for strengthening education schools, colleges and universities, he added.
Referring to the Maha Sabha, he said that they would discuss in detail to draw resolution on the issues faced by the education system, women safety, and economic condition of the State. The resolutions would be submitted to the State government, he added. The itinerary of the Maha Sabha:
On December 17: Flag hoisting at 5 pm by State president Meesala Prasad and State Secretary Ambala Kiran. ABVP Pranith Pramukh Bapu Rao will take part in the flag hoisting.
December 18: Udghatan starts at 10 am. Minister of State for Home Affairs G Kishan Reddy, ABVP ex-Joint Organising Secretary Raghunandan, National Joint Organising Secretary Laxman and Kshetra Sangathan Manthri Balakrishna to attend the Udghatan. New State president and secretary will be elected and assume the charge.
December 19: Rally and Public Meeting. National General Secretary Nidhi Tripaathi of JNU will take part.
December 20: Yuva Puraskaar award presentation and new ABVP State Committee will be elected. Cultural programmes will be organised in last three days of the Maha Sabha.