Women panels seek stringent action against offenders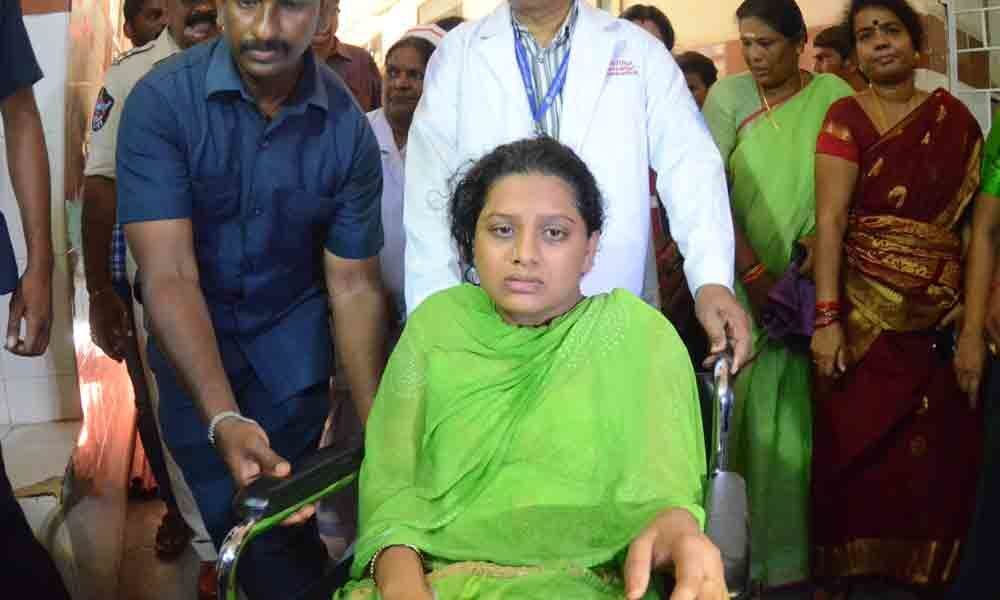 Highlights
1. AIDWA city vice-president P Mani, expressing serious concern over the growing atrocities against women, says concrete steps should be taken to protect women's dignity
2. Demands candidates requesting votes should assure harassment-free society for women
Visakhapatnam: Unable to endure harassment by husband, a married woman residing at Payakaraopeta allegedly committed suicide.

In another incident, Gurajala Rajeswari, a pregnant woman and beautician at NAD junction, registered a complaint with the Airport police station charging her mother-in-law and husband with attempt to murder her, demanding Rs 25 lakh additional dowry.
These two incidents that took place in Visakhapatnam in a row stand testimony to the fact that there is no let-up in domestic violence against the fair sex despite vigorous campaign by various women's organisations to end the menace.
Dowry harassment is not a thing of the past as women in some families and lower middle-class pockets continue to put up with it silently.
At present, Rajeswari is in the gynaecology ward of the King George Hospital undergoing medical tests as her husband and his mother had allegedly kicked her on the stomach. They also tried to pull her hair and injure her wrists and stomach using a blade. "This is the fourth time they are forcing me to undergo an abortion over demands of dowry. I am now in the advanced stage of pregnancy. Fortunately, doctors confirmed that the baby is safe," says Rajeswari, heaving a sigh of relief.
Chairperson of Andhra Pradesh Mahila Commission Nannapaneni Rajakumari's visit gave Rajeswari a ray of hope to start life afresh. Apart from calling for a stringent action against the accused who were taken into custody, Rajakumari assured the victim a job after her complete recovery. The chairperson also mentioned that the Women and Child Welfare Department would take care of the baby.
The statistics of crime against women in Visakhapatnam city for the past three years indicates rise in such incidents – 917 in 2016, 968 in 2017 and 1,174 in 2018.
Expressing serious concern over the growing atrocities against women, city vice-president of AIDWA P Mani says that concrete steps should be taken to protect women's dignity. "Stringent action should be taken against the offenders so that they should get scared even to entertain thoughts of harassing women. This apart, the attitude of taking women for granted should change and it starts from home. For this to become a reality, candidates requesting votes should assure a harassment-free society for women," she demands.
Representatives of women bodies add that it is high time that victims, subjected to dowry harassment or atrocity in any form, should take charge in shaming the offenders. They also recommend a support system for women who prefer to take bold steps to lead an independent life.