Wait for breakout for a good entry point into markets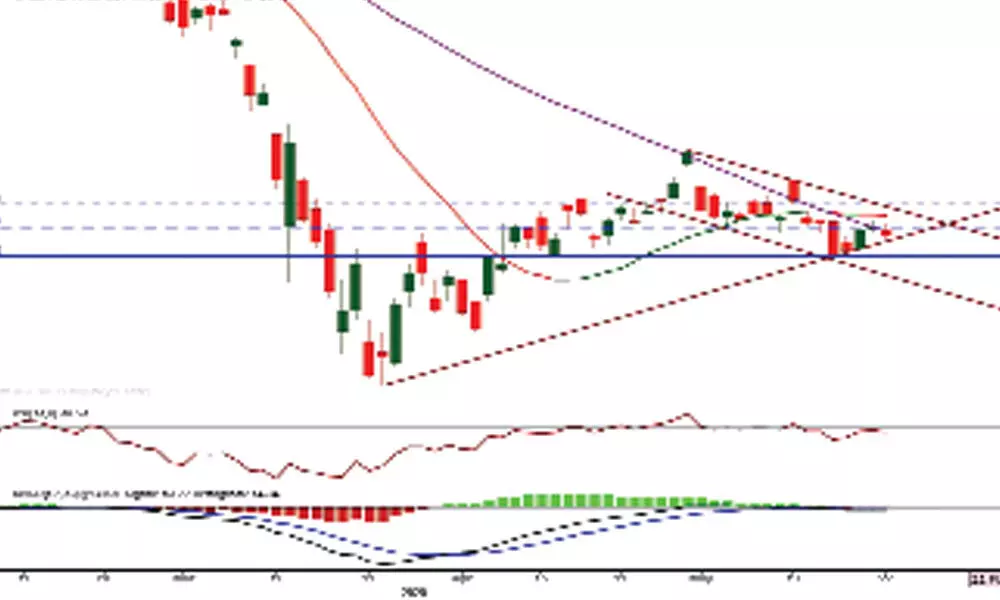 Highlights
Benchmark indices were indecisive and moved in a range during the week. The week began with a big fall of over three per cent
Benchmark indices were indecisive and moved in a range during the week. The week began with a big fall of over three per cent. Despite three positive closings during the week, the Nifty failed to close above Monday's high. At the end of the week, Nifty lost 97.6 points or 1.07 per cent.

Another benchmark index BSE Sensex lost about 1.37 per cent. Broader indices Nifty Midcap-100 fell by 2.5 per cent, and Smallcap-100 index declined by 2.1 per cent. Nifty Bank and Financial services indices were the worst performers, with 8.26 per cent and 6.89 per cent loses. Even Reality index lost 5.19 per cent. The Nifty Pharma index gained by 5.58 per cent and IT index advanced by 4.69 per cent. also gained by 3.07 per cent.
Once again, the unexpected RBI monetary policy did not enthuse the market participants. The policy rates were at historic low now. Since February 2019, RBI reduced the repo rate for the fifth time from 6.15 per cent to 4 per cent. Each time, market reacted negatively. The policy announcements were intended to cheaper loans for the fund starved industry. But, the market understands the policy outlook in a different way. After many decades, RBI has forecast a negative growth rate because of Covid-19 pandemic. Soon after the policy announcement, markets drifted down. In the previous week, the Finance Minister's stimulus package series 'Atmanirbhar Bharath Abhiyan" also did not boost market sentiments. Technically, Nifty closed below the prior week's low and is continuously forming lower highs and lower lows. It moved within the range of Monday's big bear bar. The effort to move above Monday's high (9158) on Thursday failed. Barring two to three days, Nifty moved in the range of 9350 - 9116 during April 17 to May 15. This movement has resulted in island reversal patterns. The range now shifted down to 9116-8820. As the range is shifting down and three consecutive lower closing weekly bars, it looks like bulls lack strength.
The 50DMA level is acting as a resistance since April 30. On at least four occasions, Nifty failed to close above this average to reverse the trend. The 50DMA is trending down. Out five trading session during the week, the index took support for four times at a bottom upward trendline. As discussed last week, all the hidden patterns still exist. Besides, new inflection point has emerged at Monday's low. This is exact point of the upward trendline and downward trendline support of recent low. At this point of inflection level, the Nifty took support on April 16 and faced a resistance on March 20 and April 7.
Generally, when previous resistance level becomes support level, the breakdown will lead to severe bearish implications. We assume that 8968-8820 as a support zone and 9116-9180 as resistance zone. A close below 8820 will lead to a fall up to 8420. Nifty will fill recent island reversal gap or hit 9350 if it closes above 9180. In short, Nifty is at a critical juncture. Unless it comes out of the sideways action, there can't be a decisive trending move. As mentioned above, resistance and support zones are critical for next week. The monthly closing is going to be an inside bar. Though monthly closing may not give any directional signal, the weekly closing has importance for the future direction.
However, it isn't easy to find a trading opportunity when it is trading in the current zone. Wait for breakout or a breakdown for a good entry point.
(The author is a financial journalist and technical analyst. He can be reached at tbchary@gmail.com)
Interested in blogging for thehansindia.com? We will be happy to have you on board as a blogger.