An intellectual giant - C Raghava Chary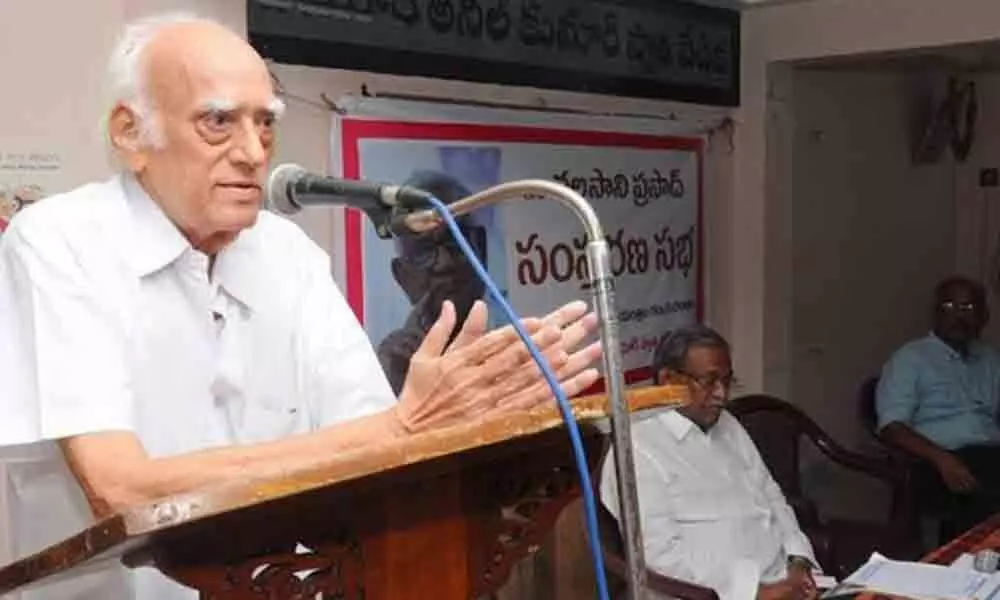 Highlights
An ode to senior journalist C Raghava Chary, who, through the loftiness of soul and grandeur of his character proved himself worthy of being called an...
One of the sharpest minds of Telugu Journalism, C Raghava Chary is multi-dimensional. He Is a journalist and intellectual, well-versed in Telugu, Sanskrit and English languages, and a person wedded to communist philosophy, an intense cricket buff and above all a wonderful simple human being with impeccable integrity in his professional and personal life.

Born into a traditional Brahmin family, from the age of five he has studied prabandas, classics and episodes from Mahabharata and Ramayana; three teachers, in Telugu, English and Urdu were engaged to teach him the languages. He was also sent to Ponnur in Andhra area to learn Sanskrit grammar; evidently all this helped him to attain an amazing memory. A keen observer of men and matters he never understood as to why his mother was giving food to communist leaders by making them sit separately and not with his family (in his native village of Shathapuram in Pallakurthi mandal, his family used to give shelter to many communist leaders like Nalla Narsimhulu. His uncle Comanduri Venkata Charyulu, a hefty man and active person in communist movement was brutally murdered by Razakars in day light. This made him very sad.
it was only at the age of eleven, he joined formal education by getting into fifth class in Lalaguda railway high School, Secunderabad. One of his brothers, who was in railways used to get the communist daily, Vishalandhra. From the year 1953, he started reading the paper and developed empathy for the poor. But he remained a traditional Brahmin till he joined the prestigious Nizam college and shaved his tuft. In the pre-professional course, he stood sixth in order of merit in the entire Osmania university and got admitted to Osmania Engineering College. But in the second year of engineering he lost interest in his studies and went to Warangal to join BSc first year and joined the communist sponsored student federation. He contested for the post of General Secretary of college students' union and won it with absolute majority. After completing his graduation, he came to hyderabad and joined the law college, and since then, he became a student member of the communist party. As a student federation leader he contested for the presidentship of the law college students' union and won despite anti- campaign by S Jaipal Reddy, who was then studying for MA English Literature In The University and was an NSU leader.
After completing LLM, he joined Vishalandhra newspaper as directed by the communist party in 1965. Throughout his scholastic career he was dazzlingly impressive. He has the eerie ability to read and retain the substance of many books.
From 1969-71, he worked as staff correspondent of left leaning English daily Patriot in hyderabad. He took to journalism with effortless ease.
In 1971 he went to Vijayawada to join Vishalandhra and within a short time made it as the editor of the paper. For 28 long years he edited the paper and then retired despite pressure from the party to continue.
His editorials were marked for directness, clarity and precision some of his editorials like the one on MS Subbalakshmi, when she was awarded with Bharath Ratna revealed his exclempory knowledge of Carnatic music. Another editorial on great Telugu poet Pothana, who hailed from Palakurthi Mandal showed his deep learning of telugu literature. And when Jan Sangh split from Janatha party and claimed its adherence to Gandhian socialism, he sarcastically wrote that Gandhi never believed in socialism and Jan Sangh never believed in Gandhi.
In another insightful article on ''Telugu papers ''Evolution - Experiments - Purpose" he regretted that the language used in Telugu press was not standardised and all sorts of words, whether relevant or not were inappropriately used. He also commented that an impression was gaining ground that news persons can be purchased by vested interests. He also regretted that mostly political news was dominating Telugu news papers.
A former British editor of Times of India said, long before Indian independence, "journalism is a severe and jealous mistress, who will not brook rival in any shape or form. You must give her your days and nights and that is best in you. Her reward will not be material wealth, but supreme joy of duty well-done". Raghava chary is a living example of this ideal.
He had enormous capacity to ease any tense situation. For instance, when the erstwhile Chief Minister NT Ramarao invited the editors of news papers in Andhra Pradesh to give their opinion on his plans to ban yellow press, all the editors opposed chief minister's idea which was seen as an attack on the idea - free press. With this NTR became speechless and tense; Raghavachary eased the situation by telling him in jest that the dress of NTR's party and the press he wants to ban is common - Yellow. Everybody including chief Minister laughed at this remark.
As a sincere communist he remained wedded to his party and always felt that the party had first claim on his life. When his father-in-law Kanaparthy Nagaiah and his political mentor Mohith sen left CPI to form a new party, he never followed them.
Years of fame as an intellectual do not seem to have made the 80-year-old Ragava chary devoid of his affability. Anyone who converses with him on any subject will be impressed by his depth of knowledge. It is as if the mind inside this handsome body has energy far bigger than the frame in which it is confined.
An enlightened and inspirational editor his contributions to journalism will always be remembered by Telugu people.
Subscribed Failed...
Subscribed Successfully...