Bringing smiles on the faces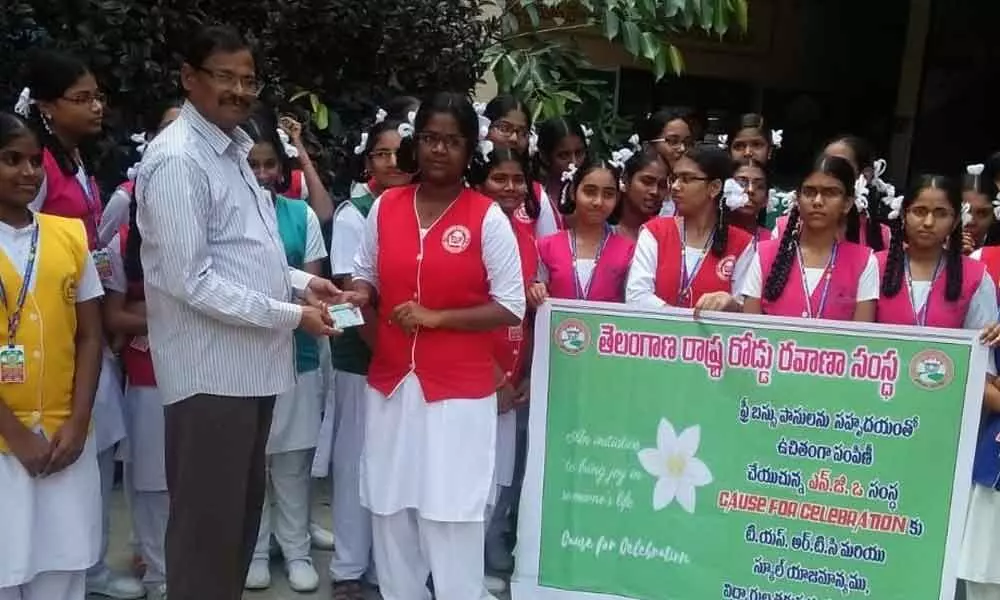 Highlights
Pallavi Priya, a software engineer by profession is on a mission to bring smiles on the faces of the unprivileged and the less fortune ones
What can be more peaceful than celebrating your special day by bringing smiles on someone's face? This Hyderabad based techie is one-stop solution who can connect you to any cause and bring a smile on the face of the less fortunate.

Priya who is basically from Uttar Pradesh and has been in the city for the past seven years for her work, wishes to give back to the society whatever she has in the form of smiles for those who are not as fortunate as us. With this aim, Priya started an initiative called 'Cause for Celebration' in September 2018 to impact 200 orphans. With each passing time, she and her team have impacted over 10,000 people till date with the help of around 10 volunteers.
Priya shares, "I am associated with various projects that help change society and have more than 10 years of experience in volunteering, planning and event organising, ideation session experience into the social sector. The causes that are very close to my heart are climate action, women safety and child development. Cause for Celebration is an ambition and drive to serve, empower and uplift the underprivileged section of the society and bring joy and happiness in their lives through our mutual desires to help, connect, love and be loved."
Cause for Celebration aims that no-one should go deprived of basic amenities, love and care. They wish to make education, food, health, self defense to reach everyone and facilitate identification and development of hidden talents and passion of children from lower income communities and provide them relevant vocational training.
Sharing about what inspired her to start this cause, she shares, "There is an unheard sentiment among the people across India to do something noble like sponsoring food, donating money on our special days birthdays, anniversary, promotions. My friends, colleagues used to approach me whenever they wanted to make any contribution for a social cause. I experienced that people want to do some social service but they don't know where to start, which NGO to donate or many have time constraints so they prefer supporting monetarily. This has motivated me to come up with 'Cause for Celebration' in Sep, 2018 on my birthday. There is always a 'Cause' to 'Celebrate' your special days. I just created a facebook page and started putting a cause on it whenever I come across any needy. To my surprise I received a very good response and people started getting associated."
They have been conducting these activities in slum areas, on streets, orphanages, rural areas and government schools. By the end of its first year, the initiatives were spread to various cities and districts in Telangana, Andhra and Delhi/NCR.
The ECO-warrior
Priya has always been a nature lover and enjoyed serene, scenic beauty. Recalling about her childhood she says, "I remember me, my siblings was very concerned on not littering on public places, judiciously utilising resources like switching off fans, lights always when not in use, kitchen gardening and composting. I believe people are part of the development process of any nation and change starts from us. Govt. is doing their job and we have to do ours. There is a lot of scope of changing our lifestyle and making it a sustainable one. It just needs a little conscious effort from our end and individual efforts collectively create a bigger impact."
Priya says that she avoids the use of single use plastic in her daily life as much as possible and use jute or cloth bag. She shares, "I carry my own copper/steel bottle while going outside, i use bamboo toothbrush, i avoid plastic cutleries, reuse the waste plastic for plantation, installing art pieces. Last year I kept a stall of eco friendly products at Taruni Fair. In my social work also I try to be as eco-friendly as possible. Like using public transport while going for donations, or car pooling, reusing the donation bags, avoiding plastics. I have been running green campaigns and initiatives on social media like #sustainablelockdownchallenge, #gogreenchallenge, #bestoutofwaste to name a few. My initiatives were also registered on UN's website as part of their world environment day event."
Activities undertaken by the organisation

1. Sponsoring school and transport fees of orphans and slum children
2. Girl Child Education, Self-defense classes for girls
3. Benches/Notebooks/stationery items donations in Govt. schools, orphanage
4. Festival excursions for orphanage, Gift a Wish- Fulfilling individual wishes of specially-abled children, orphans
5. Organising health checkup camps, providing medicines for orphanage
6. Clothes, footwear, blanket, umbrella distribution on streets
7. Vocational training, dance classes, storytelling, fun activities in govt. schools, orphanage
Sponsoring food in slums

8. Groceries, sweets, fruits distribution to migrant workers
9. Biodegradable Sanitary pads distribution, menstrual hygiene sessions to lower income communities women
10. Phones/Laptop distribution to slum kids for online education
11. Creating employment opportunities for the poor to help them earn livelihood