From life partners to business partners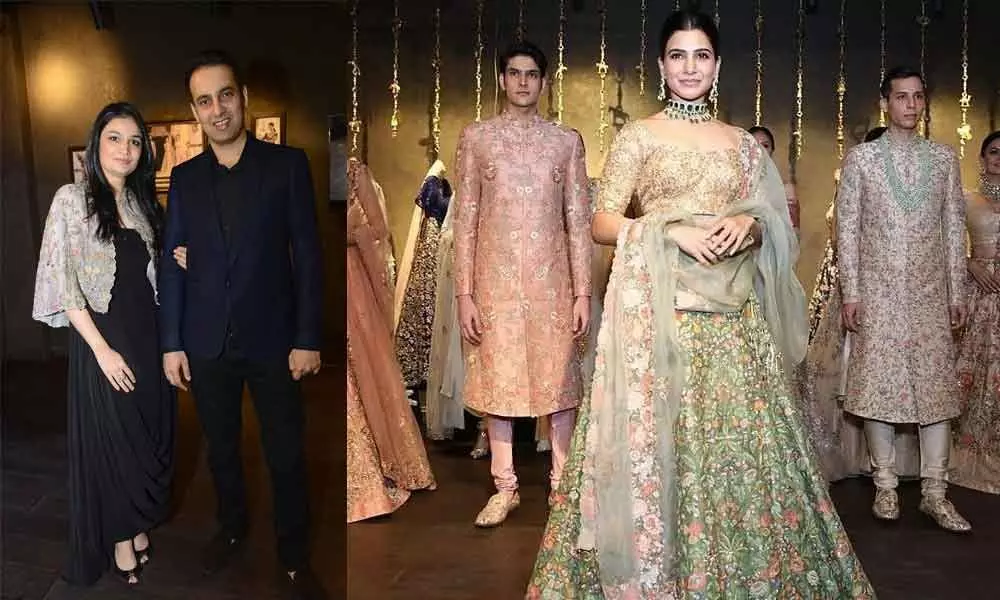 Highlights
Celebrated and renowned fashion designer duo and couturiers Shyamal and Bhumika, known for their alluring designs across women's wear and menswear are making their way into the Hyderabad's retail space.
Celebrated and renowned fashion designer duo and couturiers Shyamal and Bhumika, known for their alluring designs across women's wear and menswear are making their way into the Hyderabad's retail space.
Their new store has been specially curated to ensure it's an experiential space that truly reflects the label's unique values and aesthetics.
While Bhumika trained at the National Institute of Fashion Technology, Shyamal earned his degree in Commerce from HL College of Commerce, Ahmedabad. "During our childhood both of us had a very creative upbringing.
Shyamal had influences of classical music, won awards for painting, childhood was woven with nature, creative people, a lot of time spent in his father's creative studio for his advertising work. In school, he was more drawn towards arts, languages and literature, creative writing than maths and chemistry.
I was brought up in a very creative environment, my mother was involved with the Centre for Nature education and so caring about the environment was something that was woven very early into my life and she had also worked with companies that work with Japanese and European designers, so a certain sense of minimalism was absorbed .
Also, my house where I grew up was a stone's throw from NID and our house was often frequented by creative people. I used to design my weekend looks along with my home tailor from early teens and so by the time NIFT happened I was already having a grip on design, fashion, tailoring etc.," shares Bhumika.
By the time they ended their school, they were in a serious relationship and had already decided to stay together as a couple. "We knew of each other since high school and so when we actually met for the first time, it was an instant connect.
We met at 17, through mutual friends — it was an instant friendship, followed by love very soon! And our friends complained that they were completely forgotten. Besides similar upbringings there was much to share in terms of common creative interests."
They shared similar thoughts, creativity, passion and feelings that made it an easy ride for them as working couple. "When I was 20 years old, I was working in Hyderabad. I fell in love with the weaving of Pochampally and developed colour combinations in the woven fabric. Bhumika would send me sketches ofg arments while she was interning in Bangalore and our first collection was born.
In fact, Bhumika's graduating project of reviving the Amdavadi Real Zari weaving technique was our first step into conceptualising the brand," adds Shyamal.
About each of their roles in designing, Shyamal says, "We have been working together since the year 1999 and it's been about 20 years that we have been a team.
We have micro-segregated our roles and both of us have some strengths and weaknesses, which we manage to play in our favour. At Shyamal &Bhumika, Bhumika plays the role of a fashion designer and I am the Creative Director."
They believe that Hyderabad is rich in culture and heritage, and people value handcraft which is synonymous with their brand and the market is also accessible to other cities in the south which makes it one of the prime locations.
About their collection Bhumika says, "Our Hyderabad store showcases two of our latest bridal couture collections- Memoirs of a 'Maharani' and 'The Renaissance Muse'.
'The Renaissance Muse' is inspired by the iconic period of renaissance which marks the rebirth of art, architecture, music, couture and theatre from the medieval ages to modernity. We travelled to the birthplace of the Renaissance cultural movement to explore inspirations for this Uber glam collection.
The collection, 'Memoirs of a Maharani', has a distinct flavour inspired by the royal courts of the princely states of India in the 17th century."
They say, "When you enjoy what you do, you don't feel like you are working. A creative mind can never stick to a time frame, but we do draw a line when discussions spill into our sleep routines. We try to squeeze in every free minute with our kids."