Hyderabad: Opportunities and innovation in higher education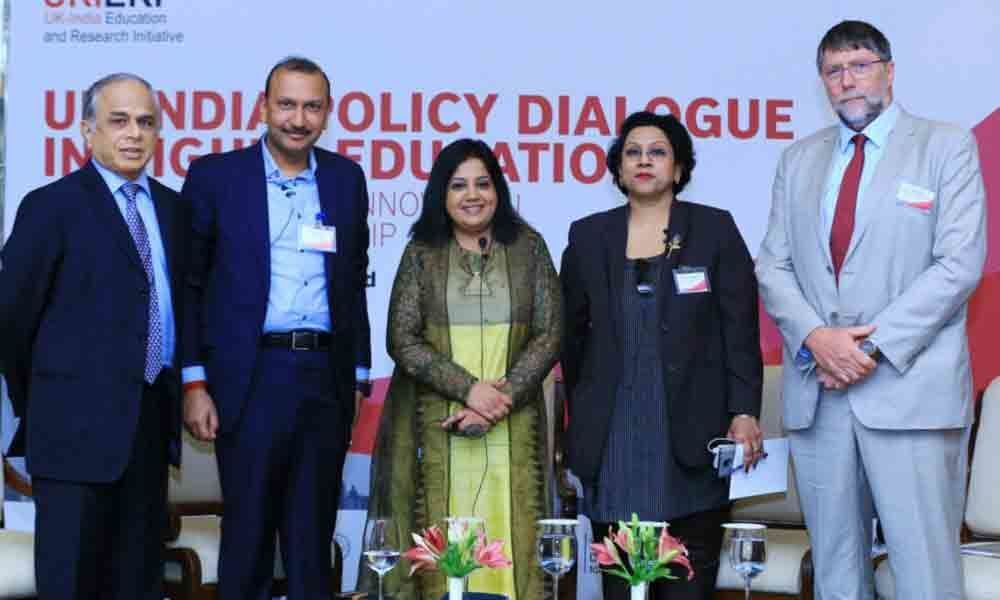 Highlights
1. 20 UK universities, led by Universities UK International (UUKi), meet Indian government bodies and university leaders.
2. Key higher education areas of bilateral cooperation include internationalisation in higher education, research partnerships, student mobility and employability.
ADVERTISEMENT
Hyderabad: The British Council – the UK government's international organisation for educational opportunities and cultural exchange – is hosting a delegation comprising of senior UK universities leaders to India.The delegation visit is part of the higher education focused bilateral programme UKIERI (UK-India Education and Research Initiative) delivered by the British Council in India. This is the largest delegation of UK university leaders to India in the last decade.
Over September 5 and 6, senior leaders from 20 UK universities and representatives from the British Council and British High Commission will engage with government and higher education sector stakeholders such as Guntakandla Jagadish Reddy, Education Minister, Government. of Telangana, Professor Venkata Ramana, Vice Chairman, Telangana State Higher Education Council, Jayesh Ranjan, Principal Secretary Industries and Commerce, Government of Telangana, Dr B Janardhan Reddy, Secretary Higher Education, Government of Telangana and Professor T Papi Reddy, Chairman, Telangana State Higher Education Council to understand the vision and priority areas of the government of Telangana. The UK delegation will also meet state representatives from the governments of Kerala, Karnataka and Andhra Pradesh.
The delegation arrived in India on September 2 and met with representatives from central government bodies such as Ministry of Human Resource Development (MHRD), NITI Aayog, All India Council for Technical Education (AICTE), University Grants Commission (UGC) and others.
Highlighting the experience of Indian students in the UK and the opportunities available to them post a UK degree, the delegation also released data from the Indian Graduate Outcomes 2019 study, conducted by Universities UK International. The survey reveals that 51 per cent of all Indians graduating from the UK say they earn above or well above average and 90 per cent of women in this group say they earn average or above. 60 per cent of Indian respondents surveyed said they were in their current jobs because it was exactly the type of work they wanted to do, with 82 per cent saying they are satisfied or very satisfied with their careers.70 per cent of Indian respondents felt they were better equipped to address issues of equitable access to sustainable development, 65 per cent felt they were better equipped to address issues of human rights, good governance and societal justice, while 69 per cent felt they were better equipped to address issues of sustainable economy and society. India respondents were slightly more positive than respondents globally where the corresponding data was at 64 per cent, 65 per cent and 66 per cent respectively.
Close to 1,000 Indian students of a total of 16,000 students from different nationalities who had completed their studies between January 2011 and July 2016 were surveyed to understand their experience of studying in the UK, their satisfaction with their education and their current jobs. The top ten nationalities (as a percentage of respondents) in the study include United States of America, China, India, Germany, Nigeria, Greece, Malaysia, Italy, France and Romania representing 45 per cent of the respondent base.
"The job satisfaction of UK graduates is higher, because chances of getting the job of one's choice markedly increases. I think this also leads to more effective work performance and logically, more recognition for one's work. The likelihood of UK graduates working in India in managerial roles was 23 per cent higher than the global average," said Vivienne Stern, Director, Universities UK International (UUKi), which is the collective body representing more than 130 universities from England, Scotland, Wales and Northern Ireland.
Janaka Pushpanathan, Director South, British Council India said, "Education is a key strand of the India-UK relationship; and the upcoming delegation visit will aim to further strengthen exchange between the Indian and UK Higher education sectors. The British Council is committed to enable this relationship further by driving collaborative opportunities between education institutes on research, internationalisation approaches and mobility of students and academics. As the UK's international organisation for cultural relations and educational opportunities, the British Council encourages student mobility with close to 500 scholarships each year. In addition, we also facilitate and support research collaborations and partnerships between educational institutions in the two countries every year."