US Mission celebrates 5th Student Visa Day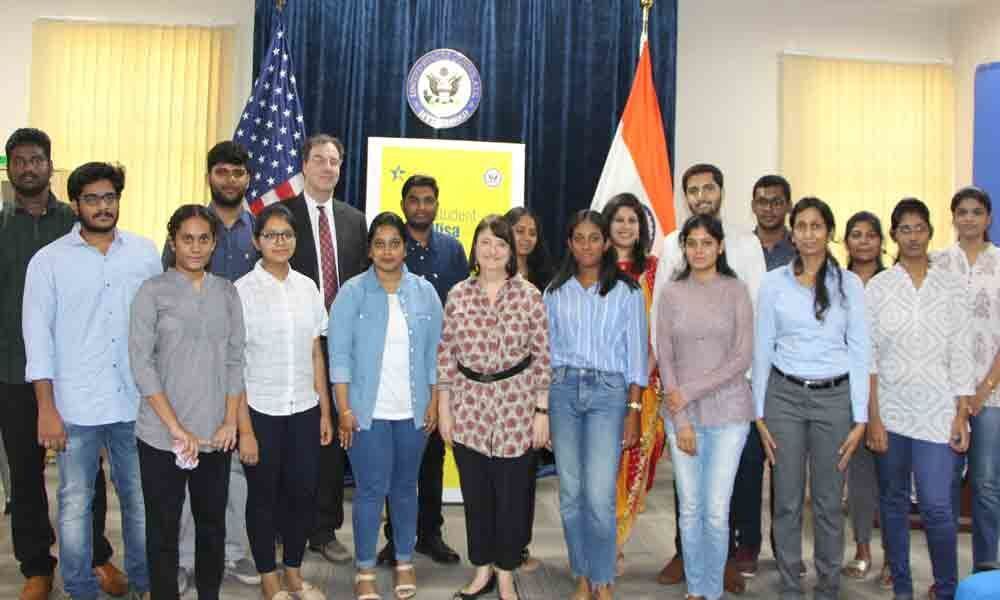 Highlights
Indians represent over 17 percent of the total international student population in the United States
Hyderabad: On Wednesday, the U.S. Mission to India celebrated its fifth annual Student Visa Day, an event that celebrates higher education ties between India and the United States. The Mission dedicates this day to helping qualified Indian students prepare for their studies in the United States and connecting them with Education USA for pre-departure information.
The U.S. Embassy in New Delhi, and the Consulates General in Chennai, Hyderabad, Kolkata, and Mumbai, welcomed more than 4,000 Indian students applying for visas to study in the United States. Deputy Chief of Mission (DCM) Mary Kay Carlson in New Delhi and Consulate leadership throughout India congratulated the day's applicants as they joined the growing ranks of Indian students who choose to study in the United States at the world's leading academic institutions.
"The enthusiasm I see in India for studying in the United States is unlike anywhere else I've served as an American diplomat," commented U.S. Consul General in Hyderabad Katherine Hadda. "Here in Hyderabad it's so easy to see how those educational experiences impact the future of the U.S.-India relationship at all levels. So many of this region's political, business, and cultural leaders have studied in the United States and are part of an educational bridge that spans generations."
In 2018, more than 196,000 Indian students were studying in U.S. institutions of higher education; more than double the number of students from a decade ago. India is the second-leading place of origin for students coming to the United States; Indians represent over 17 percent of the total international student population in the United States. Hyderabad's most recent EducationUSA Fair was its most successful ever, in terms of both student and university attendance.
"Student visa demand in this region of India continues to be especially strong," said U.S. Consulate General Consular Chief Eric Alexander, "As the busy summer visa season continues, we want to remind students to make their visa appointments as early as possible to prevent any delay in beginning their course of study." The U.S. Embassy and Consulates General welcomed Student Visa Day applicants with an informative and celebratory atmosphere.
Consular staff members wore shirts and hats from their own alma maters. Representatives from partners – including EducationUSA – and recent U.S. graduates shared insights and answered students' questions about life and studying in the United States.
To give Indian students easy access to official, unbiased, credible, and comprehensive information on navigating the U.S. higher education admission process, the U.S. Embassy launched the EducationUSA India mobile application. This free app helps Indian students and parents get answers, track progress and connect with EducationUSA advisers and resources at the touch of a button.