New Delhi: Second entry of Hubballi Railway Station opened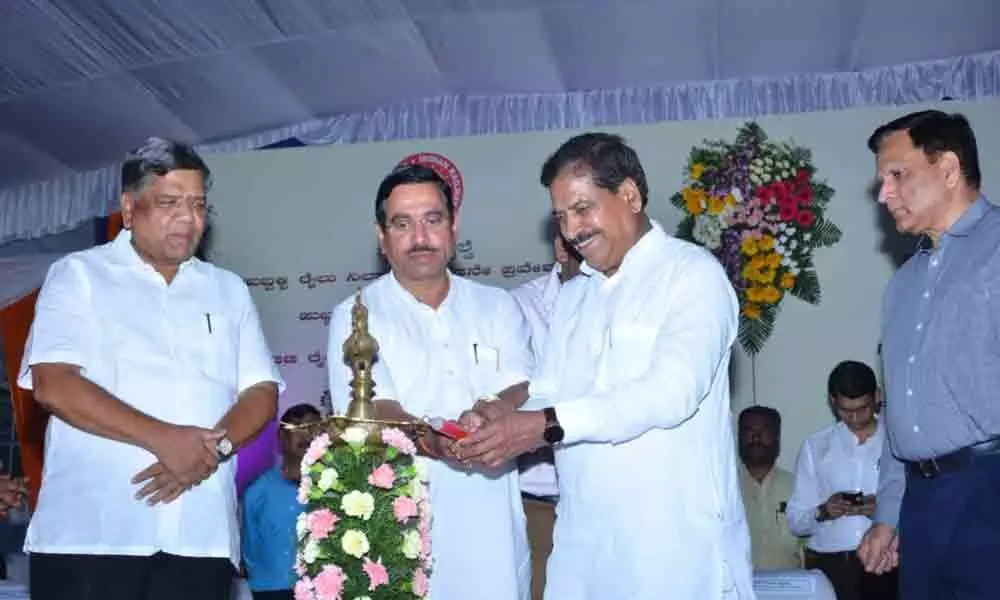 Highlights
Union Minister of Parliamentary Affairs, Coal and Mines Pralhad Joshi and, Minister of State of Railways Suresh Channabasappa Angadi, inaugurated the second entry of Hubballi Railway Station
New Delhi: Union Minister of Parliamentary Affairs, Coal and Mines Pralhad Joshi and, Minister of State of Railways Suresh Channabasappa Angadi, inaugurated the second entry of Hubballi Railway Station, commissioned the Hubballi by-pass line and dedicated a monumental flag at Dharwad Railway station on Wednesday from Hubballi Railway Station.
Speaking on the occasion, Pralhad Joshi said that there was a long pending demand for second entry that materialised now. He appreciated the provision of statue of Rani Chennamma at second entry. He elucidated the importance of by-pass line work especially after shifting of goods shed.
Joshisaid that he has discussed with MoR that frequency of Hubballi-Varanasi–Hubballi bi-weekly express shall be increased to four days a week. He further said that connectivity to Mangaluru via Madgaon shall be provided by introducing a train.
Suresh Angadi in his address said that though Pralhad Joshi instructed in last function that second entry shall be completed within one month, railway completed the work in 10 days and has made ready to inaugurate on 2nd October. WiFi has been provided in more than 5000 stations and many developmental works are being done.
MoSR assured that he will take steps to increase the frequency of bi-weekly Hubballi-Varanasi - Hubballi train. He appreciated the cleanliness of Mysuru station and said that Hubballi and Belagavi will be developed in same lines.
Ajay Kumar Singh, general manager of South Western Railway said that to decongest the main entry and to provide easy accessibility from Gadag road, the work for construction of second entry, circulating area and facelift of station approach was taken up. Foot over Bridge connecting to all platforms at Hubballi Station is directly connected from 2nd entry.
The total work has been taken up at a cost of approx. Rs.3.35 crore. This 2nd entry will further enhance connectivity for passengers coming to board trains at Hubballi Station from Keshwapur, Kusgal Road and adjoining upcoming areas of Hubballi. At present circulating area with approach road, 3 booking windows for unreserved ticket booking, toilet facilities, 2 wheeler and 4 wheeler parking facilities have been provided at 2nd entrance.
To give facelift to the second entry and also as landmark, statue of Rani Chennama, famous freedom fighter from Karnataka has been erected, lit up and is attractive sight during night. It is proposed to provide an escalator in future on this side.
To ease the congestion of Hubballi Junction, a new bye-pass line between Kusugal and Amargol has been commissioned. The alignment is close to urban area but still did not involve dismantling of even a single structure. This Bye pass double line has been constructed at a cost of Rs 150 crore in a record time of two years and eight months.
This 10-km long double line (total 20.6 km) facilitates diversion of all goods trains between Amargol to Kusugal so that Hubballi Junction station will be able to deal more number of express and passenger trains quickly. To improve safety and punctuality, level crossings gates have been eliminated by construction of Road over Bridges and Road under Bridges.
Two ROBs and 10 RUBs and 19 waterway bridges have been constructed as a part of this project. Road over Bridge in Hubli-Solapur Road (NH 218) is constructed for 4 lanes and 3 tracks considering the future development of Hubballi – Dharwad as Smart City. Road over Bridge on Goppankoppa – Shivalli road is constructed for 2 lanes and 3 track crossings. All the Roads under Bridges are built as per Indian Road Congress standards.